Taxi Accidents Contact Our Experienced Attorneys Today to Get Started
Manhattan Taxi Accident Lawyer
Trusted & Aggressive Legal Counsel
Taxi Accidents are accidents in which people are injured physically and/or emotionally by or in taxis, and whose motor vehicles suffer damage as well. Personal injury laws relating to taxi, and car accidents, help determine which individuals were at fault for the incident, which individuals need to pay for medical treatment, and which individuals need to pay for vehicle repairs.
At KI Legal, our taxi accident lawyers are dedicated to helping victims navigate the complex legal process, ensuring they receive the compensation they deserve. If you or a loved one has been injured in a taxi accident, we can help you understand your legal rights and options, calculate your damages, and pursue a fair settlement. Whether your case is negotiated out of court or litigated, our team is equipped to handle your case.
Injured in a taxi accident? Contact our Manhattan taxi accident lawyer today by calling (646) 766-8308.
Common Taxicab Accident Injuries
Injuries sustained in a taxicab accident can range from minor to severe, depending on various factors such as the speed of the vehicles involved, the point of impact, and the position of the passenger in the cab.
Some common injuries include:
Minor injuries: These can consist of bruises, scratches, and soft tissue injuries like sprains and strains. While not life-threatening, they can still cause discomfort and inconvenience.
Whiplash: This is a neck injury caused by a sudden, forceful back-and-forth movement of the head, often resulting from rear-end collisions. Whiplash can lead to chronic pain, stiffness, and limited range of motion in the neck.
Broken bones: Arms, legs, ribs, and facial bones are at risk of fractures during a taxicab accident. The severity of the fracture depends on the force of the impact and can range from hairline cracks to compound fractures requiring surgery.
Spinal cord injuries: A high-impact collision can cause damage to the spinal cord, leading to partial or complete paralysis. Spinal cord injuries are often life-altering and require long-term medical care and rehabilitation.
Traumatic brain injuries (TBIs): TBIs occur when the brain is subjected to sudden and violent movement or impact, causing damage to brain tissue. Depending on the severity, TBIs can result in cognitive impairments, memory loss, mood disturbances, and other long-term complications.
Post-traumatic stress disorder (PTSD): Being involved in an accident does not only affect the passenger physically but can also have serious consequences for a person's mental health. After an accident, many people may develop anxiety or PTSD.
Internal injuries: In high-impact accidents, a person can suffer penetrating injuries or blunt force trauma that leads to organ damage, internal bleeding, and/or other internal complications.
Lacerations: Because of flying debris, passengers may suffer cuts and scrapes that can vary in severity. While some cuts may be minor, others may require stitches and may lead to permanent scarring.
Common Causes of Taxi Accidents
Taxi accidents are commonly caused by negligence and are thus subject to negligence personal injury laws.
Common acts of negligence that lead to such accidents include:
Speeding
Reckless driving
Failure to adhere to traffic lights and signs
Tailgating
Driving while under the influence
Distracted driving
What to Do If You Are Injured in a Taxi Accident
Accidents can happen at any time, and taxi accidents are no exception. If you or a loved one has been injured in a taxi accident, it is crucial to know the steps to take immediately after the incident to protect your rights and ensure the best possible outcome.
Here are some steps to take following a taxi accident:
Call emergency services: The first and most important step after any accident is to call emergency services. Dial 911 or your local emergency number to report the accident and request assistance. Even if the injuries seem minor, it is essential to have an official record of the incident and ensure that all parties receive proper medical attention.
Collect on-scene evidence: While waiting for help to arrive, collect as much information as possible about the accident. This may include photographing the accident, your injuries, and property damage, getting the contact information of those involved in the accident as well as witnesses, noting the taxi company's name, cab number, and license plates, and recording other accident details.
Seek medical attention: Even if you do not feel injured immediately after the accident, it is crucial to seek medical attention as soon as possible. Some injuries may not present symptoms right away, and delaying treatment could worsen your condition. Additionally, having a medical professional document your injuries will be vital for any insurance claims or legal proceedings.
Keep track of your expenses and paperwork: Having a detailed record of your expenses will help when seeking compensation, and your medical records, bills, and information concerning your damages can help support your claim.
Contact an experienced taxi accident lawyer: Navigating potential legal hurdles can be challenging, but a knowledgeable attorney will guide you through the process and help you understand your rights. The attorneys at KI Legal can advise you on whether to accept an insurance settlement or proceed with a lawsuit to seek fair compensation for your injuries and damages.
Focus on your personal recovery: While dealing with the aftermath of a taxi accident can be overwhelming, it is crucial to prioritize your physical and emotional recovery. Follow your doctor's advice, attend therapy sessions if needed, and lean on your support system of friends and family for help during this challenging time.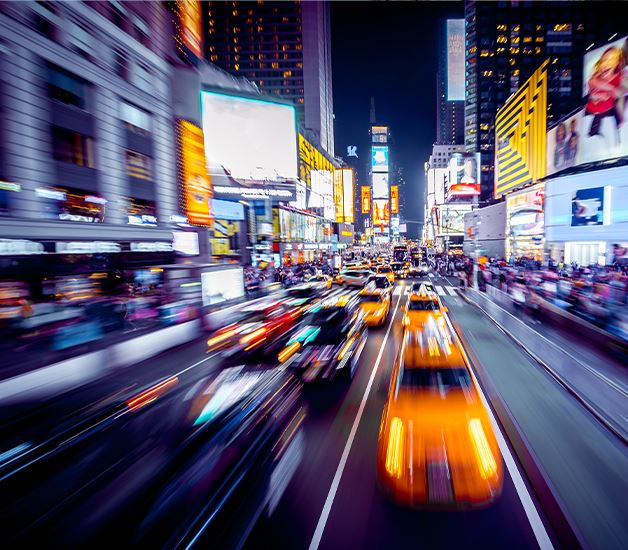 Rear-End Car Accident

Successfully represented a driver whose car was struck in the rear by a vehicle that was following too closely in Queens, New York. The driver suffered serious personal injuries requiring multiple surgeries.

Minor Child Car Accident

Successfully represented a minor passenger child of a car accident crash in Brooklyn, New York who suffered severe back and neck injuries due to a crash caused by a drunk driver that struck the car the minor child was traveling in.

Side Door Car Collision

Successfully sued a railroad company that owned a truck involved in a side door car collision. Injuries involved the hand and head.

Truck Multi-Car Collision

Successfully sued a trucking company that owned a truck involved in a multiple-car collision. Injuries involved the back and head.

NYC Negligence

Successfully represented a client who got into a motor vehicle accident on a street where work was being performed, resulting in serious injuries. We were able to secure a $250,000 settlement after extensive discovery and depositions.

Meatpacking NYC Motor Vehicle Accident

Successfully represented a client who got into a motor vehicle accident in the Meatpacking District with a commercial van. Due to the driver's negligence, we were able to secure a $150,000 settlement after depositions.