Bankruptcy Law Contact Our Experienced Attorneys Today to Get Started
Bankruptcy Attorney in Manhattan, NY
Advising on Business Bankruptcy and Restructuring
Navigating the complexities of bankruptcy can be a daunting experience for businesses facing financial distress. At KI Legal, our team of experienced bankruptcy attorneys provides the legal support and guidance necessary to help you make informed decisions during this challenging time. With years of experience representing clients in a range of bankruptcy matters, we understand the intricacies of the process and are committed to delivering personalized solutions tailored to your unique situation.
Whether you are considering filing for bankruptcy or are involved in bankruptcy litigation, having an experienced Manhattan bankruptcy lawyer by your side is crucial to protect your interests and achieve the best possible outcome. As a leading business law firm, KI Legal's dedication to client success, clear communication, and proactive approach set us apart from the competition.
Contact us online or call us at (646) 766-8308 for experienced legal guidance and personalized solutions tailored to your unique bankruptcy situation.
Call KI Legal for Trusted Business Bankruptcy Guidance Today
Navigating the complexities of bankruptcy can be a daunting process for any business. Choosing the right legal partner is crucial in ensuring that your business can successfully overcome financial challenges and emerge stronger.
At KI Legal, our team of seasoned attorneys possesses extensive experience in handling bankruptcy cases across various industries. Our professionals have the skills and knowledge required to guide you through each stage of the bankruptcy process, from evaluating your financial situation to developing a tailored strategy that addresses your unique needs and objectives.
Effective communication is essential in navigating the bankruptcy process and ensuring a successful outcome. Our attorneys prioritize maintaining open lines of communication with clients, keeping them informed of any developments in their case and addressing any questions or concerns they may have. This proactive approach helps ensure that our clients feel confident and supported throughout the bankruptcy process.
By choosing KI Legal for your bankruptcy needs, you can trust that our team of experienced professionals will guide you through the complexities of bankruptcy with skill, dedication, and personalized attention, ensuring that your business can overcome financial challenges and emerge stronger than before.
Whether you are a debtor or creditor, our team is committed to providing effective legal solutions and personalized service to meet your individual goals. Contact us online or call us at (646) 766-8308 to learn more about how our bankruptcy attorneys can help your business.
How Bankruptcy Laws Affect Creditors
Bankruptcy laws are designed to provide debtors with a fresh start while ensuring that creditors receive fair treatment. As a creditor, it's essential to understand how these laws can affect your rights and ability to collect outstanding debts.
There are several types of bankruptcy filings, including:
Chapter 7 (Liquidation): In this type of bankruptcy, a trustee is appointed to liquidate the debtor's non-exempt assets and distribute the proceeds to creditors. Secured creditors have priority, followed by unsecured creditors.
Chapter 11 (Reorganization): This type of bankruptcy primarily applies to businesses and allows the debtor to reorganize their debts while continuing to operate. Creditors may be asked to accept reduced payments or longer repayment terms as part of the reorganization plan.
Chapter 13 (Individual Debt Adjustment): In this type of bankruptcy, the debtor proposes a repayment plan to pay off their debts over a period of three to five years. Creditors must be treated fairly under the plan, and in some cases, may receive less than the full amount owed.
Our attorneys can help you navigate the complexities of bankruptcy laws and ensure your interests are protected throughout the process. Reach out to our firm to learn how we can fight to safeguard your financial interests.
Creditor Representation in Bankruptcy Cases
In addition to representing debtors, KI Legal also offers comprehensive creditor representation services throughout the bankruptcy process. We understand that creditors have rights and interests that must be protected, and our experienced attorneys are dedicated to helping you recover as much of your debt as possible while ensuring compliance with all applicable laws and regulations.
Our creditor representation services include:
Filing proofs of claim: To preserve your right to receive payment from a debtor's bankruptcy estate, our attorneys will help you file a proof of claim, which is a written statement detailing the amount and nature of the debt owed to you.
Relief from automatic stay: In certain cases, it may be necessary for a creditor to seek relief from the automatic stay that is imposed when a debtor files for bankruptcy. Our team can assist you in petitioning the court for permission to continue collection actions, such as foreclosing on a property or repossessing collateral.
Preference and fraudulent transfer litigation: When a debtor has made preferential payments or fraudulent transfers before filing for bankruptcy, our attorneys can help you navigate the process of recovering those assets on behalf of the bankruptcy estate, ensuring a fair distribution among all creditors.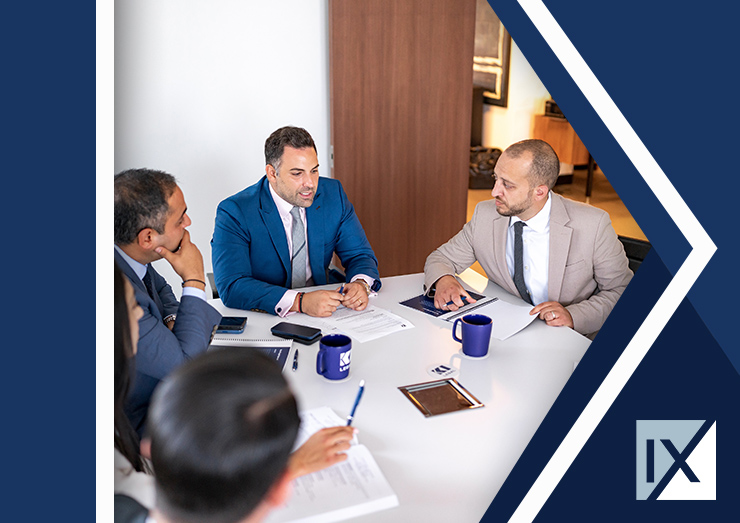 CLIENT REVIEWS
We Prioritize Our Clients, and It Shows
"Amazing Law Firm"

Amazing law firm... fantastic at many facets of law. Highly recommend - great experience working with this highly efficient and expert team!

- Former Client

"Treated With Respect"

Ralph has an exceptional knowledge of the law and an extremely high moral compass. He hates injustice and will pour his heart and soul into representing you and protecting your rights.

- Former Client

"He Leaves It All on the Table"

Michael works hard and leaves it all on the table for his clients. I would recommend him for anyone seeking a lawyer that is 110 percent on their side.

- George M.

"He's Perfected His Craft"

I have seen Michael dedicate all his time, energy and effort into perfecting his craft. It has, without a doubt, developed him into the professional that he is today.

- Oscar C.

"Fantastic Attorney"

Our lawyer was professional, knowledgeable and reliable through the process. I would recommend him to anyone.

- John N.

"KI Legal - the Best Decision"

Having Michael as my attorney was definitely the best decision I made. He fought hard for our case and remained patient. I never felt left out throughout the case and I was always informed of next steps.

- Nayel S.

"Great Advocates"

Michael and his firm are extremely thorough and work tirelessly to produce a good result. He is very knowledgeable, experienced, and dependable, and is furthermore an excellent advocate for his clients, no matter the issue presented.

- Courtney S.

"A Great Experience"

Michael was a great attorney! He was sensible about what we needed and was able to get it done. A great professional through and through!

- Isaac F.
Creditor Representation in Bankruptcy
Uniquely Experienced Legal Advocates Ready to Help You
Read more about the attorneys that handle Bankruptcy Law.