Immigration Law Contact Our Experienced Attorneys Today to Get Started
Manhattan Immigration Attorney
Business and Family Immigration Services
At KI Legal, we understand the intricate complexities of immigration law, and we know that even seemingly minor missteps can have significant consequences. Whether you are a business looking for corporate immigration help, or an individual looking for family immigration services, KI Legal's experienced immigration attorneys are here to help. Our firm has experience representing clients in a wide variety of immigration issues. We have represented corporations wishing to sponsor immigrant workers as well as individuals who wish to obtain legal status in the United States. In every scenario, we will work with you to understand your factual background and offer cost-effective legal representation.
Immigration law is complex, but offers many different options for U.S. companies wishing to hire a foreign national and for foreign nationals who wish to apply for work authorization on their own. Understanding all of the options, whether or not you qualify, the timing, and the likelihood of success are all important aspects which our experienced immigration team can help with.
Don't leave your immigration matters to chance - trust KI Legal to navigate the path to your desired outcome. Contact us online or call us at (646) 766-8308 to learn more about how we can assist you in your business or family immigration needs.
Business Immigration
Our business immigration attorneys work hard to enable all types of businesses to hire and retain the talent they need to thrive in a global marketplace by offering representation with:
Visa Applications: We assist in the preparation and filing of various visa applications for foreign employees, helping them secure the necessary documentation to work legally in the country.
Compliance and Regulatory Advice: We provide businesses with crucial advice on immigration laws, ensuring compliance with regulations and helping them avoid potential legal pitfalls.
Employment-Based Immigration Strategies: We develop and implement strategies to help companies bring in foreign talent to meet their specific needs, whether on a temporary or permanent basis.
Green Card Applications: We help employees navigate the process of obtaining permanent residency in the host country, allowing them to live and work there indefinitely.
Guidance on Employee Eligibility: We advise businesses on verifying the eligibility of employees to work in the country, ensuring compliance with immigration laws.
Assistance with Work Authorization Issues: We help resolve issues related to work permits, including renewals and changes in employment status.
Immigration Audits and Investigations: In the case of government audits or investigations, we provide representation and guidance to ensure compliance with immigration laws.
Corporate Restructuring and Mergers & Acquisitions: We offer advice on immigration matters during corporate transactions, helping to ensure that the immigration status of employees is maintained.
Advice on Immigration Policy Changes: We keep businesses informed about changes in immigration policies and laws that could impact their operations and workforce.
I-9 Compliance: We assist businesses in establishing and maintaining proper record-keeping practices for Form I-9, ensuring compliance with employment eligibility verification requirements.
Global Mobility and International Assignments: We advise companies on the immigration implications of sending employees abroad or bringing foreign employees into the host country.
Family Immigration
When it comes to family immigration matters, the emotional stakes are high, and the legal process can be overwhelming. Our experienced attorneys provide invaluable support, ensuring all necessary paperwork is accurately filed and guiding you through each step with compassion. With KI Legal, you're not just getting legal experience and guidance; you're getting a partner invested in your success and the well-being of your loved ones.
We provide legal assistance and guidance to individuals and families looking for representation with:
Family-Based Visa Applications: We assist in the preparation and filing of visa applications for family members seeking to reunite with their relatives in the host country.
Marriage-Based Immigration: We help couples navigate the process of obtaining immigration benefits based on marriage, ensuring compliance with immigration laws.
Fiancé/Fiancée Visas: We help couples obtain visas for their intended spouses, allowing them to enter the country for the purpose of getting married.
Adjustment of Status: We assist individuals in changing their immigration status from non-immigrant to immigrant, typically after marrying a U.S. citizen or permanent resident.
Consular Processing: We guide clients through the process of applying for an immigrant visa at a U.S. consulate or embassy in their home country.
Petitions for Family Members: We help U.S. citizens and permanent residents petition for their immediate relatives, including spouses, parents, children, and siblings, to obtain immigration benefits.
Waivers of Inadmissibility: We assist clients in applying for waivers if they are deemed inadmissible to enter the country due to certain grounds, such as prior immigration violations or criminal convictions.
Adoption Immigration: We provide legal assistance for families seeking to adopt foreign-born children and secure their immigration status in the host country.
U Visas for Victims of Crime: We help victims of certain crimes obtain U visas, which provide temporary legal status and work authorization in the U.S.
Deferred Action for Childhood Arrivals (DACA): We assist eligible individuals in applying for DACA benefits, which provide temporary protection from deportation.
Whether you are a company in need of hiring foreign nationals or an individual seeking the ability to enter, remain or work legally in the United States, KI Legal will carefully review your case and offer you experienced legal representation so that you can successfully reach your goal. All consultations are handled by attorneys with more than a decade of experience in the field. We will ask you the right questions in order to help you understand all of the options available to you.
Petitioning for a Family Member to Obtain a Green Card or Permanent Residence in the U.S.
Whether you are a U.S. Citizen married to a foreign national or the child or parent of a U.S. Citizen, we can help you or your loved ones obtain legal status in the United States.
As a U.S. Citizen or a Permanent Resident (green card holder), you may be eligible to petition for a family member to obtain a green card, or permanent residence in the United States. Petitioning for a family member to obtain a Green Card or permanent residence in the U.S. is a deeply significant process that allows families to reunite and build a life together in this country. It involves a series of legal steps to establish the familial relationship and demonstrate eligibility for sponsorship.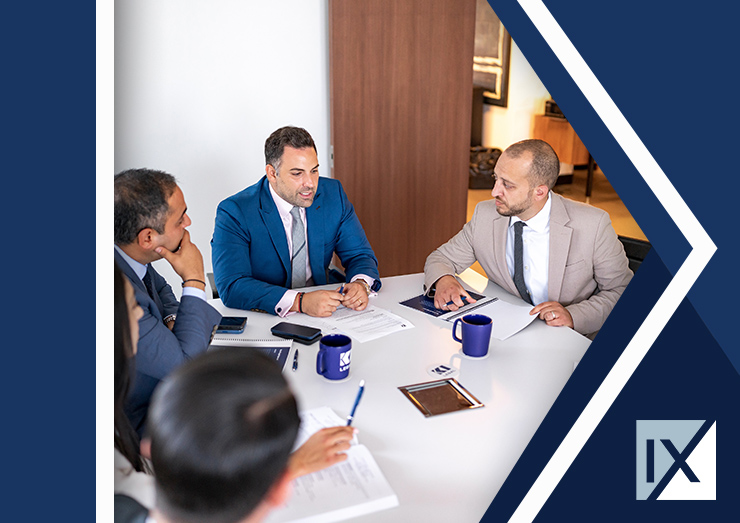 CLIENT REVIEWS
We Prioritize Our Clients, and It Shows
"Amazing Law Firm"

Amazing law firm... fantastic at many facets of law. Highly recommend - great experience working with this highly efficient and expert team!

- Former Client

"Treated With Respect"

Ralph has an exceptional knowledge of the law and an extremely high moral compass. He hates injustice and will pour his heart and soul into representing you and protecting your rights.

- Former Client

"He Leaves It All on the Table"

Michael works hard and leaves it all on the table for his clients. I would recommend him for anyone seeking a lawyer that is 110 percent on their side.

- George M.

"He's Perfected His Craft"

I have seen Michael dedicate all his time, energy and effort into perfecting his craft. It has, without a doubt, developed him into the professional that he is today.

- Oscar C.

"Fantastic Attorney"

Our lawyer was professional, knowledgeable and reliable through the process. I would recommend him to anyone.

- John N.

"KI Legal - the Best Decision"

Having Michael as my attorney was definitely the best decision I made. He fought hard for our case and remained patient. I never felt left out throughout the case and I was always informed of next steps.

- Nayel S.

"Great Advocates"

Michael and his firm are extremely thorough and work tirelessly to produce a good result. He is very knowledgeable, experienced, and dependable, and is furthermore an excellent advocate for his clients, no matter the issue presented.

- Courtney S.

"A Great Experience"

Michael was a great attorney! He was sensible about what we needed and was able to get it done. A great professional through and through!

- Isaac F.
Immigration Attorneys
Uniquely Experienced Legal Advocates Ready to Help You
Read more about the attorneys that handle Immigration Law.