Litigation Contact Our Experienced Attorneys Today to Get Started
Litigation in Manhattan
Facing litigation as a business can be an incredibly stressful experience that drains company resources and distracts from necessary operations. At KI Legal, we understand the toll that legal disputes can have on your business.
Our team of skilled litigators is dedicated to providing businesses with comprehensive litigation in Manhattan. We understand the complexities and challenges that businesses face when involved in legal disputes, and we are committed to helping our clients navigate the litigation process with confidence. By offering tailored legal solutions and aggressive representation, we protect our client's interests and help them achieve the best possible outcomes.
Reach out to our experienced litigators at (646) 766-8308 or fill out our online form to schedule a consultation.
Why Choose KI Legal for Your Litigation Needs?
Our team of skilled attorneys possesses a deep understanding of the complexities and nuances involved in various types of litigation, ensuring that your business is well-represented and protected throughout the process. Our litigators have a proven track record of success in both negotiation and trial settings, ensuring that your case is handled effectively and efficiently at every stage of the process.
We understand that the best defense is often a strong offense, and we work closely with our clients to identify potential legal issues before they escalate into full-fledged disputes. By providing strategic guidance and advice, we help businesses minimize their risk exposure and mitigate the potential impact of litigation on their operations.
Moreover at KI Legal, we believe that a successful attorney-client relationship is built on trust, transparency, and open lines of communication. Our team is committed to keeping you informed and involved throughout the litigation process, ensuring that you have a clear understanding of your case's status and the strategy being employed on your behalf. We value your input and work diligently to address any concerns or questions you may have along the way.
If your business is facing litigation, KI Legal is here to help. Our team of experienced litigators will work diligently to protect your interests and position you for success.
Contact us online or call us at (646) 766-8308 to learn more about our services and how we can help you navigate the litigation process with confidence.
Labor & Employment Litigation
Employment disputes can be disruptive and costly for businesses. Whether you are, KI Legal can provide sound legal counsel and aggressive representation to protect your rights. We provide knowledgeable defense against claims of discrimination, harassment, wrongful termination, wage and hour violations, retaliation, and other employment-related matters.
Our attorneys are experienced in handling a wide range of labor and employment cases before state and federal courts as well as administrative agencies. Whether a case is best resolved through settlement or trial, our attorneys will fight to obtain a favorable outcome for your business.
At KI Legal, our labor and employment litigators defend employers in a wide range of workplace-related disputes, including: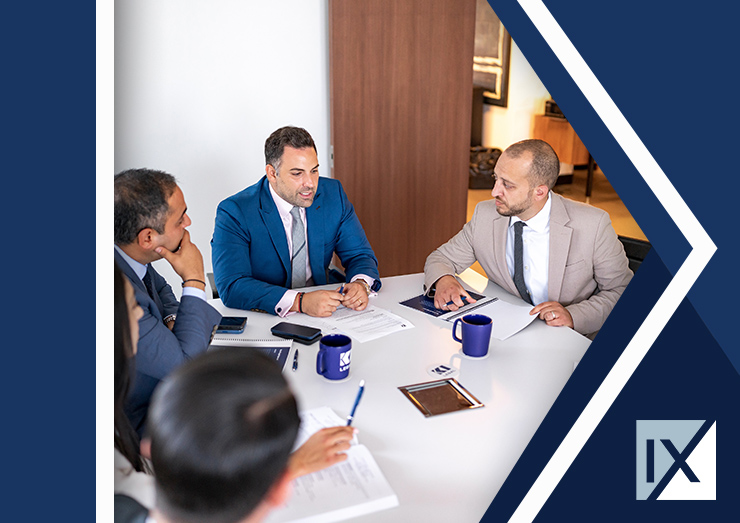 Bankruptcy & Restructuring Litigation
Bankruptcy litigation can be a complex and high-stakes area of law, with significant financial implications for individuals and businesses involved in these disputes. When you are facing a bankruptcy dispute, it is important to work with an experienced attorney who can provide sound legal counsel and effective advocacy.
Our team at KI Legal has extensive experience representing clients in bankruptcy-related matters, including:
Adversary proceedings
Preference and fraudulent transfer actions
Automatic stay violations
Dischargeability disputes
Plan confirmation disputes
We understand the unique legal issues and challenges that arise in bankruptcy litigation and work closely with our clients to develop tailored strategies aimed at protecting their financial interests and achieving favorable results. CLIENT REVIEWS
We Prioritize Our Clients, and It Shows
"Amazing Law Firm"

Amazing law firm... fantastic at many facets of law. Highly recommend - great experience working with this highly efficient and expert team!

- Former Client

"Treated With Respect"

Ralph has an exceptional knowledge of the law and an extremely high moral compass. He hates injustice and will pour his heart and soul into representing you and protecting your rights.

- Former Client

"He Leaves It All on the Table"

Michael works hard and leaves it all on the table for his clients. I would recommend him for anyone seeking a lawyer that is 110 percent on their side.

- George M.

"He's Perfected His Craft"

I have seen Michael dedicate all his time, energy and effort into perfecting his craft. It has, without a doubt, developed him into the professional that he is today.

- Oscar C.

"Fantastic Attorney"

Our lawyer was professional, knowledgeable and reliable through the process. I would recommend him to anyone.

- John N.

"KI Legal - the Best Decision"

Having Michael as my attorney was definitely the best decision I made. He fought hard for our case and remained patient. I never felt left out throughout the case and I was always informed of next steps.

- Nayel S.

"Great Advocates"

Michael and his firm are extremely thorough and work tirelessly to produce a good result. He is very knowledgeable, experienced, and dependable, and is furthermore an excellent advocate for his clients, no matter the issue presented.

- Courtney S.

"A Great Experience"

Michael was a great attorney! He was sensible about what we needed and was able to get it done. A great professional through and through!

- Isaac F.
Meet the LItigation Team
Uniquely Experienced Legal Advocates Ready to Help You
At KI Legal, we have the skills and experience you deserve. Get to know our team by scrolling down and select the staff you would like to learn more about.