Real Estate Law Contact Our Experienced Attorneys Today to Get Started
Manhattan Real Estate Attorney
Effective Legal Counsel for Real Estate Transactions in New York, New Jersey, Miami, and Nationwide
Navigating the complexities of real estate transactions and disputes can be a daunting task. At KI Legal, we understand the challenges you face and are committed to providing comprehensive legal services tailored to your unique needs. Our dedicated team of experienced attorneys focuses on delivering exceptional representation for individuals, businesses, family offices, and lenders alike, ensuring your interests are protected and your goals are achieved.
Our practice areas encompass a wide range of real estate matters, including lender representation in financing transactions, lease negotiations, property acquisitions and sales, zoning and land use, as well as landlord and tenant representation in leasing disputes and litigation whenever needed. We recognize the intricacies and competitive nature of the New York City real estate landscape and are equipped to offer innovative solutions that cater to your specific requirements.
Our seasoned Manhattan real estate attorneys at KI Legal combine their in-depth knowledge of local regulations and market dynamics with strategic thinking to effectively represent your interests and facilitate successful transactions. Whether you are a financial institution, property owner, or tenant, our team is here to help you make informed decisions and ensure a smooth, efficient process.
Let KI Legal guide you through the competitive Manhattan real estate market with our tailored legal services. Contact us online or call us at (646) 766-8308 to discuss your specific needs and learn more about how we can assist you in achieving your objectives.
Maximizing Success with an Experienced Attorney
Working with an experienced real estate attorney can be an invaluable asset when navigating the competitive and complex New York City real estate market. At KI Legal, our experienced team is here to provide crucial legal guidance and support to our clients based on our in-depth knowledge of local laws, regulations, and market trends.
Achieving Success in Real Estate Ventures
In the bustling and competitive real estate market, achieving success in real estate ventures requires a strategic approach, extensive market knowledge, and strong legal support. Partnering with a seasoned business law firm can play a vital role in ensuring the success of your real estate investments, whether you're acquiring office spaces, retail properties, or industrial facilities.
Our seasoned real estate attorneys can provide invaluable guidance throughout the entire transaction process, from identifying potential investment opportunities to negotiating favorable terms and closing deals. Real estate ventures often involve intricate financing arrangements, such as loans, joint ventures, and syndications. At KI Legal, we can help you navigate these financing options, ensuring compliance with applicable laws and regulations while securing the most advantageous terms for your project. We can also assist in addressing any tax implications or incentives associated with your investment, helping you optimize your financial strategy.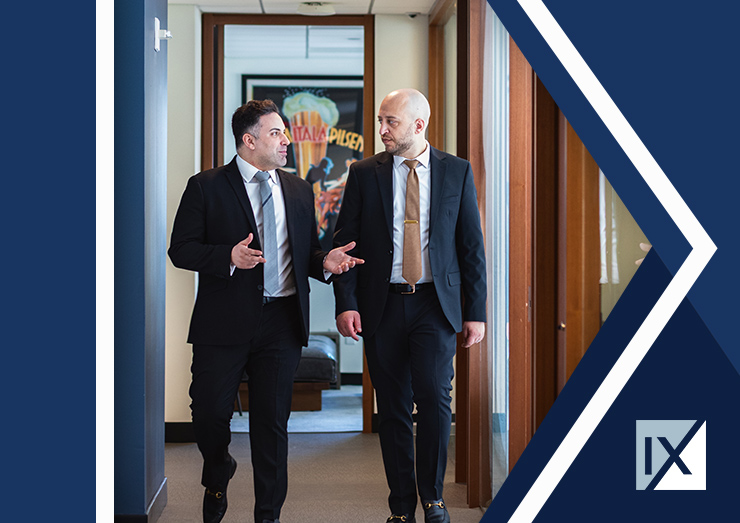 CLIENT REVIEWS
We Prioritize Our Clients, and It Shows
"Amazing Law Firm"

Amazing law firm... fantastic at many facets of law. Highly recommend - great experience working with this highly efficient and expert team!

- Former Client

"Treated With Respect"

Ralph has an exceptional knowledge of the law and an extremely high moral compass. He hates injustice and will pour his heart and soul into representing you and protecting your rights.

- Former Client

"He Leaves It All on the Table"

Michael works hard and leaves it all on the table for his clients. I would recommend him for anyone seeking a lawyer that is 110 percent on their side.

- George M.

"He's Perfected His Craft"

I have seen Michael dedicate all his time, energy and effort into perfecting his craft. It has, without a doubt, developed him into the professional that he is today.

- Oscar C.

"Fantastic Attorney"

Our lawyer was professional, knowledgeable and reliable through the process. I would recommend him to anyone.

- John N.

"KI Legal - the Best Decision"

Having Michael as my attorney was definitely the best decision I made. He fought hard for our case and remained patient. I never felt left out throughout the case and I was always informed of next steps.

- Nayel S.

"Great Advocates"

Michael and his firm are extremely thorough and work tirelessly to produce a good result. He is very knowledgeable, experienced, and dependable, and is furthermore an excellent advocate for his clients, no matter the issue presented.

- Courtney S.

"A Great Experience"

Michael was a great attorney! He was sensible about what we needed and was able to get it done. A great professional through and through!

- Isaac F.
Real Estate Attorneys
Uniquely Experienced Legal Advocates Ready to Help You
Read more about the attorneys that handle Real Estate Law.