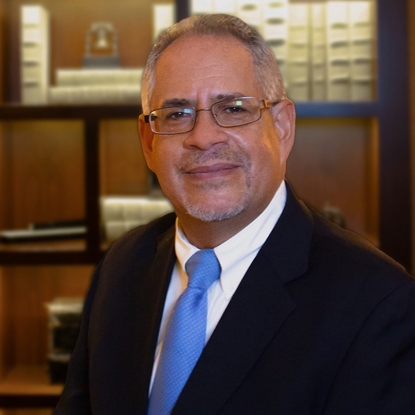 Ricardo Morales Of Counsel
Industries
Construction
Finance
Hospitality
Real Estate
Areas of Practice
Ricardo Morales is Of Counsel to KI Legal's Transactions and Litigation Divisions. With over 40 years of high-level, nuanced governmental and legal experience, Ricardo expertly leverages his leadership experience, legal acumen, and comprehensive knowledge of the New York City government to provide tremendous value to those seeking his counsel. 
Morales, a native New Yorker, earned his undergraduate degree from Amherst College, Cum Laude,  and his Doctor of Jurisprudence from Georgetown University Law Center. Morales, also licensed to practice law in Washington, DC, began his career structuring equipment leasing tax shelters in the DC Metropolitan area. Upon returning to New York, he established a law firm with his attorney wife, Yvette Armstrong, that concentrated its practice on real estate development, business sales/purchases/financing and landlord-tenant litigation. He entered government service as an Assistant General Counsel in NYCHA's housing litigation unit. He initiated a collaborative relationship with the NYS Courts in the administration of justice resulting in major reduction in NYCHA's 110,000 annual L&T caseload to a manageable 74,000. 
In 2001, Morales became NYCHA's General Counsel, where he oversaw the Law Department with 120 attorneys plus staff and created the early settlement unit under the Tort Division. Morales was appointed to Chairman/CEO, where he created the Audit Committee and Ethics Program. During his time at NYCHA, Morales oversaw a $3.7B annual budget, 11K+ employees, 340 developments with 2,600+ residential buildings, commercial space, and 175,636 apartments along with citywide Section 8 Leased Housing Program, the largest in the Country.  
In 2010, the newly elected New York City Comptroller appointed Morales to his new role as Deputy Comptroller for Legal Affairs/General Counsel, where he effectively mediated major securities class action fraud litigation and led negotiations that resulted in settlements ranging from $7M-600M. Under this role, Morales directed daily operations for 172 team members and advised the Comptroller on legal issues pertaining to the NYC Charter governmental oversight and financial authority. He counseled leadership in the following areas: on City pensions with $120B in assets under management, on citywide procurement approval, bonds, accounting and auditing, on prevailing wages, on contract change order disputes, and on approvals of all City litigation settlements. Shortly after, Morales became First Deputy Comptroller, where his scope of responsibility grew to encompass office operations with 754 staff members, oversight of a $74M budget, and the carrying out of the Comptroller's duties during his absences.   
In 2014, Morales took on the role of Deputy Commissioner for Asset Management under the New York City Department of Citywide Administrative Services, where he managed 37 million square feet of City government real estate holdings including all public buildings state/city courthouses, office space warehouses and vacant lands.   With a professional staff of approximately 1,300, an expense budget of $200M, and a capital budget of several billion, he reorganized the units to create efficiencies.  He cut through the bureaucracy and constructed a slab to slab 40 thousand square foot court facility in the NYC Municipal Building approximately $1 million under budget and a month ahead of schedule. 
Over the last several years, Morales was Counsel for several private practice law firms and, during the pandemic, a Senior Staff Attorney at the not-for-profit Neighborhood Association for Cultural Affairs representing the less fortunate in housing court. He also started his own private practice to provide legal, ethical, and operational advice to select clientele on a pro bono basis.  
Morales' experience leading major law departments, overseeing billion-dollar budgets, managing a vast portfolio of City-owned real estate, and executing a plethora of capital projects informs the wide range of work that he does in both KI Legal's Litigation and Transactional divisions. As Of Counsel, Morales not only imparts his knowledge internally across all practice areas, but also externally to the firm's clients, as he provides leadership support, mentoring, and legal analysis. His multi-disciplinary expertise helps expand KI Legal's reach in the real estate and family office verticals.  
Areas of Practice
Construction and Development
Corporate Governance
Asset Protection
Commercial Real Estate Finance Acquisitions and Dispositions
Commercial Litigation
Contract Negotiations
Asset Finance and Secured Lending
Landlord-Tenant Litigation and Family Office Consulting
Labor & Employment
Organizational Restructuring
Buying, Selling, Leasing, and Development
Education
Georgetown University Law Center, J.D.
Amherst College, B.A., graduated cum laude
Bar Admissions
New York
District of Columbia
Court Admissions
Awards & Accolades
New York County Bar Association Recognition for New York City Housing Authority Council (1997)
Cardinal Hayes Alumni Association, Cardinal Spellman Award
Cardinal Hayes Alumni Association, Public Housing Achievement Award
NYCHA Hispanic Society, Recognition of Leadership as General Counsel to the New York City Housing Authority (January, 2007)
NYC Conflict Of Interest Board, Sheldon Oliensis Ethics In City Government Award (January 2009)
El Diario/La Prensa, El Award For Outstanding Contributor To NYC Metropolitan Latino Community (January 2010)
New American Alliance, Pension Leadership Award (January 2013)
National Conference Puerto Rican Women, NY Chapter, Man of the Year Award (January 2013)
Puerto Rican Bar Association, Public Service Award (January 2015)
Languages