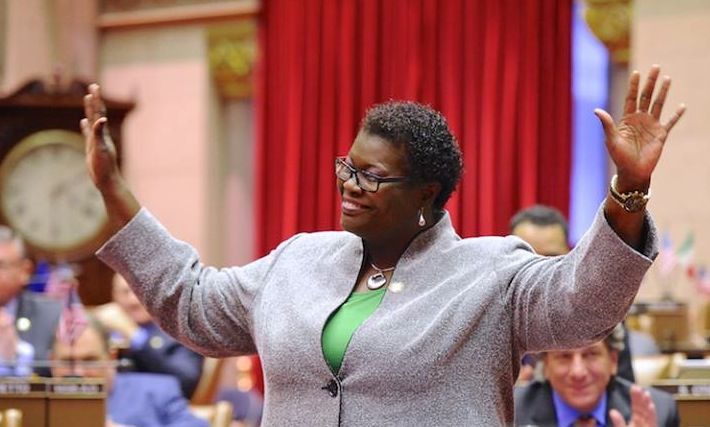 Ahead of Thursday's state redistricting commission – which will commence the process of redrawing boundaries for the Assembly, Senate, and Congress – 3 NYC senators have already voiced their opposition. The two most vocal senators include Roxanne Persaud, from Brooklyn, and James Sanders Jr., from Queens. Given these districts have populations now well over the average for senate districts nationwide, they will inevitably face the possibility of getting whittled down – hence the opposition. Although lawmakers will have the ability to testify at the commission, as will the public, they will have no role in drawing the lines that decide which voters fall under their jurisdiction. 

Why must the boundaries change at all?

District boundaries must change due to differing levels of population growth and shrinking across the state, compounded by the fact that Senate Republicans redrew fewer, more encompassing districts in order to gain a GOP seat upstate and remain in control during the redistricting process a decade ago. 

In New York, the redistricting process is being headed by a 10-member team making up the Independent Redistricting Commission – per a 2014 statewide vote. In an effort to take redistricting out of the hands of lawmakers, the commission will use 2020 Census data to apportion residents in a fair and equal manner. According to the state constitutional amendment approved by voters in 2014, " district lines can't be drawn to favor incumbents or political parties and the districts must also be relatively equal in population, not break up racial groups to limit their participation, and be compact and continuous." As a result, lawmakers' districts will be jeopardized, which will have lasting effects on their districts' support bases and demographics. 

New York's Reality 

New York state faces many changes ahead. Given its census count fell short of 89 people, New York will definitely lose 1 seat in Congress; this loss is predicted to play out upstate. In addition, all but 1 of New York City's 26 State Senate districts exceed the average population among districts statewide, while every single upstate district is below average. This may result in a Senate seat gain for the 5 boroughs, depending on how the lines get drawn. 

Sanders and Persaud have been adamantly fighting to keep their districts from getting changed. Sanders has publicly stated that "we've kind of grown used to one another and we'd like to keep it the way it is. If they can't, I want to see what their proposals are. It's hard to make a judgment when I haven't seen what they're suggesting." Persaud, whose southeast Brooklyn district is 8% over the state average, fears that her district will have to shrink but rests assured that "the lines drawn by the commission must be reviewed and discussed to ensure favorable outcomes with input from stakeholders." 

What now?

Although the redistricting commission is leading the process, it may not have final say. The new process also granted state lawmakers the power to reject the commission's lines and ask for a redo. This means that if the Legislature rejects the commission's proposal 2 times, members will be able to take over the process and the majority party will control the outcome. This aspect of the process is extremely important given that the Senate's deputy majority leader is also the leader of the New York State Legislative Task Force on Reapportionment and Redistricting, which will be the entity responsible for drawing the maps in the event of the Legislature's rejection – Michael Gianaris. As such, New York Democrats potentially have the power to draw favorable lines ahead of midterm elections if they reject the commission's proposals and craft the districts themselves. 

Thursday's public meeting will be the commission's first in-person meeting and last get-together before it releases its draft lines sometime around September 15th, according to the law. 

Founded by attorneys Andreas Koutsoudakis and Michael Iakovou, KI Legal focuses on guiding companies and businesses throughout the entire legal spectrum as it relates to their business including day-to-day operations and compliance, litigation and transactional matters.

Connect with Andreas Koutsoudakis on LinkedIn.

Connect with Michael Iakovou on LinkedIn.


This information is the most up to date news available as of the date posted. Please be advised that any information posted on the KI Legal Blog or Social Channels is being supplied for informational purposes only and is subject to change at any time. For more information, and clarity surrounding your individual organization or current situation, contact a member of the KI Legal team, or fill out a new client intake form.

The post NYC Senators Poised to Reject Commission's Redistricting Maps appeared first on KI Legal.