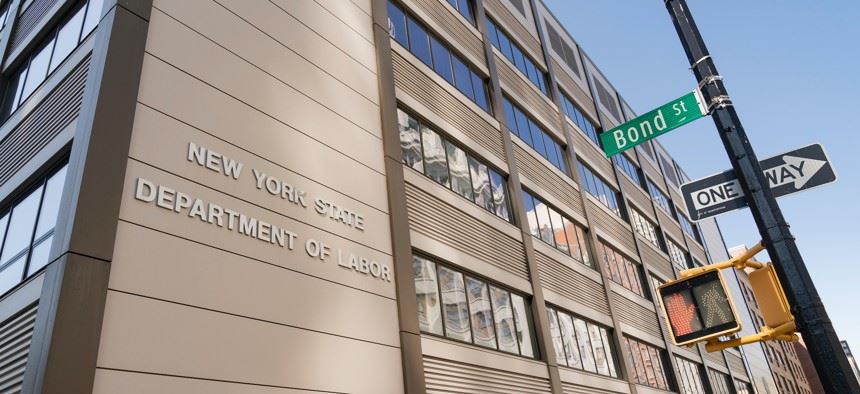 Photo courtesy of City and State New York

Last week, job benefits filings reached a new pandemic low. According to the latest Labor Department report, initial unemployment claims, which are a proxy for layoffs, decreased from 345,000 to 310,000 in the week ending September 4th. The 4-week moving average, which lays out the data's weekly volatility,  fell to 339,500 – also a new pandemic low. 

Technically, claims have been decreasing since mid-July. This being said, they still remain much higher than their pre-pandemic trends. In 2019, for example, weekly claims averaged 218,000; in 2021, they are 100,000 higher. From a broader perspective, the economy had about 5.3 million fewer jobs this August compared to February of last year.

So what has happened because of this downward trend?

For one, employers across the U.S. have been struggling to fill job openings while millions still remain unemployed. Despite passing the expiration date for enhanced unemployment benefits, which was September 6th, employers and economists will have to wait several more weeks to see if their end has any substantial impact on claims data. Even so, the Labor and Treasury departments have communicated to states that they may use $350 billion in funds, that were granted in a Covid-19 aid package, to continue administering more unemployment assistance – which will undoubtedly skew the data even further.

Meanwhile, the demand for workers has started to level off due to an easing of job openings for in-person services positions, likely due to the Delta variant's spread.

According to Indeed's data, postings were up 39% at the end of August from February of last year – a mere gain from July's numbers, which had postings up 37% from February of last year. According to Nick Bunker, an Indeed economist, "the supply of jobless workers currently looking for a job was well outstripped by employer demand. Even if demand slows down or even falters, job-seekers remain in a relatively favorable bargaining position."

As stated prior, in-person openings have been leveling off while advertisements for remote-plausible jobs – such as healthcare, technology, and finance positions – have been growing; for example, according to Indeed: software development postings rose 19%, human resources jobs were up 13.2%, and banking and finance postings increased 10.8%. In a similar vein, postings for child care and beauty and wellness have been falling as well; in August, beauty and wellness job postings fell by 8.5% while child care postings fell by 3.3%. Construction and restaurant postings, which were at sky-high numbers only a week ago, only rose slightly this week; openings for food-service positions were only up by 0.7%, for example.

According to a report released this week by the Federal Reserve's Beige Book, economic growth has weakened over the course of the summer due to the resurgence of Covid-19 cases. The report states: the deceleration in economic activity was largely attributable to a pullback in dining out, travel, and tourism in most districts, reflecting safety concerns due to the rise of the Delta variant;" in addition, the report cited supply and employee shortages are the biggest factors holding back growth.

Economists and organizations have identified the same growth-stunting factors as well. According to the American Hotel and Lodging Association, 69% of leisure travelers planned to reduce trips amid rising Covid-19 cases per their August survey. Travel aside, the same factors have been holding Americans from going back to or taking on new jobs, especially: fear of getting infected with Covid-19, employer vaccine mandates, and lack of child care. Importantly, the pandemic also gave workers time to reassess many facets of their life – from their expenses to their living situation to their jobs. 

Founded by attorneys Andreas Koutsoudakis and Michael Iakovou, KI Legal focuses on guiding companies and businesses throughout the entire legal spectrum as it relates to their business including day-to-day operations and compliance, litigation and transactional matters.

Connect with Andreas Koutsoudakis on LinkedIn.

Connect with Michael Iakovou on LinkedIn.


This information is the most up to date news available as of the date posted. Please be advised that any information posted on the KI Legal Blog or Social Channels is being supplied for informational purposes only and is subject to change at any time. For more information, and clarity surrounding your individual organization or current situation, contact a member of the KI Legal team, or fill out a new client intake form.

The post Jobless Claims and Job Offerings Both on a Downward Trend appeared first on KI Legal.