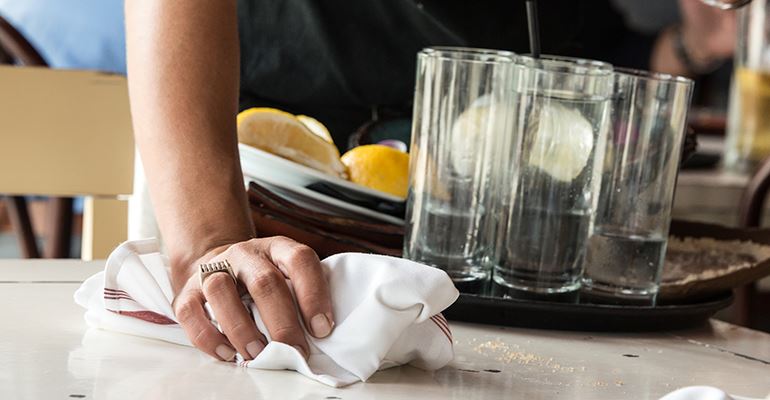 The U.S. Department of Labor (DOL) finally announced yesterday that it is restoring the "80/20 Rule." At present, the Fair Labor Standards Act (FLSA) allows employers to pay their tipped employees as little as $2.13/hour, with the rest of the minimum wage – currently at $7.25/hour – made up of earned tips. The "80/20 Rule," however, will limit the time that employees spend doing work that is linked to gratuities. 
"80/20 Rule" Background
The "80/20 Rule," also known as the "dual jobs" portion of the FLA, was first adopted by the DOL in 1988. Under Obama's administration, the rule was expanded by the DOL to include more types of tasks that the FLSA had previously not deemed to directly support tipped work. 
Under the Trump administration, however, the DOL rolled back the "80/20 rule." In its place, the Trump administration allowed employers to pay the employees the tipped minimum wage for non-tipped tasks if said tasks are "performed contemporaneously or immediately before or after workers' primary tipped duties, regardless of how much time they take," according to Reuters. At the time, leading business groups were in support of the rule as they believed it would facilitate the tracking of precise amounts of time workers were spending on different tasks, which they deemed unfeasible. On the other hand, worker advocates argued that the decision would cost tipped workers hundreds of millions of dollars in wages. 
"80/20 Rule Restored" 
Now, the Biden administration has finally amended the regulations, after months of anticipation and piecemeal announcements, to clarify that "an employer may only take a tip credit for the hours when workers are performing tip-producing tasks, or tasks that directly support tip-producing work… within a certain limit." 
2 points of contention – tip-producing work and directly supporting work – were defined for further clarification. 
According to the DOL, tip-producing work is "intended to be broadly construed to encompass any work performed by a tipped employee that provides service to customers for which the tipped employee receives tips and provides more examples illustrating the scope of this term." Although no specific examples are included in the final rule, the DOL included examples given by commenters during the public feedback period (please insert link to 6/22 post) who worked as tipped employees shared their experiences with performing a substantial amount of non-tipped work when they did not have the opportunity to receive tips during this time. Per the regulation, these workers described being required to perform non-tipped work for substantial amounts of time, such as: 
Filling condiments
Sweeping an assigned section of the restaurant for 30-45 minutes before and after the restaurant is open
Rolling silverware for an hour after a long shift
Moving chairs to and from an outdoor patio for an hour before and an hour after service
In terms of directly supporting work, the final rule amended the decision to explain that "this category includes work that is performed by the tipped employee in preparation for or otherwise assists in the provision of tip-producing customer service work." 

Statements and Reactions

The "80/20 Rule" is undoubtedly a contentious subject, and reactions have reflected this. According to labor officials who offered statements yesterday, the rule's "return and clarification is intended to ensure that essential workers are protected;" they added that the reason for this is "many tipped workers remained on the job through the pandemic at risk to themselves and their families." 

In terms of cost, both monetary and operational, the Wage and Hour division of the DOL (WHD) has released its data. Monetarily, the rule is estimated to cost employers $183.6 million per year on average over the next decade. Operationally, the final rule is predicted to potentially result in costs to employers, consisting of rule familiarization costs, adjustment costs, and managerial costs, according to the DOL; in addition, the DOL expects that the rule could result in transfers from employers to employees in the form of increased wages. 

More broadly, the DOL's WHD acting administrator, Jessica Looman, released a statement explaining "women, people of color and immigrants represent more than half of all tipped workers. Today's final rule enhances protections for this vital segment of the nation's essential workforce and combats income disparity and promotes equity." 

In response, National Restaurant Association vice president of public policy and legal advocacy, Shannon Meade, stated that "restoring the Obama-era 80/20 rule is an arbitrary change that creates mass confusion and enormous compliance challenges for restaurants." She predicts that, given "this rule does not provide the clarity that small business owners and their employers need… [it] is likely to increase litigation around the issue." Moreover, the National Restaurant Association has voiced its dismay for the timing of this announcement, given restaurant industry operators now have to juggle their holiday season operations with new labor requirements. 

The "80/20 Rule" will formally take effect on December 28th, 2021. 

Founded by attorneys Andreas Koutsoudakis and Michael Iakovou, KI Legal focuses on guiding companies and businesses throughout the entire legal spectrum as it relates to their business including day-to-day operations and compliance, litigation and transactional matters.

Connect with Andreas Koutsoudakis on LinkedIn.

Connect with Michael Iakovou on LinkedIn.

This information is the most up to date news available as of the date posted. Please be advised that any information posted on the KI Legal Blog or Social Channels is being supplied for informational purposes only and is subject to change at any time. For more information, and clarity surrounding your individual organization or current situation, contact a member of the KI Legal team, or fill out a new client intake form.

The post U.S. Department of Labor Formally Restores the "80/20 Rule" appeared first on KI Legal.