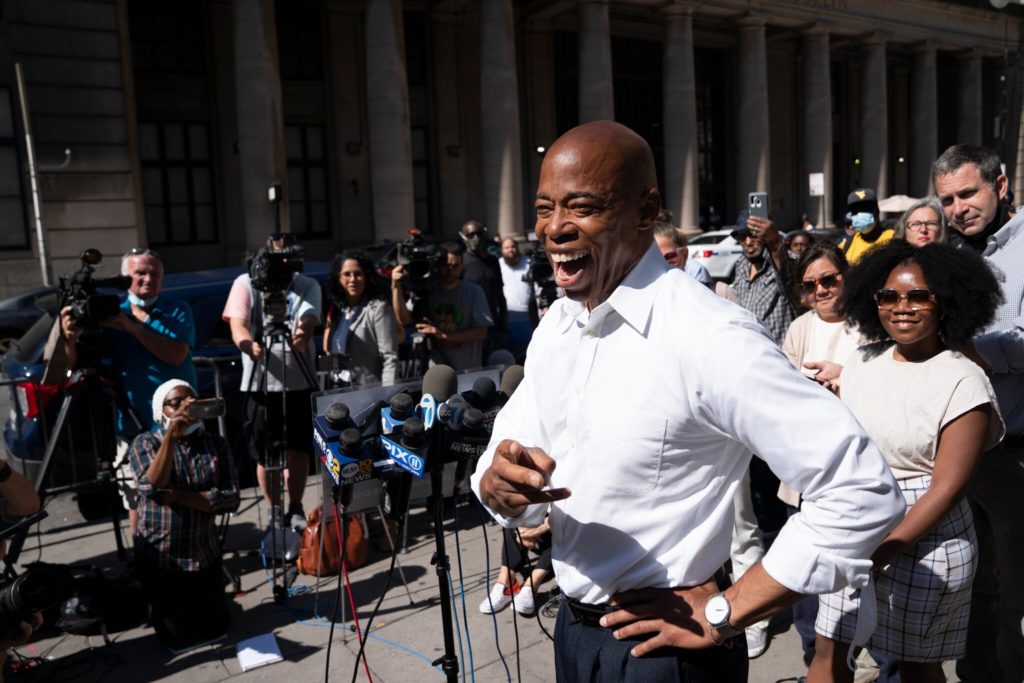 Photo by James Estrin/The New York Times

Last night, Eric Adams was declared the winner of the Mayoral Democratic Primary as he received 30.8% in the first round and 50.5% in ranked-choice, followed by Kathryn Garcia at 19.6% and 49.5% respectively; after the majority of absentee votes were counted, Adams stood 8,426 votes ahead of Garcia – thereby achieving a margin great enough to confirm that she will unlikely surpass him. The bulk of Adams' support came from working-class neighborhoods, including Brooklyn and the Bronx, as he focused his campaign on increasing public safety for Black and Latino New Yorkers; public safety was the centerpiece of the final rounds of debate for all candidates in light of rising shooting and homicide rates in the city. 

Although Adams has been declared the winner, the results are not yet final and Garcia's team has stated that they are "currently seeking additional clarity on the number of outstanding ballots." Maya Wiley, who finished in third place after last night's tally, stated that she would "have more to say about the next steps shortly." Both Garcia and Wiley have also stated that the results are not final, and therefore have not conceded. In terms of what's next, there are still details to be hashed out, though they are unlikely to affect any real change in the current placings. Last night's tally did not include all absentee ballots, of which 3,700 can still be cured; out of those 3,700, only 942 can still be cured while the remaining 2,760 defective ballots may have already been or may have missed the timeline to do so. Additionally, there are up to 7,000 affidavit ballots that may still be eligible as well. As of now, no candidate has made a statement regarding whether they will contest absentee and/or affidavit ballots.  

One interesting facet of this year's votes was the number of exhausted ballots – ballots in which every candidate ranked was eliminated from the race and thus would not affect the outcome. In this situation, it meant that voters with exhausted ballots ranked neither Adams nor Garcia. If, however, a big enough number of those exhausted ballots had ranked Garcia, they could have affected the outcome of the race. 

Aside from the Democratic Primary, other elections also had significant outcomes. In the race to become City Comptroller, Brad Lander was declared winner last night. Again, the margin appears too-big-to-close despite there being more ballots to count and rank. Lander's win is another major victory for the progressive movement, who saw wins throughout the City Council election as well; given this Left lean, it is likely that Adams will run into some issues. The City Council election was also significant in that, if the results from last night hold, the majority of the Council will be made up of women for the first time ever. Currently, women are leading in 29 of the 51 Democratic primaries. This being said, there are still more absentee ballots and cured ballots remaining to be counted, though the exact amount is unknown. 

As of the latest update, the Board of Elections projects to certify the mayoral primary by July 14th  although, given the constant delays that have taken place thus far, it is unlikely that the certification will be completed that quickly. 

Founded by attorneys Andreas Koutsoudakis and Michael Iakovou, KI Legal focuses on guiding companies and businesses throughout the entire legal spectrum as it relates to their business including day-to-day operations and compliance, litigation and transactional matters.

Connect with Andreas Koutsoudakis on LinkedIn.

Connect with Michael Iakovou on LinkedIn.

This information is the most up to date news available as of the date posted. Please be advised that any information posted on the KI Legal Blog or Social Channels is being supplied for informational purposes only and is subject to change at any time. For more information, and clarity surrounding your individual organization or current situation, contact a member of the KI Legal team, or fill out a new client intake form.

The post NYC Election Updates appeared first on KI Legal.