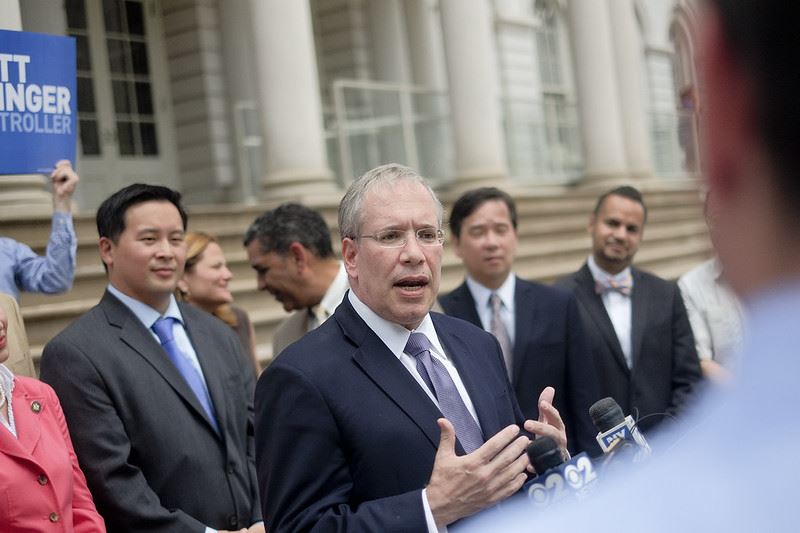 Photo courtesy of Gotham Gazette

 On March 17th, 2020, Mayor Bill de Blasio suspended the city's procurement rules by signing an emergency executive order to allow city agencies to issue contracts to tackle the Covid-19 equipment; these contracts allowed for protection equipment, contract-tracing, and tangential costs. Under the emergency order, however, the Mayor put the Mayor's Office of Contract Services in charge of reviewing contracts instead of gaining approval from the comptroller, who would normally approve emergency procurements to expedite goods and services. The emergency order was subsequently extended over 100 times since it was originally issued, even after the pandemic "subsided," the city largely reopened, and Governor Cuomo declared the state of emergency terminated. 

As a result, Comptroller Scott M. Stringer has filed a lawsuit against the mayor and the city in an effort to restore the procurement process. The reasons are as follows. 

1) The city has spent over $6.9 billion in taxpayer money without proper supervision. 

            This resulted in many supplies, such as N-95 masks and ventilators, never materializing or 

coming in wasteful sums. 

2) Many contracts were disreputable. 

Given the emergency situation, over three quarters of the contracts were awarded to first-time 

vendors or vendors with no experience at all. The city subsequently had to cancel $525 million in contracts when these vendors failed to deliver. 

3) The emergency order has surpassed its "allotted" time. 

            One of Stringer's biggest points is that the emergency order was extended time and time again 

despite it not being necessary, both because the pandemic was no longer overwhelming hospitals at the same rate and because supply chain issues were largely resolved. The lawsuit thereby stated that the extensions were "arbitrary and capricious, an abuse of discretion, and were made in violation of lawful procedure." It further characterizes the executive order as "a fragrant violation of the charter and an insult to the fundamentals of good government." 

In response, the mayor's administration has responded to Stringer's claims by citing that equipment was critically-needed, and had been accurately pre-approved by Stringer's office for prepayment. Additionally, his administration raised concerns over whether Stringer's decision to file the lawsuit is simply an attempt to stay in the limelight given his failed mayoral bid; he is projected to come in 5th place. 

Founded by attorneys Andreas Koutsoudakis and Michael Iakovou, KI Legal focuses on guiding companies and businesses throughout the entire legal spectrum as it relates to their business including day-to-day operations and compliance, litigation and transactional matters.

Connect with Andreas Koutsoudakis on LinkedIn.

Connect with Michael Iakovou on LinkedIn.

This information is the most up to date news available as of the date posted. Please be advised that any information posted on the KI Legal Blog or Social Channels is being supplied for informational purposes only and is subject to change at any time. For more information, and clarity surrounding your individual organization or current situation, contact a member of the KI Legal team, or fill out a new client intake form.

The post City Comptroller Scott M. Stringer Files Lawsuit Against the City and Mayor Bill de Blasio appeared first on KI Legal.