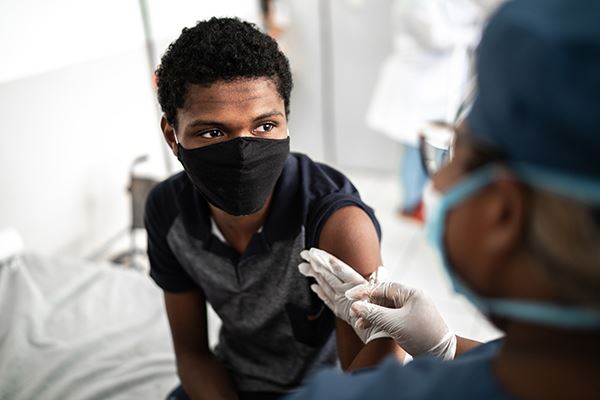 Photo courtesy of AAP News

According to data released by New York City's Department of Health, only 28% of Black New Yorkers, 18-44 years old, are fully vaccinated; this stands in stark contrast to the 48% of Latino residents and 52% of white residents in the same age group. The question now is: is the city's proof of vaccination mandate, which goes into effect today, going to further exacerbate racial disparity in the city? 

The city has upped its vaccination campaign in recent weeks. Whereas it initially focused the campaign on older residents prone to hospitalization and death during its earlier weeks, the campaign has transitioned into targeting young New Yorkers; the city has begun offering $100 payments for first doses and has issued countless statements urging employers to pressure employees to get tested however they feel is most effective. The issue is that, despite these efforts, the reasons why Black New Yorkers are not getting vaccinated have nothing to do with a lack of incentives. 

Several major themes regularly surface with regards to this topic. 

First, we cannot ignore the U.S.' history of medical experimentation on Black enslaved individuals and, later, citizens. Many Black New Yorkers have also specifically cited the Tuskegee syphilis experiment as another historical indicator that the government is not to be trusted. 

Second, many Black neighborhoods were disproportionately affected during the first wave. At the time, over 1/3 of Black (and Hispanic) New Yorkers were infected; additionally, a combination of a higher prevalence of underlying conditions and quickly overwhelmed hospitals led the death rate to be much higher in these communities as well. From the standpoint of Black New Yorkers, the government did little to save them at the time so what has changed now? 

Thirdly, a lack of communication and education from the government has only reinforced this distrust – both in terms of government agendas and of the vaccines themselves. The one-shot Johnson & Johnson vaccine was purposefully directed to Black and other socio-economically disadvantaged neighborhoods by the city government. So when it was revealed that the vaccine was suspended over blood clot side effects, Black New Yorkers believed that the government had purposefully directed the most unsafe, under-tested vaccine to their community. This was compounded not only by the government's lack of information sharing, but also by the medical community's systemic medical racism – which came together to make Black residents feel as though they were being pushed to get vaccinated without ever receiving the necessary information they needed. Beyond the vaccines themselves, many Black New Yorkers simply felt as though it was suspicious that the government is prioritizing minority neighborhoods in the first place. 

Now, all eyes are on the proof of vaccination mandate. Many have come to view it as discriminatory, given that Black New Yorkers have no option but to get vaccinated if they want to partake in indoor activities – but still feel as though they are lacking the necessary information, guidance, and trust to do so. Especially against the backdrop of an ongoing pandemic that has highlighted numerous racial disparities, this is a conversation that needs to happen effectively. 

Founded by attorneys Andreas Koutsoudakis and Michael Iakovou, KI Legal focuses on guiding companies and businesses throughout the entire legal spectrum as it relates to their business including day-to-day operations and compliance, litigation and transactional matters.

Connect with Andreas Koutsoudakis on LinkedIn.

Connect with Michael Iakovou on LinkedIn.

This information is the most up to date news available as of the date posted. Please be advised that any information posted on the KI Legal Blog or Social Channels is being supplied for informational purposes only and is subject to change at any time. For more information, and clarity surrounding your individual organization or current situation, contact a member of the KI Legal team, or fill out a new client intake form.

The post How the Proof of Vaccination Mandate Will Affect Black New Yorkers appeared first on KI Legal.