Andreas Koutsoudakis has been appointed to Law360's 2023 Hospitality Editorial Advisory Board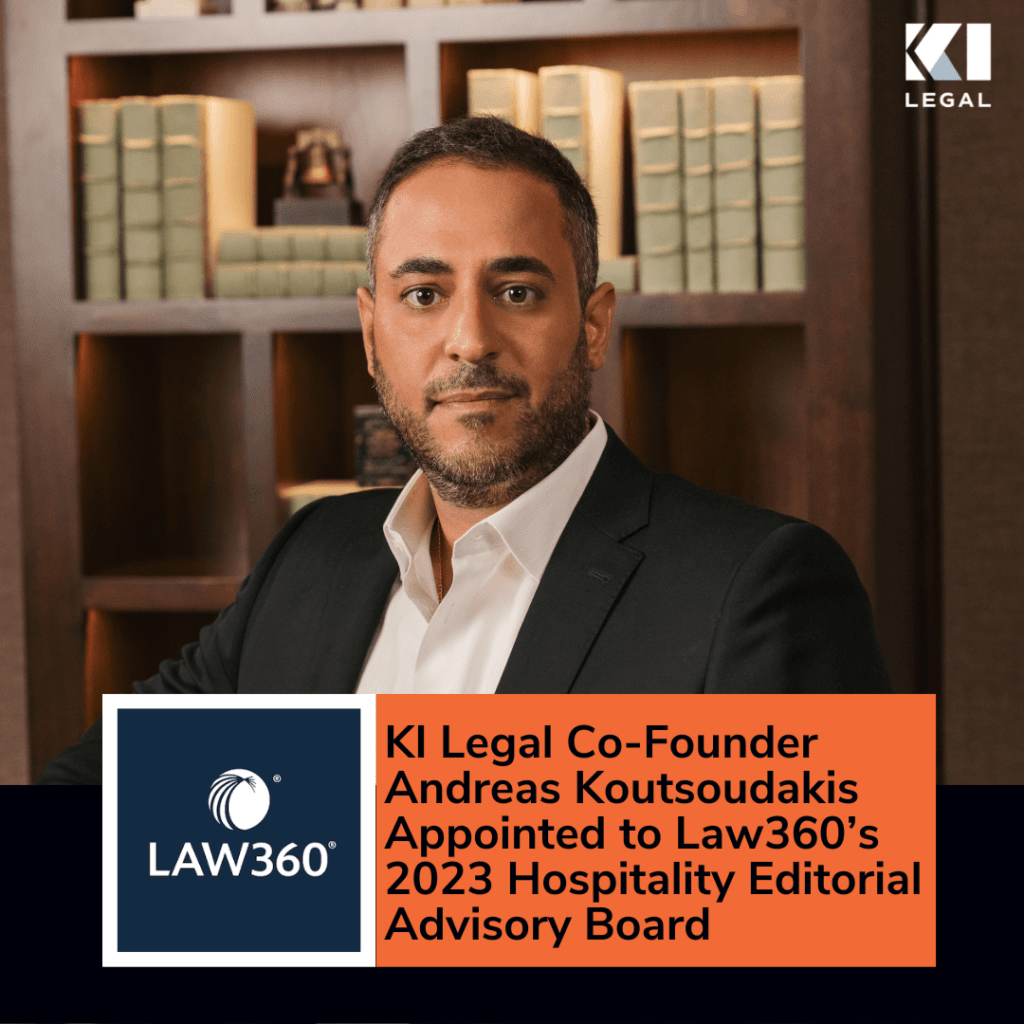 NEW YORK, NY – May 2023 – Law 360 has appointed KI Legal Co-Founder, Andreas Koutsoudakis, to its 2023 Hospitality Editorial Advisory Board. The editorial advisory board provides feedback on Law360's coverage and expert insight on how best to shape future coverage.

Andreas represents and advises businesses in litigation matters involving employment-related issues, shareholder and commercial disputes, governmental investigations and audits, and contractual relationships. In the context of protecting his clients in court, Andreas' client representation also involves asset protection strategies, corporate clean-up and restructuring, as well as Chapter 11 reorganization plans. His clients count on him to provide reliable preventive general counseling, which includes federal, state and local laws, internal audits and investigations, and handbook/employee policy and compliance with development and implementation. 

As a restaurant owner himself, Andreas serves his restaurant clients with a unique perspective, appreciation, and understanding of the intricacies of their businesses. For Andreas, the hospitality industry is not just a legal practice area, but rather his personal and professional foundation. Having grown up in the industry, and become a restaurant owner himself, Andreas is acutely aware of the numerous issues that face such operations – whether that be labor and employment issues, shareholder and commercial disputes, governmental investigations and audits, commercial real estate and landlord-tenant disputes – and so on. This personal experience has allowed Andreas to effectively become a role model for his clients, implementing the very legal strategies he recommends for them in his own place of business. By educating hospitality operators on the legal solutions at their disposal, Andreas aims to create a new "wave" of informed business owners who are prepared to operate compliant, successful businesses regardless of whether they commenced their operations in such a way.  From top-tier establishments and quick service restaurants to national and regional chains, as well as single-location businesses, Andreas provides high-quality representation for the full spectrum of restaurant types. With an eye towards efficient and effective representation, his clients trust him with all legal matters they encounter on a day-to-day basis.

Andreas' education-based representation style has informed KI Legal's overall ethos and diversified its educational efforts. While KI Legal employs a small-firm-style attention to detail and communication, it offers a Big Law slate of services for its array of client verticals. As such, the firm's educational content and messaging is geared towards many different audiences; it balances topics that are of importance for small "mom and pop" restaurants, as well as national chains. Big Law cannot be the only voice that is influencing the educational material being presented to the hospitality sphere's clients and dedicated attorneys. It is crucial to have an editorial voice that readers can relate to – one that is inclusive of the array of different client, attorney, and firm types that act on the lessons they learn from this content.

Co-Founder and Head of Litigation, Andreas Koutsoudakis, is quoted as saying "it is an honor to be a part of this board alongside such accomplished members. Whether it be the upcoming minimum wage increase or ongoing third-party food delivery service fee-cap deliberations, we here at KI Legal believe in giving a voice to all versions and types of restaurants – a voice that accounts for the realities of their specific economics, not just those of their well-organized, well-structured, and well-capitalized counterparts. Hospitality establishments have always existed as an escape for our various communities – a much-welcomed break amidst the rush of life – and the industry has firmly established itself not merely as a piece of the economic fabric of society, but also the very social fabric that keeps us together. A large part of why the industry has been able to engrain itself in this way is due to the day-to-day creativity and hard work of each independent owner/operator and their fellow industry members. No matter how difficult it has been, and continues to be, to have their voices heard and their needs advocated for, they have not given up – that is why I remain committed to doing so by way of my role on this board."

Andreas looks forward to leveraging his unique and qualified level of knowledge and expertise in the hospitality space through his membership on Law360's Hospitality Editorial Advisory Board.  

###

To reach Andreas Koutsoudakis, please contact Zoe Darmon at (646) 766-8308 or zd@kilegal.com

KI Legal focuses on guiding companies and businesses throughout the entire legal spectrum. KI Legal's services generally fall under three broad-based practice group areas: Transactions, Litigation and General Counsel. Its extensive client base is primarily made up of real estate developers, managers, owners and operators, lending institutions, restaurant and hospitality groups, construction companies, investment funds, and asset management firms. KI Legal's unwavering reputation for diligent and thoughtful representation has been established and sustained by its strong team of reputable attorneys and staff. For the latest updates, follow KI Legal on LinkedIn, Facebook, and Instagram. For more information, visit kilegal.com.

The post KI Legal Co-Founder Andreas Koutsoudakis Appointed to 2023 Law360 Hospitality Editorial Advisory Board appeared first on KI Legal.