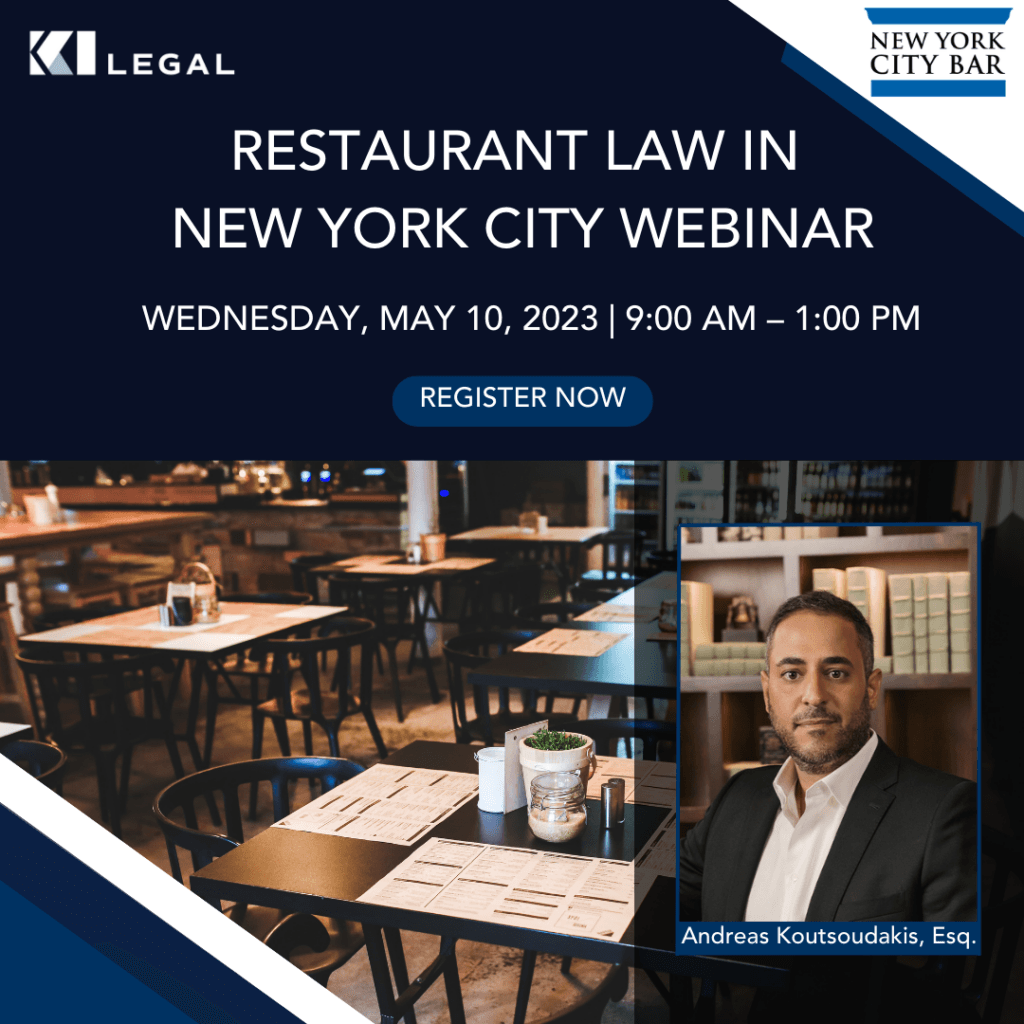 Yesterday, Co-Founder Andreas Koutsoudakis spoke at the New York City Bar's CLE Program on "Restaurant Law in New York City: 2023 Edition."
This program focused on the corporate, real estate, liquor license, and labor/employment issues involved in opening and operating a restaurant in New York City. Attendees learned about:
the choices of legal entity to form for restaurant projects, investment and management structures, purchase and sales transactions and transfer liability;
lease issues such as build outs and provisions regarding assignment, contingencies, and guarantees;
the requirements for obtaining on and off premises liquor licenses and how to navigate the process and procedure before the New York State Liquor Authority and the local Community Boards; and
overtime, sex harassment policies, spread of hours, the 80/20 rule, tip credit, and other essential labor and employment issues.
Andreas kicked off the program by educating attendees on the corporate considerations at hand, focusing on issues such as:
LLC v. corporation – entity choices for restaurants;
Corporate structures for startup restaurants and restaurant groups;
Investment in restaurant businesses – typical investment terms; and
Acquiring a restaurant business – factors to consider for a purchase of assets or equity of an existing business.
Check out Andreas' presentation and supporting materials to gain a better understanding of the topics at hand.

AK_RestaurantBootcamp_Presentation_2023Download AK_Restaurant-Law-CLE-2023_Supporting-MaterialsDownload

—

It is important to be aware of all corporate considerations associated with owning and operating a restaurant in NYC. For more information on the topics covered during this program, or for services related to your specific situation, do not hesitate to contact our knowledgeable restaurant attorneys by calling (646) 766-8308 or emailing info@kilegal.com to get the help you need.  
---
*ATTORNEY ADVERTISING*

*PRIOR RESULTS DO NOT GUARANTEE A SIMILAR OUTCOME*

This information is the most up to date news available as of the date posted. Please be advised that any information posted on the KI Legal Blog or Social Channels is being supplied for informational purposes only and is subject to change at any time. For more information, and clarity surrounding your individual organization or current situation, contact a member of the KI Legal team.  

 _____________________________________________________________________________________________ 

KI Legal focuses on guiding companies and businesses throughout the entire legal spectrum. KI Legal's services generally fall under three broad-based practice group areas: Transactions, Litigation and General Counsel. Its extensive client base is primarily made up of real estate developers, managers, owners and operators, lending institutions, restaurant and hospitality groups, construction companies, investment funds, and asset management firms. KI Legal's unwavering reputation for diligent and thoughtful representation has been established and sustained by its strong team of reputable attorneys and staff. For the latest updates, follow KI Legal on LinkedIn, Facebook, and Instagram. For more information, visit kilegal.com.   

The post Co-Founder Andreas Koutsoudakis Presents at NYC Bar's "Restaurant Law in NYC: 2023 Edition" CLE Program appeared first on KI Legal.