By Socrates Xanthopoulos & Matthew McCarthy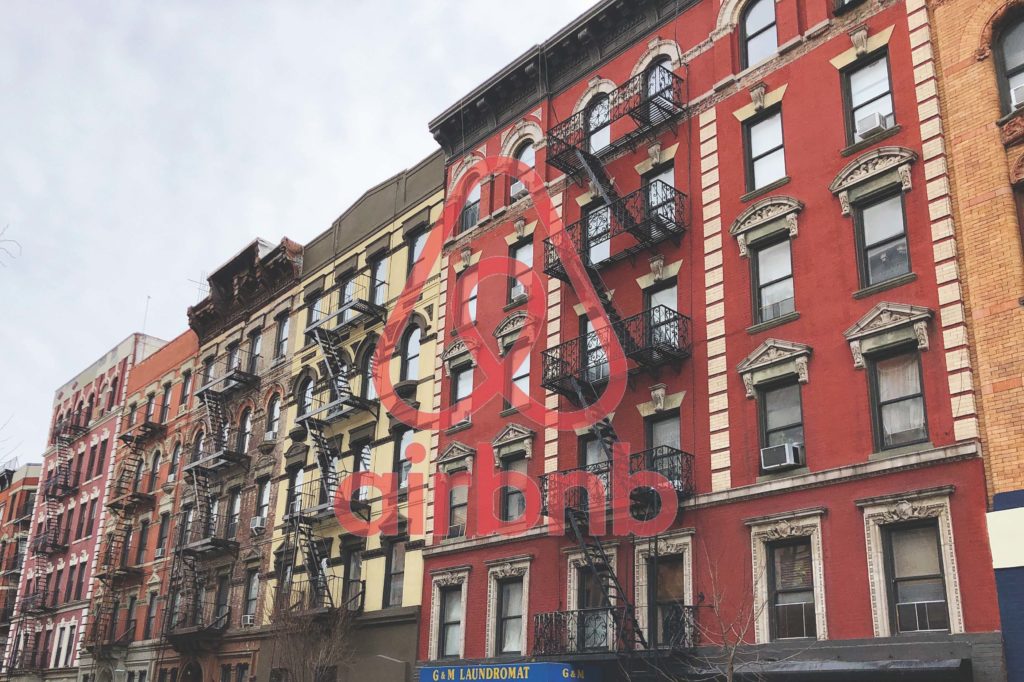 Airbnb is one of the leading hospitality proprietors dedicated to creating memorable homestay experiences at affordable prices for visitors to a new town or city. It is no surprise then, that New York City is a hot spot of rental listings for out-of-towners or residents looking for a weekend escape and a change of scenery. With thousands of listings offered throughout the City's boroughs — ranging from entire brownstones in Williamsburg to shared communal rooms in the East Village — Airbnb has created a lucrative short-term rental service that is beneficial for both visitors and landlords looking to make some extra money on the side. Sounds great, right? If you're a landlord (or maybe even a tenant) in New York City, you've more than likely thought about ditching the traditional leasing model and, instead, offering your space up for short-term rent on Airbnb. It's even more likely, however, that you've been put off from doing so after hearing from various people – whether that be from friends and family, local real estate brokers, or on the internet after running an ordinary Google search – that it is illegal to do so. The truth is, prohibitive restrictions established by local zoning and administrative codes have imposed difficult hurdles to clear for those wishing to become Airbnb hosts in New York. Nevertheless, it IS possible to legally rent out your space in New York on Airbnb, subject to various limitations. This article serves as a how-to guide for landlords looking to rent out their available space in New York City without violating state law and local administrative code. 
First things first: just what is a short-term rental under New York law? Short-term rentals refer to units available for rent for any period shorter than thirty days.1Airbnb offers users two possible short-term rental options: (1) the option to rent a room while the original occupants remain in the complex; or (2) the option to rent out an entire apartment or house without any occupant present.2 The issue that potential Airbnb hosts face in New York is that it is impermissible to rent out an entire apartment or home for less than thirty days, regardless of whether the host owns or lives in the building.3 
New York State Multiple Dwelling Law ("MDL") prohibits short-term rentals in homes or apartment complexes with three or more units.4 Specifically, MDL §4(8)(a) classifies a multiple dwelling of three units or more as a "class A" multiple dwelling that "shall only be used for permanent residence purposes."5 Additionally, MDL § 4(8)(a)(1) outlines that "occupancy of such dwelling for fewer than thirty consecutive days by other natural persons living within the household of the permanent occupant such as house guests or lawful boarders, roomers or lodgers" is prohibited.6 As such, these class A dwellings, i.e., units in a home or building containing at least three units, cannot be advertised on Airbnb unless the listing falls within one of the exceptions. Failure to adhere to these terms could result in fines ranging from $1,000 to $7,500.7 
The class A prohibition is further codified in New York City Building Code §310.1.3, which states that short-term leasing in one- and two-family homes can only be used as "shelter and sleeping accommodation on a long-term basis for a month or more at a time…" All residential buildings in New York City must have a certificate of occupancy that declares the legal use and occupancy of the building. A change of occupancy from long-term residential to transient rental use requires amendment of the certificate.8  
‍Despite these legal hurdles, there are some exceptions to the above-mentioned prohibitions that would allow short-term guests to be permitted as lodgers. The requirements that must be satisfied in order for a unit to be rented to short-term guests include the following:  
A host must be present during guest stays if the stay is less than thirty days; 
A host can only require a maximum of two paying guests for stays less than thirty days so long as the guests have free and unobstructed access to every room and every exit within the apartment; 
A host cannot install internal doors that have key locks allowing guests to leave and lock their room behind them; 
All occupants—whether they be host, roommate or guest—must maintain a common household, meaning everyone has access to all parts of the dwelling unit; 
Under the NYC Administrative Code, the burden to maintain a safe and code-complaint residence at all times falls on the appropriate property owner, and that owner can be held liable for any violation, even if a tenant's conduct leads to such a violation.9 This means that if tenants attempt to rent out their entire apartments without the knowledge and consent of their landlord, the landlord could still be held liable. 
For tenants looking to rent their space to short-term guests, failure to adhere to these requirements could lead to, amongst other things, eviction. In 2018, officials raided and shutdown a condominium on the West Side that allegedly operated an illegal home-sharing system by renting out apartments to occupants for less than thirty days, unsupervised.10 In that case, the tenants were not given the opportunity to address the complaint of an allegedly illegal Airbnb system because it was considered an "illegal sublet," as the unit owners were not present in the rented condominium apartments once in use.11  

Instances similar to the West Side condominium raid have led to new legislation being passed by the City Council. Starting in January 2023, short-term rental hosts will be required to register their properties with the City to obtain short-term rental registration numbers.12 These short-term rental hosts must inform the City if their property is listed with any marketplace, including Airbnb. Additionally, there is a registration fee (ranging from $20 to $100) that each host will have to pay. Once a host has acquired a registration number, the number must be included in any and all advertisements and listings of the available space, including on Airbnb. Additionally, Airbnb must also register with the City and verify registration numbers prior to processing host transactions.13 Note that rent-controlled dwellings, City-subsidized buildings and public housing are not eligible for this registration, and owners/tenants of such properties who look to rent their spaces to short-term guests (or otherwise establish a home-sharing system) risk being considered illegal sublets—subject to a $5,000 penalty and possibility of eviction.14  

If you are looking to become an Airbnb host, it is important that you adhere to City Ordinances that will affect the terms of your hosting abilities. If you are already a host and are uncertain whether any of your current listings violate any particular restrictions, including the ones discussed in this article, please feel free to contact KI Legal. Our Real Estate Practice is equipped with highly skilled attorneys who possess the necessary skills to assist you with any compliance needs and concerns. For more information, visit us at https://kilegal.com or contact us at (646) 766-8308.  

 _____________________________________________________________________________________________ 

1 R. Rani, NYC Short Term Rental Laws, Singh & Rani, LLP, Accessed Oct. 14, 2022. https://www.singhranilaw.com/post/nyc-short-term-rental-laws 

2 Airbnb — Hosting in New York, NY: https://www.airbnb.com/help/article/868/new-york-ny 

3 NYC Office of Special Enforcement – Information for Hosts: https://www1.nyc.gov/site/specialenforcement/stay-in-the-know/information-for-hosts.page 

4 MDL § 4(7) 

5 MDL § 4(8)(a) 

6 MDL § 4(8)(a)(1) 

7 NYC Office of Special Enforcement – Information for Hosts: https://www1.nyc.gov/site/specialenforcement/stay-in-the-know/information-for-hosts.page 

8 N.Y.C. Admin. Code § 28-118.3.1 

9 Airbnb — Hosting in New York, NY: https://www.airbnb.com/help/article/868/new-york-ny 

10 TRD Staff, City officials conduct one of the largest Airbnb raids at Far West Side condo building, The Real Deal: New York Real Estate News, Nov. 12, 2018. Airbnb NYC Laws | Atelier NYC | Airbnb Crackdown (therealdeal.com) 

11 Id.  

12 J. Sokolowsky, New York City to require short-term rentals to register, Avalara MyLodgeTax – State and Local News, Mar. 1, 2022. New York City to require short-term rentals to register (avalara.com)  

13 Airbnb — Hosting in New York, NY: https://www.airbnb.com/help/article/868/new-york-ny 

14 MDL § 26-3102 Short-term rental registration 

 _____________________________________________________________________________________________ 

*ATTORNEY ADVERTISING*

*PRIOR RESULTS DO NOT GUARANTEE A SIMILAR OUTCOME*

This information is the most up to date news available as of the date posted. Please be advised that any information posted on the KI Legal Blog or Social Channels is being supplied for informational purposes only and is subject to change at any time. For more information, and clarity surrounding your individual organization or current situation, contact a member of the KI Legal team.  

 _____________________________________________________________________________________________ 

KI Legal focuses on guiding companies and businesses throughout the entire legal spectrum. KI Legal's services generally fall under three broad-based practice group areas: Transactions, Litigation and General Counsel. Its extensive client base is primarily made up of real estate developers, managers, owners and operators, lending institutions, restaurant and hospitality groups, construction companies, investment funds, and asset management firms. KI Legal's unwavering reputation for diligent and thoughtful representation has been established and sustained by its strong team of reputable attorneys and staff. For the latest updates, follow KI Legal on LinkedIn, Facebook, and Instagram. For more information, visit kilegal.com.   

The post How Can NYC Landlords Legally Rent Out Apartments on Airbnb? appeared first on KI Legal.