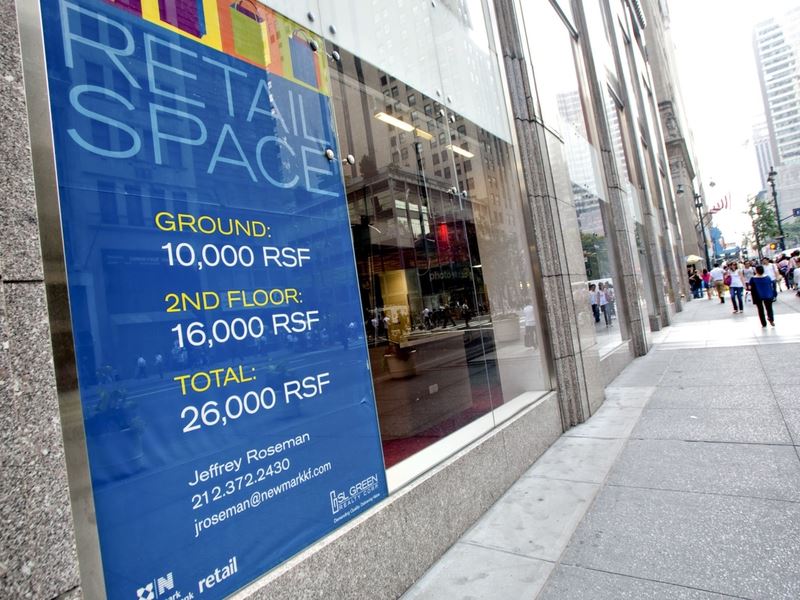 By the end of last year, chain stores in Manhattan had fallen over 17% from their 2019 numbers, according to the Center for an Urban Future. Now, however, ground-floor stores are skyrocketing again. About a quarter of all ground-floor storefronts in Lower Manhattan, and a third in Herald Square, are now available for rent according to Cushman & Wakefield. These numerous vacancies reflect just how many businesses had to close due to pandemic-related effects. Starbucks and Pret a Manger have closed over 30 locations in Manhattan since last March alone, while a flurry of delicatessens, independent restaurants, and smaller local chains have closed as well. 

Nowhere has these closures, and now vacancies, been more apparent than in Midtown. According to real estate broker Jeffrey Roseman, "Midtown clearly has been the hardest hit of any of the areas of Manhattan. If you think of other office-centric areas, whether all the way downtown or Flatiron or Hudson Yards, there is a lot of residential surrounding those areas that helped sustain those markets. Midtown, for the most part, is a one-trick pony." In Roseman's opinion, this can be attributed "mostly to offices and hotels, which also took a hit from the downturn in tourism." The same trend has extended further downtown nonetheless. In the Union Square area, for example, ABC Carpet & Home filed for bankruptcy protection largely because of "a mass exodus of current and prospective customers leaving the city." 

But, as the pandemic continues to make clear, one business' closure is another's opportunity. Food and beverage companies, though they were arguably one of the most affected sectors, signed 23 new leases in Manhattan in the second quarter (surpassing apparel retailers) according to CBRE. 

Others taking advantage of the climate in Midtown have altered their business strategies to make their offerings more appealing to customers; while they know that they still need a brick-and-mortar, they might only offer takeout and delivery or grab-and-go offerings because they know that this style of "eating out" is more popular now. 

Then there are those who have turned their focus to other markets. Bluestone Lane, for example, had pre-pandemic plans to aggressively expand into Manhattan, especially in Midtown. Now, however, it is redirecting its efforts towards residential neighborhoods – such as Battery Park City, Hudson Yards and TriBeCa. According to Bluestone founder and chief executive, Nick Stone, "we intentionally selected urban residential areas for our new cafes so we are not dependent on our locals returning to a physical office space, and are well positioned for the future of hybrid work." 

While this push and pull trend will continue on as long as the pandemic persists, and will stay long after it has "finished," it remains a key indicator of how fast the city is trying to get back on its feet again. 

Founded by attorneys Andreas Koutsoudakis and Michael Iakovou, KI Legal focuses on guiding companies and businesses throughout the entire legal spectrum as it relates to their business including day-to-day operations and compliance, litigation and transactional matters.

Connect with Andreas Koutsoudakis on LinkedIn.

Connect with Michael Iakovou on LinkedIn.

This information is the most up to date news available as of the date posted. Please be advised that any information posted on the KI Legal Blog or Social Channels is being supplied for informational purposes only and is subject to change at any time. For more information, and clarity surrounding your individual organization or current situation, contact a member of the KI Legal team, or fill out a new client intake form.

The post Midtown Storefronts – One's Closure is Another's Opportunity appeared first on KI Legal.