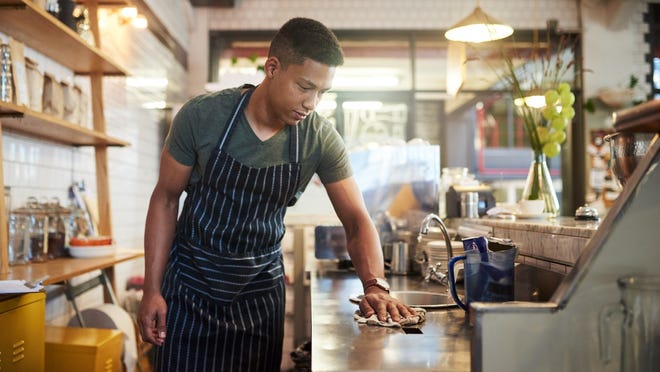 Off-premises has only gotten more attractive over the course of the pandemic. Operators have taken advantage of the low cost of entry and a growing number of models associated with delivery-only brands; in addition, there is a spate of technology and marketing assets that have been developed for such brands – only making it easier to reach wider and wider audiences. 

Due to this enormous rise in delivery-only brands, many in the industry have been looking at just how the delivery-only model works and one question still remains up for interpretation: is it a franchise? While some believe that virtual brands are the new frontier of franchising, those operating the brands argue that they are not presenting their brands as franchise offerings at all. What is clear is that a virtual brand and a traditional franchise can be 2 very different things, and the subsequent legal considerations should be highlighted. According to the chair of the David Wright Tremaine National Restaurant Industry Practice Group, Riley Lagesen, "the landscape of virtual brands is dynamic, extremely competitive, and new, and it's not going away. Fundamentally the question is can all the parties in the chain make money with these models and, if they can, is it sustainable?" 

So is it a franchise?

According to the 2 largest virtual brand operators – Virtual Dining Concepts and Nextbite – they do not see themselves as franchisors despite offering multiple turnkey brands. Nextbite calls its restaurant operators "fulfillment partners" while Virtual Dining Concepts view it more as a "license to become a market partner for a specific territory." 

According to Virtual Dining Concepts founder Robert Earl, "there are legal requirements for franchising and the production of franchise documents that have to be filed, and signing-on fees. We do none of that." Per the VDR model, operators can take on the turnkey brands that they find work best for their kitchen setup; some have even launched with celebrities in an effort to immediately build their brand awareness. Accordingly, operators pay 35-40% of sales to VDC, which then uses that money to run everything from marketing to third-party food delivery services and partnerships. The remaining 60% of sales is divided roughly in 2, with operators spending 30% in food and packaging costs with 30% in profit remaining. As can be seen, this model prioritizes flexibility and allows operators to effectively stop the brand if it isn't working for them – something that traditional franchising does not achieve. In Earl's words, "we give you a market license that has no obligation on your side. You can stop at any time." 

Other virtual brand providers, however, are offering a specific franchise model. The Local Culinary Model, which is based out of Miami, calls itself a virtual brand franchisor. It files disclosure documents and complies with the same procedures just without the obligations that come with opening a brick-and-mortar location. Under the brand's structure, franchisees pay an entry fee, royalties, and a marketing fee that amount to 7% of sales; from there, most franchisees take on 10-15 brands. A franchise agreement offers the operator territory exclusivity while Local Culinary offers training and support back. According to The Local Culinary founder, Alp Franko, "today, we are the first, and still I think the only virtual restaurants using FDDs. Yes, it's a very regulated model. Yes, it's very different, but I believe in it." 

So what happens when you expand an existing, brick-and-mortar business to include a virtual brand component? 

Many restaurants did not start off as virtual brands but have come to understand the value of such an addition to their business. As such, these operators find themselves in a similarly sticky situation. According to legal experts specializing in the field, such as Attorney Lagesen of Davis Wright Tremaine, restaurant operators who are planning to expand their operations to include virtual brand(s) should treat them as if they are a franchisor in order to avoid legal complications. According to Lagesen, "even though some operators might not call it franchising, it could be seen as a franchise relationship if it meets a certain definition under state or federal laws. If a company is offering rights to a trademark, for example, compensation for use of that trademark and then offering marketing support or control over the operation, that could be considered franchising." He continues by adding that if "it meets the elements, it's a franchise by law, and that could mean the franchisor has obligations to follow certain rules and procedures, like filing disclosure documents, although there are exemptions that could also apply." 

According to attorney Andrew Sherman, to preempt disputes about the franchising, or lack thereof, of virtual brands, "franchisors should follow the rules and procedures of franchising when building virtual brand partnerships — though such agreements should include elements specific to delivery-only operations." In his opinion, "FDDs are designed to create an informed franchisee decision. If you have people committing time and mortgaging their homes, I would argue you must file an FDD, no matter what you call them. And you need a separate ghost kitchen FDD. The terms might be very different." 

As virtual brands become more and more entrenched in the restaurant industry, and more operators begin to expand their operations, these legal considerations and repercussions will only become clearer – therefore necessitating an early start now. 

Founded by attorneys Andreas Koutsoudakis and Michael Iakovou, KI Legal focuses on guiding companies and businesses throughout the entire legal spectrum as it relates to their business including day-to-day operations and compliance, litigation and transactional matters.

Connect with Andreas Koutsoudakis on LinkedIn.

Connect with Michael Iakovou on LinkedIn.

This information is the most up to date news available as of the date posted. Please be advised that any information posted on the KI Legal Blog or Social Channels is being supplied for informational purposes only and is subject to change at any time. For more information, and clarity surrounding your individual organization or current situation, contact a member of the KI Legal team, or fill out a new client intake form.

The post Legal Considerations For Delivery-Only Brands appeared first on KI Legal.