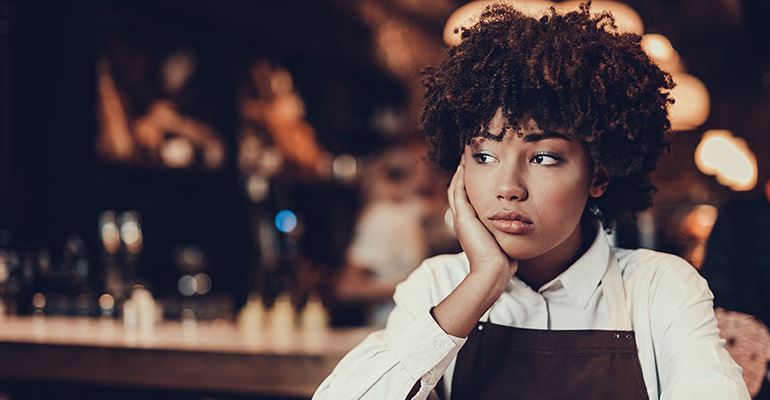 One Fair Wage, a non-profit non-governmental organization working towards ending subminimum wages in the country, has just released a new report on the state of the industry in 2021 up to now. The biggest underlying theme: 2021 has been worse than 2020. 
Based on the survey of over 200 tipped workers from across the country, the report found that workers have seen tips decline while sexual harassment and customer hostility continue to rise. 
Here are the most important findings:
Over 1/3 said that their tips and additional wages still do not bring them up to their state's minimum wage 
Almost 50% said they were not compensated for overtime 
3/4 of tipped workers said tips have decreased 
Over 50% said there has been an increase in hostility and harassment in relation to enforcing Covid-19 protocols 
1/3 of respondents said they were afraid of enforcing Covid-19-safety protocols out of concern for getting fewer tips 
1/3 of respondents said that unwanted sexualized comments from customers have increased 
More than half of respondents say they have considered leaving the industry

76% cite low wages and tips; 
58 cite Covid-19 safety;
And 41% cite customer hostility 

What would make respondents stay in the industry?

78% cite a full, stable, livable wage with additional tips; 
38% cite increased hours;
48% cite said paid sick leave;
34% cite better Covid-19-safety protocols; 
37% cite better health insurance;
And 37% cite a less hostile work environment 
One Fair Wage has long been advocating for higher wages and the elimination of the tip credit, however, the group has taken on a number of other issues plaguing the restaurant industry as they become more pressing. Recently, especially during the pandemic, this has included sexual harassment and customer hostility with regards to safety protocols – including wearing masks and showing proof of vaccination. During a recent seminar on wage-and-hour protections hosted by the Department of Labor and One Fair Wage, U.S. Secretary of Labor Marty Walsh and One Fair Wage President Saru Jayaraman reaffirmed their commitment to the industry. While Jayaraman shared that "we are seeing a real uptick in violations of worker rights in this industry," Walsh confirmed that "restaurant workers are essential workers. You feed us. You feed our communities. You support our communities and you kept us going throughout the pandemic." 

Aside from One Fair Wage, a number of other more "neutral sources" have also taken a look at how the industry is shaping up this year. BlackBox and Snagajob, for example, just released a report on the rise of worker mistreatment due to the pandemic and its enduring labor crisis. Other reports from industry professionals themselves corroborate this with first-hand accounts of worker mistreatment due to vaccine and mask mandate enforcement. 

Founded by attorneys Andreas Koutsoudakis and Michael Iakovou, KI Legal focuses on guiding companies and businesses throughout the entire legal spectrum as it relates to their business including day-to-day operations and compliance, litigation and transactional matters.

Connect with Andreas Koutsoudakis on LinkedIn.

Connect with Michael Iakovou on LinkedIn.

This information is the most up to date news available as of the date posted. Please be advised that any information posted on the KI Legal Blog or Social Channels is being supplied for informational purposes only and is subject to change at any time. For more information, and clarity surrounding your individual organization or current situation, contact a member of the KI Legal team, or fill out a new client intake form.

The post Hospitality Industry Sees Rise in Wage Theft, Harassment, and Hostility appeared first on KI Legal.