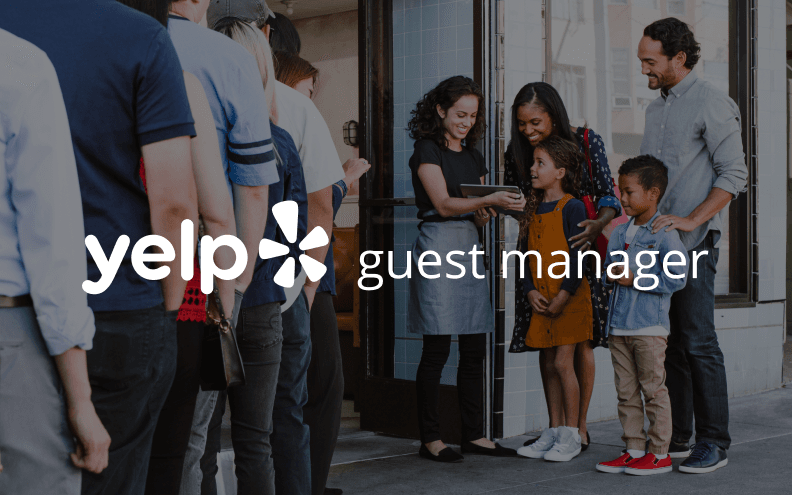 Two new developments in the hospitality technology field will make systems operations for F&B establishments more efficient and effective. These developments are Yelp's new service "Yelp Guest Manager" and the product of an OpenTable-Indeed partnership: "Interview Days: Restaurant Jobs."
"Yelp Guest Manager" 
Today, Yelp introduced "Yelp Guest Manager": a new tool that will bundle the company's front-of-house features – including reservations, POS integration, takeout, curbside pickup, table management, and other new features – into 1 "fully integrated solution," per Yelp's latest press release. 
This tool solidifies Yelp's transition to becoming an all-in-one restaurant technology platform, straying away from its initial crowdsourced reviews beginnings. More specifically, Guest Manager is a direct response to the industry's labor shortage. 
New features will include: 
Reservations and waitlist features for customers integrated on a restaurant's Yelp profile
Table management for FOH organization and integration with a restaurant's POS system
The ability to take takeout orders, track them and send customers texts via this Guest Manager system
An extension of the waitlist feature that allows customers to check into a virtual waitlist upon arrival at a restaurant and receive text notifications about the status of their table
The ability for operators to send confirmation texts to curbside pickup customers and ask for details (like the make and model of their car), so an employee can easily deliver their food to the parking lot 

According to Yelp for Restaurant's vice president of products, Anthony Cross, "this update streamlines restaurant's curbside operations and helps ensure hosts have the information they need to manage and deliver orders efficiently without having to send confirmation messages and manually get the details needed for a seamless transaction." 

A virtual kitchens attribute, which will allow customers to easily see if the restaurant they're researching is a traditional restaurant or a ghost kitchen and can be added to any restaurant's profile 

Cross believes that "for customers who are looking to dine-out at a restaurant, this designation also reduces confusion by helping them understand that no seating is available, and in some cases that delivery is the only way of ordering food from the virtual kitchen." 
In addition to these features, Yelp Guest Manager also includes the product of 2 other partnerships, with Punchh and Olo. 

The partnership with Punchh will allow Yelp customers to build their loyalty and rewards programs using customer dining data. This will allow operators to see the customer's information when they check-in at a restaurant, including their: loyalty rewards, seating preferences, allergies, number of visits, and special dates (i.e. birthdays and anniversaries). 

The partnership with Olo will integrate any digital orders made with an Olo-powered app into Guest Manager's interface. This will effectively streamline customer verticals – like dine-in, takeout, delivery, and curbside pickup – into a single place. 

Yelp Comments 

In a statement following Guest Manager's unveiling, Cross explained that "with today's launch of Yelp Guest Manager, we aim to help restaurateurs and their staff better manage guests across their dining experience by simplifying time-consuming front-of-the-house tasks, so hosts can focus on providing hospitality to their guests." He added that "introducing new integrations and features in one product will eliminate the burden of front-of-the-house staff managing multiple screens to serve customers." 

Here is a link to the press release: https://blog.yelp.com/news/launching-yelp-guest-manager-for-restaurant-front-of-the-house/ 

OpenTable-Indeed Partnership "Interview Days: Restaurant Jobs" 

In light of recent data, OpenTable and Indeed have also created a direct response to the industry's labor shortage by launching a month-long hiring initiative called "Interview Days: Restaurant Jobs." 

According to the National Restaurant Association, the industry has a shortage of over 1 million workers compared to pre-pandemic times. At the same time, however, OpenTable has reported that dining is up 30% from pre-pandemic levels as of September and Indeed data shows that job postings in the food industries have increased by 39.9% since February 2020. 

As such, the October initiative will be catered towards both restaurateurs and workers in order to restaff establishments. The initiative will offer online tools that will aid the interviewing and hiring process for employers. Running concurrently will be another portal which, according to the website, will connect workers with "actively hiring employers in the food and beverage industry across the U.S. If you're selected to interview with one of these employers, we'll provide you with guidance and advice to help you prepare for your interview." 

Here is a link to the portal: https://www.indeed.com/hire/smb-interview-days.

Founded by attorneys Andreas Koutsoudakis and Michael Iakovou, KI Legal focuses on guiding companies and businesses throughout the entire legal spectrum as it relates to their business including day-to-day operations and compliance, litigation and transactional matters.

Connect with Andreas Koutsoudakis on LinkedIn.

Connect with Michael Iakovou on LinkedIn.

This information is the most up to date news available as of the date posted. Please be advised that any information posted on the KI Legal Blog or Social Channels is being supplied for informational purposes only and is subject to change at any time. For more information, and clarity surrounding your individual organization or current situation, contact a member of the KI Legal team, or fill out a new client intake form.

The post Hospitality Industry Tech Address the Labor Shortage: "Yelp Guest Manager" and OpenTable-Indeed's "Interview Days: Restaurant Jobs" appeared first on KI Legal.