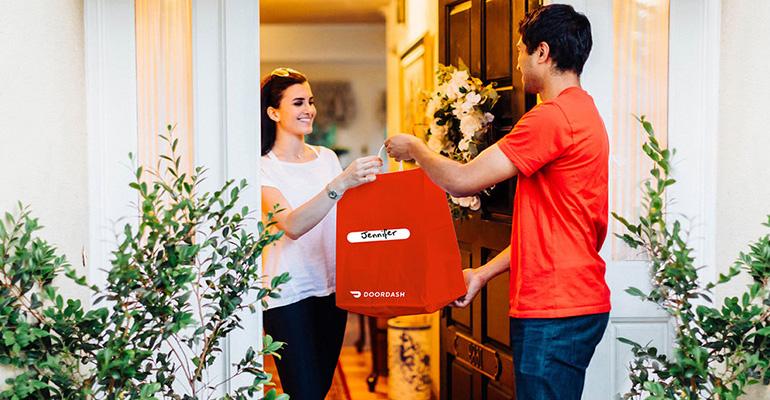 Photo courtesy of Nation's Restaurant News

It is no secret that third-party food delivery services have been booming since the pandemic began. Revenues for delivery giants such as DoorDash and GrubHub have increased by 267% and 39% respectively, while other consumer goods services such as GoPuff have raised billions this year alone. Maintaining this growth, however, will be much more difficult. Despite their growth, these services haven't seen much profit. DoorDash, for example, only turned a profit once in 2020 and has lost $198 million across the first 6 months of this year. Another giant – Uber Eats – lost $161 million last quarter alone. While delivery services are a simple concept, they are not as profitable as needed. According to IRI principal consultant MaryEllen Lynch, "These companies are asking, 'how can we find concrete revenue streams to offset the fact that we aren't profitable yet?'" According to her calculations, DoorDash only earns a $0.90 profit on average on a $36 food order (once all costs have been subtracted out). In addition, these services lose even more money when they have to make up for wrong deliveries or subsidize free or low-cost deliveries to recruit more customers. 

As such, these companies and others have begun to consider other options besides simply brokering orders. Advertisement has been the first easy step, but it is still not enough to make up for the aforementioned losses. This is where private labels may save the day. The model has been extremely successful for physical retailers for decades now, with supermarket private label sales becoming a multi-billion-dollar market. But will it work as well for other enterprises? 

According to Hetal Pandya, the co-founder of analytics firm Edison Trends, believes that private label meals can "actually provide the consumer choice in certain areas where there isn't a certain type of restaurant… [because] private label offerings create consumer choice and consumer stickiness." She predicts that third party food delivery services creating their products will likely mirror the trends set forth by conduit companies – such as Spotify and Costco, both of which draw in millions of "followers" thanks to their own services and products. This being said, Pandya cautions against pivoting away from existing brand partnerships. Using Costco as an example, she states "the profit mix for generic brands from Kirkland doesn't mean they aren't going to sell the P&G brands but the fact that there is a mix is giving them the extra percent of profitability." Lynch offers similar insight: "I don't think they're going to produce some kind of really unique, differentiated meal but rather as a way to earn higher margins on everyday meals. If that does happen, that would raise some thorny questions for delivery companies and their restaurant partners." 

2 delivery services – GoPuff and DoorDash – have already embarked on the process to find out. While GoPuff has launched its own line of ghost kitchens, with plans to offer both existing brands and their own private label recipes, DoorDash has been rapidly expanding its own ghost kitchen program – DoorDash Kitchens. Both companies now have their own brands and have dedicated teams working on their private label ventures. Delivery companies are uniquely positioned to take on private label for a number of reasons, but their data capabilities may be the most effective. Given their extensive data on the industry, market, and customers, these services can easily find regional gaps and fill it with their private label offerings – something that DoorDash has already done according to the company's former head of innovation, Colin Wallace. Wallace has openly admitted that the company is building its ghost kitchens and offerings based on data from the very restaurants it delivers for; ironically, he adds that "Amazon is in hot water for this now, but DoorDash is doing the same thing with DoorDash Kitchens." 

Looking forward it is impossible to envision the relegation of private label in the delivery service world. The trend will undoubtedly extend to other sectors and companies – as it already has. Take grocery stores, for example. Grocery stores have been working on partnering and investing in ghost kitchens for a while now and, according to Lynch, have "gained a lot of sales because of the decline in the restaurant business. They want to maintain as much of those sales as they can." Lynch believes that if they offer private label meals for pickup and delivery, "they can actually cannibalize quick-serve restaurants if they do it right." 

Founded by attorneys Andreas Koutsoudakis and Michael Iakovou, KI Legal focuses on guiding companies and businesses throughout the entire legal spectrum as it relates to their business including day-to-day operations and compliance, litigation and transactional matters.

Connect with Andreas Koutsoudakis on LinkedIn.

Connect with Michael Iakovou on LinkedIn.


This information is the most up to date news available as of the date posted. Please be advised that any information posted on the KI Legal Blog or Social Channels is being supplied for informational purposes only and is subject to change at any time. For more information, and clarity surrounding your individual organization or current situation, contact a member of the KI Legal team, or fill out a new client intake form.

The post Food Delivery Services Transition Focus to Private Label appeared first on KI Legal.