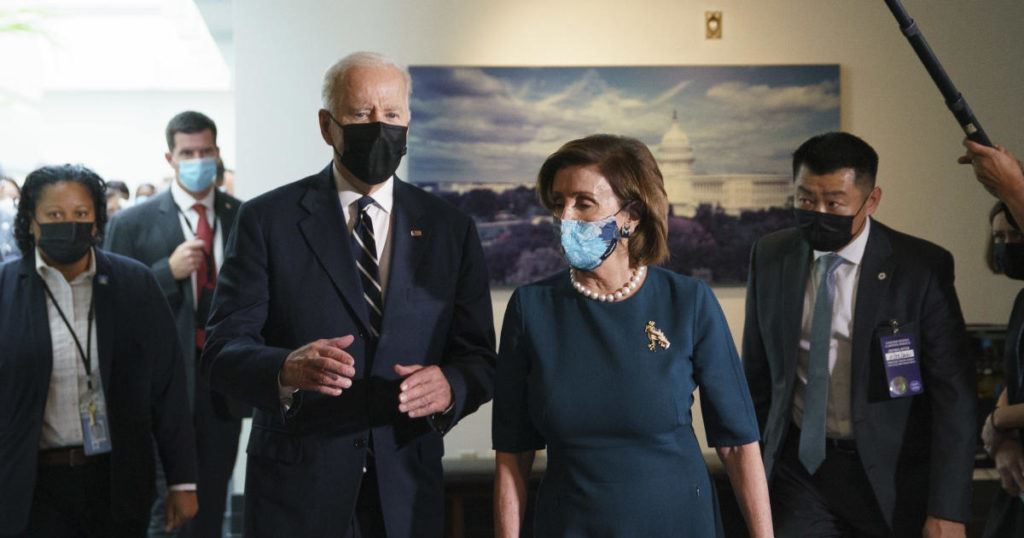 Negotiations are escalating between Democratic progressives and moderates over President Biden's "Build Back Better" plan. This soft, or human, infrastructure bill would move in tandem with the bipartisan infrastructure bill, which has already been passed. Although the social-spending package was long aiming to hit the $3.5 trillion mark, objections from moderates are threatening to cut the bill to somewhere around $1.75 trillion in an effort to appease both party factions. 

The result will have major implications – whether that means promises are being entirely scrapped, such as free community college, put up for discussion, such as paid leave and expanding Medicare, or shortened, such as Medicaid and the Child Tax Credit. Other benefits will likely come with extensive strings attached as well. 

In any case, the package will unquestionably be less expensive. The question remains – will it still be successful enough, in the long run, to be extended and/or expanded down the line? 

Here are the bill's major policy points and their likely futures: 

1. Child Tax Credit

Continuing the expanded child tax credit has long been a goal for Democrats and, in the case of this bill, the credit would be going for all families who make over $110,000; this would provide a maximum credit of up to $3,600/child. Now, however, the credit's future looks as though it will be capped at a 1-year extension in order to reduce overall price. While Manchin has been fighting to impose work requirements and a lower eligibility threshold, Biden has publicly rejected this idea. 

2. Free Community College 

A central part of Biden's campaign has long been a $109 billion promise to cover 2 years of community college nationwide. Although this is perhaps the most long-standing aspect of the plan, Biden recently announced that it is now dead in the package. Due to pushback from Manchin and Sinema, as well as higher education sectors, the party will need to turn to other ideas in the realm of educational investments, which could take the form of increased Pell grants for example. 

3. Medicare Expansion 

With a price tag of about $350 billion, Democrats aimed to expand Medicare to cover dental, vision and hearing care, with some going as far as to propose lowering the eligibility age. Last week, however, Biden announced that including all 3 benefits within the bill would be a "reach," due to Machin and Sinema's opposition. As a result, supporters are aiming to scale back dental benefits to an annual $800 voucher to get aid out as soon as possible. 

4. Paid Leave

Democrats aimed to pass 12 weeks of yearly paid family and medical leave for all U.S. workers, including self-employed and gig workers. According to the plan, this benefit would be bolstered over more than 12 years and would cost somewhere around $500 billion. At this point, if it is even included at all, paid leave will be proposed at a much smaller, narrower, and cheaper rate. In place of the original goal, the proposal will only include 4 weeks paid leave just for lower-income workers that will expire after 3-4 years – costing around $100 billion. 

5. Tax Hikes

In one of the few proposals that was backed by Manchin, Democrats planned to spend $600 billion on hiking taxes for corporations and highly-paid individuals. Sinema, however, opposed these hikes and proposed the possibility of raising tax revenue in other ways. As such, Democrats have turned to creating tax changes that are not only more complicated but also more controversial in nature. These include a yearly tax on the unrealized gains of the wealthy, a corporate minimum tax, and a mandate that will make banks and credit unions give more account information to the IRS. Slated to be unveiled this week is a new plan that will effectively require individuals who either have over $1 billion in wealth or earn over $100 million for 3 consecutive years to pay taxes on assets they hold – whether or not they sell them. 

6. Lowering Prescription Costs

Democrats planned to decrease the costs of hundreds of drugs, incentivized by hefty penalties, and make them available to individuals on private insurance – at a cost of $700 billion. Now, lawmakers have confirmed that the bill will be much narrower than previously anticipated, if it is still being included at all. Several other plans have been floated – including only covering self-administered drugs, leaving out drugs covered by Medicare Part D, and negotiating prices of drugs with expired patents. Another proposed option is to either slowly phase in the changes or only make them applicable to individuals in Medicare and not private insurance plans. 

7. Child Care

$450 billion was proposed to effectively implement universal pre-K, as well as millions more to address further ameliorations to the childcare industry, in an effort to make it more affordable for parents. The 4-year plan would first give states the money to expand and subsidize childcare, and then build out an entitlement program to cover childcare costs in the 4th year – 90% of which would be covered by the federal government. Although this is perhaps the most popular proposal in the bill, lawmakers are now trying to lower the cost in the face of data recently released by the People's Policy Project – which found that the plan would jack up childcare prices for those families making more than their state's median income. Meanwhile, other Democrats are still deciding on the program's expiration date, which could discourage state participation altogether if it was even passed. 

8. Clean Energy 

Per Biden's goals, this proposal included a long-term extension of clean-energy-boosting tax credits and a  clean electricity standard imposed on the power sector to cut emissions. Manchin's opposition, however, has pushed lawmakers to turn to grants and tax credits in order to incentivize cutting emissions instead. 

9. Health Insurance Credits

On the topic of Obamacare subsidies and tax credits to cover health insurance premiums, among others, this proposal has staunchly divided the party into 2 groups: moderates, supporting fewer but more permanent health care priorities, and progressives, supporting short-term continuation of all programs. So far, the latter is winning. 

10. Medicaid in Red States

Currently, around 2 million people in 12 Republican-run states are without Medicaid as their lawmakers have refused to expand Obamacare coverage to low-income residents. As such, this proposal would create a new federal program to provide free Obamacare plans to these people while states formally set up the program. Now, this proposal is being capped at 3 years as Democrats fear that Republicans will win the House next year and not take action once this help expires. 

12. Housing Aid 

$300 billion in housing aid was signed off on last month, in order to cover both public housing repairs and housing vouchers for underserved communities, but that allotment is now dwindling down to $175 billion as program investments are being trimmed. 

13. In-Home Care

In an effort to help over 800,000 individuals waiting for home-care support, Biden called for $400 billion to bolster services and raise wages for industry workers. This being said, Democrats have approved less than half of the funding thus far, and the number is expected to lessen as the expansion is being shortened. 

So What Happens Now? 

A framework agreement with Senators Manchin and Sinema is hoped to be reached by October 31st, at the latest. In the meantime, House Speaker Nancy Pelosi has stated that "90% of the bill was agreed to and written. We just have some of the last decisions to be made." Even when the agreement will be locked in, however, it will take weeks of continued negotiations to finalize whatever iteration of the package that will be remaining. 

Founded by attorneys Andreas Koutsoudakis and Michael Iakovou, KI Legal focuses on guiding companies and businesses throughout the entire legal spectrum as it relates to their business including day-to-day operations and compliance, litigation and transactional matters.

Connect with Andreas Koutsoudakis on LinkedIn.

Connect with Michael Iakovou on LinkedIn.

This information is the most up to date news available as of the date posted. Please be advised that any information posted on the KI Legal Blog or Social Channels is being supplied for informational purposes only and is subject to change at any time. For more information, and clarity surrounding your individual organization or current situation, contact a member of the KI Legal team, or fill out a new client intake form.

The post Update on Democrat's Social Spending Bill Contents – What Should We Expect? appeared first on KI Legal.