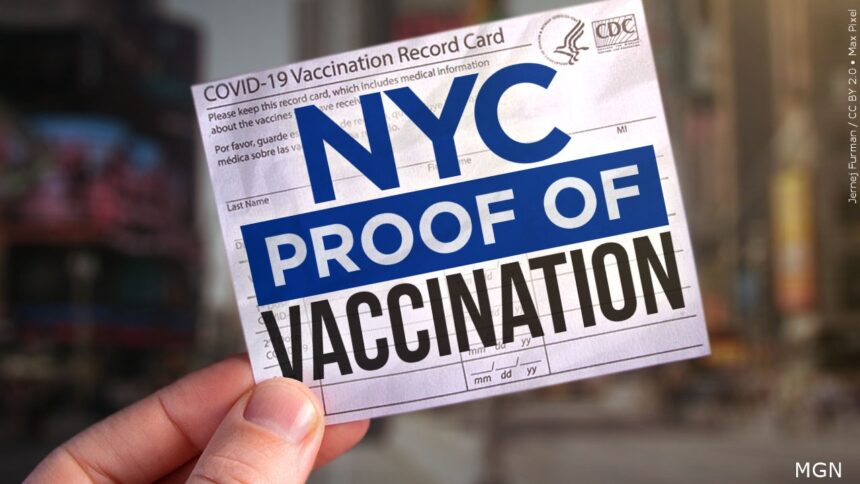 Photo courtesy of Fort Waynes CBS

Just last Tuesday, Mayor Bill de Blasio imposed a new vaccination mandate that requires all city municipal workers to get at least 1 dose of a Covid-19 vaccine by November 1st. Primarily police officers and firefighters, who were not subjected to the previous mandate, have responded with a great deal of pushback. 

For one, the biggest police union in New York City has filed a lawsuit opposing the mandate. Based in Staten Island, which has a large number of police officer residents and a vaccination rate that is far behind the citywide average, the Police Benevolent Association of New York represents around 24,000 NYPD members of all ranks. The union has 2 main arguments: 1) the mandate is not a "test-or-vax" mandate, meaning it lacks a testing option for those under its purview, and it does not have enough protections in place for those who may seek religious exemptions; with regards to the latter, the mandate requires individuals seeking religious exemptions to apply by tomorrow, which marks the 1 week mark since the mandate was announced, in order to be approved. 

In his immediate response to the lawsuits filing, Mayor de Blasio stated that the city will be "offering religious accommodation," but cautioned that "valid religious exemptions" are rare. Although numerous lawsuits have been filed over vaccination mandates across the nation, federal judges have generally appeared more sympathetic towards those cases that center around the mandates not accommodating religious beliefs – which could offer a glimpse of hope for the union. 

With that being said, however, the Equal Employment Opportunity Commission (EEOC) just released new guidelines today that lay out a different future for private employers. Under their new guidelines, employers who have a vaccination mandate in place for employees to deny religious exemptions if the exceptions pose "undue hardship" – defined as "significant difficulty or expense." In addition, the guidance establishes 2 other, major guidelines: it denies employees from being excused on the basis of their social, political or economic views or personal preferences and it requires an employee to specifically request a religious exemption, rather than assume that a faith-based objection is signaled by their behavior or clothing. Although these new guidelines only apply to private employers, they represent a different approach to vaccination mandate religious exemptions which could perhaps be replicated in the public sector. 

As of now, over 20 states have implemented a vaccination mandate, along with several other major municipalities as well according to NPR. As a result, several other police unions have taken the same stance as the Benevolent Association across the country while officers push back at their workplaces; in Chicago, over 4,500 police officers are refusing the mandate, while 150 officers in Massachusetts have resigned. The caveat: Covid-19 is, by and large, the most common cause of officer duty-related deaths last year and this year, according to the Officer Down Memorial Page. Despite this fact, unions have only been advocating for policies that will allow unvaccinated officers to test weekly – which they claim is "effective in protecting public safety" in lawsuits. 

Meanwhile, municipal workers have been advocating for themselves in a different way: protest. Just yesterday, thousands of fire, police, and sanitation workers came together and marched in protest against the vaccination mandate in NYC. As the crowd crossed the Brooklyn Bridge to City Hall, they chanted "We Will Not Comply." 

Perhaps the most surprising reaction came from the Governor of Florida, Ron DeSantis. Over this past weekend, DeSantis announced that he will offer out-of-state police officers who oppose their states' vaccination mandates and relocate to Florida $5,000 bonuses. While he was on Fox News' Sunday Morning Futures, he announced that "Florida is actively working to recruit out-of-state law enforcement," and claimed that vaccination mandates are "unconstitutional." He went on to state: "NYPD, Minneapolis, Seattle: If you're not being treated well, we'll treat you better here, you can fill important needs for us, and we'll compensate you as a result." 

The bill allowing said bonuses to take place will be introduced in an upcoming special session of the Florida legislature. Although the bill will also be discussed, the session was originally called by DeSantis earlier this week to pass legislation that would effectively ban private employers from imposing vaccination mandates. DeSantis has already enacted a "vaccine passport" ban, which prohibits private businesses, educational institutions and local governments from requiring proof-of-vaccination from customers and government employees. Violation of this law results in a fine of $5,000 per infraction – which has left some, such as Leon County, with millions of dollars worth of fines. 

In any case, NYC municipal workers have but a few more days to get vaccinated or they will be met with unpaid leave. Meanwhile, employers such as restaurants continue to struggle with non-compliant customers and the still-present fear of falling ill. 

Founded by attorneys Andreas Koutsoudakis and Michael Iakovou, KI Legal focuses on guiding companies and businesses throughout the entire legal spectrum as it relates to their business including day-to-day operations and compliance, litigation and transactional matters.

Connect with Andreas Koutsoudakis on LinkedIn.

Connect with Michael Iakovou on LinkedIn.

This information is the most up to date news available as of the date posted. Please be advised that any information posted on the KI Legal Blog or Social Channels is being supplied for informational purposes only and is subject to change at any time. For more information, and clarity surrounding your individual organization or current situation, contact a member of the KI Legal team, or fill out a new client intake form.

The post NYC's New Vaccination Mandate – Union Lawsuit, EEOC Guidelines, and a Florida Solution? appeared first on KI Legal.