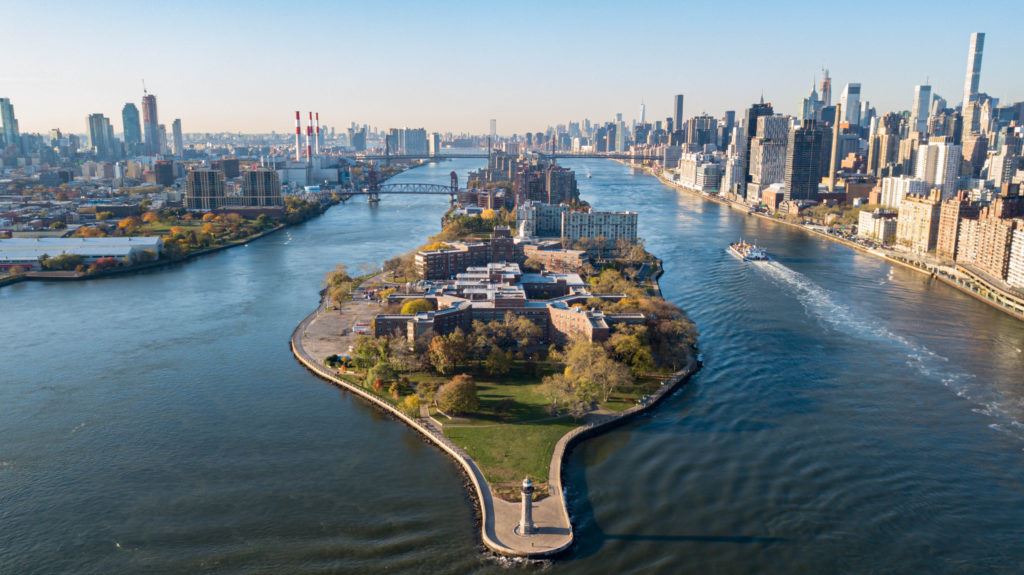 Roosevelt Island has a very eclectic past. Formerly named Blackwell's Island, the land was purchased by the city in 1828 and promptly converted into a dual home for medical and correctional facilities. A penitentiary was built within 4 years amidst a collection of other establishments such as a general hospital, hospital for the mentally and physically disabled, and an almshouse. 7 years later the New York City Lunatic Asylum was built and became infamous for its inhumane treatment of patients. At the turn of the 20th century all Asylum patients were relocated and the Metropolitan Hospital took over the building; the island was promptly renamed Welfare Island in the early 1920s. Its current name – Roosevelt Island – wasn't ascribed until 1973, when New York named it after President Franklin Delanore Roosevelt in honor of disability history. 

Seen as just another elementary school field trip or sight to see on the East River, Roosevelt Island has long been rather disregarded by New Yorkers. But it has been quickly developing right under our noses. 

From its growth in residential real estate to its housing of Cornell Tech's campus, the island's new developments are now coming from the hospitality industry. The first hotel to be built on the island – Graduate – only just opened at the start of this month, but its vivid decor and 200+ rooms are quickly drawing the attention of New Yorkers. Also in the hotel is the Panorama Room, a trendy bar and lounge from restaurateur Med Abrous, with views giving onto a few of the city's infamous landmarks. 

The restaurant aims to draw more tourists to Roosevelt Island as its restaurant life continues to grow. While the island used to have a limited scope of amenities, with only a few restaurants and grocery stores, the pandemic brought new life to the land; a whole host of specialty businesses have popped up, including a yoga studio and a high-end butcher shop, which aim to broaden its potential clientele. 

Its real estate and land development has also transformed greatly, with Southpoint Park opening up by the end of the summer and a waiting list now in effect for those looking for 3-bedroom apartments. 

Overall, Roosevelt Island is slowly but surely establishing itself as a major potential tourist destination as its hospitality industry continues to grow.

Founded by attorneys Andreas Koutsoudakis and Michael Iakovou, KI Legal focuses on guiding companies and businesses throughout the entire legal spectrum as it relates to their business including day-to-day operations and compliance, litigation and transactional matters.

Connect with Andreas Koutsoudakis on LinkedIn.

Connect with Michael Iakovou on LinkedIn.

This information is the most up to date news available as of the date posted. Please be advised that any information posted on the KI Legal Blog or Social Channels is being supplied for informational purposes only and is subject to change at any time. For more information, and clarity surrounding your individual organization or current situation, contact a member of the KI Legal team, or fill out a new client intake form.

The post Hospitality Industry is Taking Roosevelt Island By Storm appeared first on KI Legal.