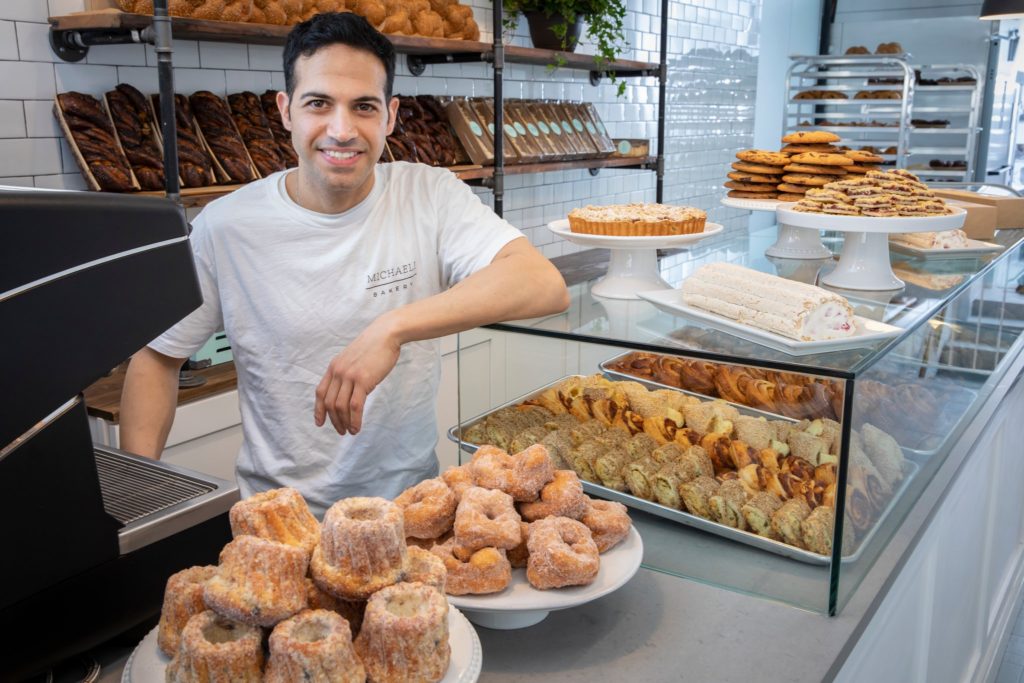 Photo courtesy of Tony Cenicola/The New York Times
Michaeli Bakery v Grubhub, DoorDash, and Uber Eats
Michaeli Bakery, located on the Lower East Side, has filed a lawsuit against the three major delivery platforms after they illegally charged fees above the delivery caps set by City Council  – 15% for delivery orders, 5% during the pandemic – last May. The bakery hopes that the suit will gain class action certification, in the event of which other businesses will join. 
Who Will Get "Save Our Stages" Pandemic Relief Funds and When?
Despite it being six months since the law was passed, only 0.007% of applicants have received funds from the "Save Our Stages" Act. The Act "authorizes the Small Business Administration (SBA) to make grants to eligible movie theaters, live venue operators and promoters, talent representatives, and performing arts organizations. The SBA may make 
"(1) an initial grant of up to $12 million dollars to an eligible operator, promoter, producer, or talent representative;
An initial grant must be used for costs incurred between March 1, 2020, and December 31, 2020
(2) a supplemental grant that is equal to 50% of the initial grant.

A supplemental grant may be used for expenses incurred through June 30, 2021"
Unfortunately, out of over 4,000 priority applicants, who suffered 90% or more revenue during the pandemic, only 90 have received funds and less than half of them have been live venues. Non-priority applicants, comprising over 9,300 applications, are still waiting to even be reviewed. 
Met with issues with 4506-T tax forms, "Death Match Files," and a general lack of communication – applicants are frustrated. Although changes to the application process and review have been circulating, action remains to be taken. 
Will City Council Reinstate Restaurant Surcharges Post-Covid-19?
A new bill discussed by City Council would reverse the current surcharge legislation and "allow restaurants to impose a "Food Service Establishment Surcharge" of up to 15% of a customer's total bill.
Details on the bill:
The surcharge can only be initiated if restaurants pay their tipped workers a cash wage that is not less than the City's minimum wage 
Tips received by such workers would not be credited towards the hourly cash wage. 
The surcharge would have to be clearly disclosed on the menu, final bill and receipt, and the disclosure must be explicit that the additional charge is not a gratuity"   
This bill is adamantly opposed by Councilman Joe Borelli and the New York City Hospitality Alliance, who led the efforts on, and introduction of, the Covid-19 Recovery Charge in September of 2020. Mr. Borelli does not support making said surcharges permanent while the NYCHA does not want the new surcharge to usurp the Covid-19 Recovery Charge, thereby excluding restaurants that receive a tip credit.

Founded by attorneys Andreas Koutsoudakis and Michael Iakovou, KI Legal focuses on guiding companies and businesses throughout the entire legal spectrum as it relates to their business including day-to-day operations and compliance, litigation and transactional matters.

Connect with Andreas Koutsoudakis on LinkedIn.

Connect with Michael Iakovou on LinkedIn.

This information is the most up to date news available as of the date posted. Please be advised that any information posted on the KI Legal Blog or Social Channels is being supplied for informational purposes only and is subject to change at any time. For more information, and clarity surrounding your individual organization or current situation, contact a member of the KI Legal team, or fill out a new client intake form.

The post Developments to Follow in the Upcoming Months appeared first on KI Legal.