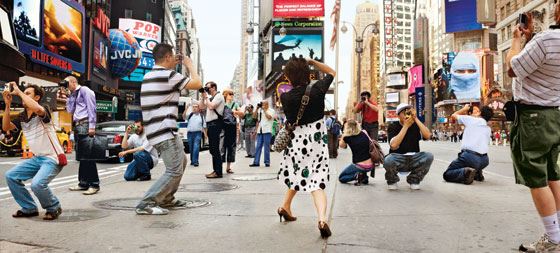 Photo: Courtesy of V1 Gallery

Although the slow recovery of New York City's tourism industry poses major threats to the industry's survival, and others indirectly, it also means something rather positive for tourists and residents alike: lower costs. 

Cities across the nation have been charging higher prices for everything including flights, hotels, restaurants, and car rentals. These rates naturally reflect the demand, which is essential for businesses but costly for tourists. In New York, however, tourism still remains at much lower rates than its pre-pandemic precedents for this time of year; as a result, price pressure isn't building as aggressively. 

Take the Consumer Price Index, which measures a basket of goods and services as well as energy and food costs, for example. Nationally, the Labor Department announced that the Consumer Price Index jumped 5.4% in June from a year earlier. By contrast, the New York City area only rose 4.1% from last year. The same can be said for nightly hotel rates. The national average cost spiked 16.9% from last year. However, as long as New York's occupancy remains below its pre-pandemic level of 85%, compression will not drive rates up just yet; the most recent numbers for the week ending July 10th recorded only 65% occupancy. 

The American Hotel & Lodging Association additionally conducted an analysis on the current state of tourism and found that New York City was "one of just 7 large cities whose hotel industry was still described as in an economic depression — along with San Francisco, Boston, Washington, DC, Chicago, Seattle and Minneapolis." The analysis also found that revenues per available room remains 67% lower in May of this year compared to May of 2019; quantitatively, the average revenue has plummeted from $260 pre-pandemic to $120 now. 

For now, costs of items that are surging nationally will continue to remain low in New York City as long as tourism does not see a major boost in the near future. The biggest demographic that is needed for such a boost would be the return of European travelers, who are considered the key to the rebound of the hospitality industry. Only time, and the manner in which the Delta variant develops internationally, will tell whether European tourists will be able to come to the U.S. in the near future. 

Founded by attorneys Andreas Koutsoudakis and Michael Iakovou, KI Legal focuses on guiding companies and businesses throughout the entire legal spectrum as it relates to their business including day-to-day operations and compliance, litigation and transactional matters.

Connect with Andreas Koutsoudakis on LinkedIn.

Connect with Michael Iakovou on LinkedIn.

This information is the most up to date news available as of the date posted. Please be advised that any information posted on the KI Legal Blog or Social Channels is being supplied for informational purposes only and is subject to change at any time. For more information, and clarity surrounding your individual organization or current situation, contact a member of the KI Legal team, or fill out a new client intake form.

The post The Good News About Less Tourism? appeared first on KI Legal.