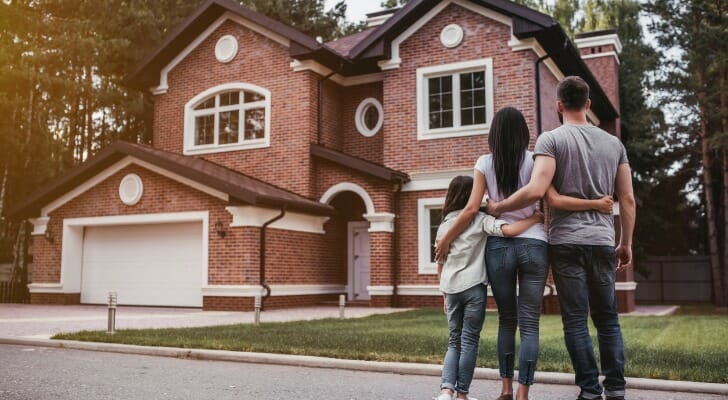 Photo courtesy of Smartasset
The National Low Income Housing Coalition (NLIHC), a non-profit organization dedicated to ending America's affordable housing crisis, recently released a report on the state of housing affordability across the nation. To preface the results from the report, here are key metrics to remember. The average fair market rent, which is an estimate of what a person should expect to pay for a modest home in their area, is $1,061 a month for a one-bedroom and $1,295 a month for a two-bedroom. The housing wage, which is the amount a worker would need to earn to afford a home without spending more than 30% of their income on rent and utilities, is $24.90 per hour in order to afford a two-bedroom home and $20.40 an hour for a one-bedroom. 
As can be imagined, these baseline amounts are already too high for many Americans, especially for seniors, people with disabilities, and working families. 
State of Housing Affordability in the Country: NLIHC Key Statistics 
For two-bedrooms  
There is no state, county or city in the country where a full-time, minimum-wage worker (the federal minimum wage is $7.25.) working 40 hours a week can afford a two-bedroom rental
The average renter in 17 states — including California, Florida, and New York — earns at least $5.00 below the state's average two-bedroom housing wage.
For one-bedrooms 
A full-time minimum-wage worker can afford a one-bedroom rental in only 7% of all US counties — 218 counties out of over 3,000 nationwide
For renting without being housing cost burdened 
The average renter's hourly wage is $18.78, an income that can absorb only $977 a month in rent without being housing cost burdened. 
A household living on one minimum wage income can afford even less, $377 a month, the report showed.
For areas where minimum wage is higher than the federal minimum wage 
Even the states, the District of Columbia, and several dozen counties and municipalities that have minimum wages higher than the federal minimum wage don't clear the bar.
Ie in California:
The minimum wage is $14 an hour
A person in California needs to earn $39.03 an hour to afford a two-bedroom apartment 
A minimum-wage worker would have to put in 112 hours every week in order to afford the two-bedroom
A person in California needs to earn $31.06 an hour to afford a one-bedroom

A minimum-wage worker would have to put in 89 hours every week in order to afford the one-bedroom 
How the Pandemic Exacerbated This Situation 

Although local, state, and federal governments enacted eviction moratoriums and $46 billion in federal emergency rent relief was given to struggling renters, the deep-rooted housing affordability crisis continues to overwhelm the country as its long-term effects outweigh short-term benefits. 

The report points to the fact that there are 7.5 million low-income renters who are "extremely" cost burdened, which means over half of their income is spent on housing. These renters are therefore at major risk for homelessness; the homeless population reached over 580,000 at the height of the pandemic. 

Housing affordability also does not affect all demographics equally. People of color, but specifically Black and Latino households, are more likely to be housing cost burdened. According to the Census Bureau, 39% of white, non-Latino adults had experienced a loss of household income, compared to 49% of Black adults and 58% of Latino adults. They attribute this disparity to pervasive racial and ethnic inequities across multiple domains that exist in normal times – including in wealth, income, employment, neighborhood quality, health care access, and housing – but that magnifies in times of crisis or emergencies such as the pandemic. 

How to Fix the Housing Affordability Crisis 

The NLIHC has proposed its own recommendations. Aside from expanding rental assistance to all eligible struggling renters, it is calling for investments to be made in the national Housing Trust Fund and public housing to create, preserve, and rehabilitate affordable homes. Additionally, it is calling for Congress to 1) create a permanent National Housing Stabilization Fund to provide temporary assistance for households at risk of eviction, and 2) strengthen and enforce renters' protections in order to keep renters stably housed. 

Additional Resources

Here is the full NLIHC report for more information: https://nlihc.org/sites/default/files/oor/2021/Out-of-Reach_2021.pdf 

The NLIHC additionally includes an interactive map that shows how much you need to earn in your area in order to afford rent: https://reports.nlihc.org/oor 

Founded by attorneys Andreas Koutsoudakis and Michael Iakovou, KI Legal focuses on guiding companies and businesses throughout the entire legal spectrum as it relates to their business including day-to-day operations and compliance, litigation and transactional matters.

Connect with Andreas Koutsoudakis on LinkedIn.

Connect with Michael Iakovou on LinkedIn.

This information is the most up to date news available as of the date posted. Please be advised that any information posted on the KI Legal Blog or Social Channels is being supplied for informational purposes only and is subject to change at any time. For more information, and clarity surrounding your individual organization or current situation, contact a member of the KI Legal team, or fill out a new client intake form.

The post Rent is Too High for Minimum Wage Workers in All of the U.S. appeared first on KI Legal.