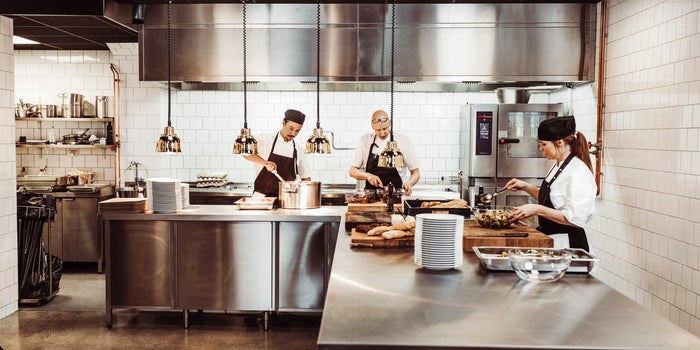 Photo courtesy off Maskot | Getty Images

Ghost Kitchens – also known as virtual, cloud, delivery-only, shadow, and dark kitchens – are essentially full-functioning restaurants without an in-person dining space. Lacking a real storefront, they operate solely via online food delivery services, either their own or third-party platforms'. These ghost kitchens can take several different forms including using a shared kitchen or commissary space, operating as a virtual offshoot of an existing service restaurant, or renting out kitchens from existing service restaurants. Why are they so popular? Ghost kitchens inevitably have low overhead, offer a faster opening timeline, are more convenient, generate additional revenue streams, and are inherently flexible. This being said, they fundamentally alter the customer-owner relationship and experience, have to compete with hundreds of other online brands solely based on their online presence, and require additional up-front investment if delivery is performed by a third party. 

Although ghost kitchens existed and operated pre-pandemic, Covid-19 and the flood of repercussions that accompanied it made ghost kitchens increasingly more popular. Food delivery rates shot up to unprecedented numbers as many opted to order multiple times a week. Since in-person dining was either restricted or regarded as unsafe during the pandemic, ghost kitchens offered restaurants an opportunity to continue making money without the added costs of a dining space. The popularity of freelance work also sustained the rise of ghost kitchens as many workers opted to work for ghost kitchens instead of third-party food delivery companies since fees are much lower. Lastly, there is the simple fact that ghost kitchens are inherently less expensive than restaurants, and rising real estate prices will only continue to push owners towards online services over in-person. 

A couple weeks ago, the Ghost Kitchen Conference in Dallas provided even more insight on just how much this facet of the hospitality industry is growing and developing. Ghost Kitchen brands shared their methods for increasing customer satisfaction – with some offering drivers added benefits in order to sustain the happy deliverer-happy customer pipeline and others hiring specialized account managers to interface and bring hands-on experience. The conference highlighted the recent emergence of ghost kitchens in retail grocery stores; reports had already been out confirming that grocery stores were partnering with brands to offer kitchen spaces, but the conference illuminated the new use of desolate salad bars to forge dual delivery and takeout services. This development also points to the possibility that other venues, such as hotels, airports, and campuses, may constitute good home-bases very soon. Lastly, presenters offered a glimpse into the future by predicting what new iterations of delivery services will look like – namely drones, autonomous vehicles, and order bundling technologies to maximize efficiency. 

Ghost kitchens are certainly controversial, and they continue to change the face of the restaurant industry as they spearhead efforts to automate and incorporate technology in innovative ways that in-person service cannot. This being said, in-person service restaurants are also seeing a great deal of growth in "post-pandemic" times as restrictions have eased in a majority of the country's largest cities. 

Founded by attorneys Andreas Koutsoudakis and Michael Iakovou, KI Legal focuses on guiding companies and businesses throughout the entire legal spectrum as it relates to their business including day-to-day operations and compliance, litigation and transactional matters.

Connect with Andreas Koutsoudakis on LinkedIn.

Connect with Michael Iakovou on LinkedIn.

This information is the most up to date news available as of the date posted. Please be advised that any information posted on the KI Legal Blog or Social Channels is being supplied for informational purposes only and is subject to change at any time. For more information, and clarity surrounding your individual organization or current situation, contact a member of the KI Legal team, or fill out a new client intake form.

The post Are Ghost Kitchens the Future? appeared first on KI Legal.