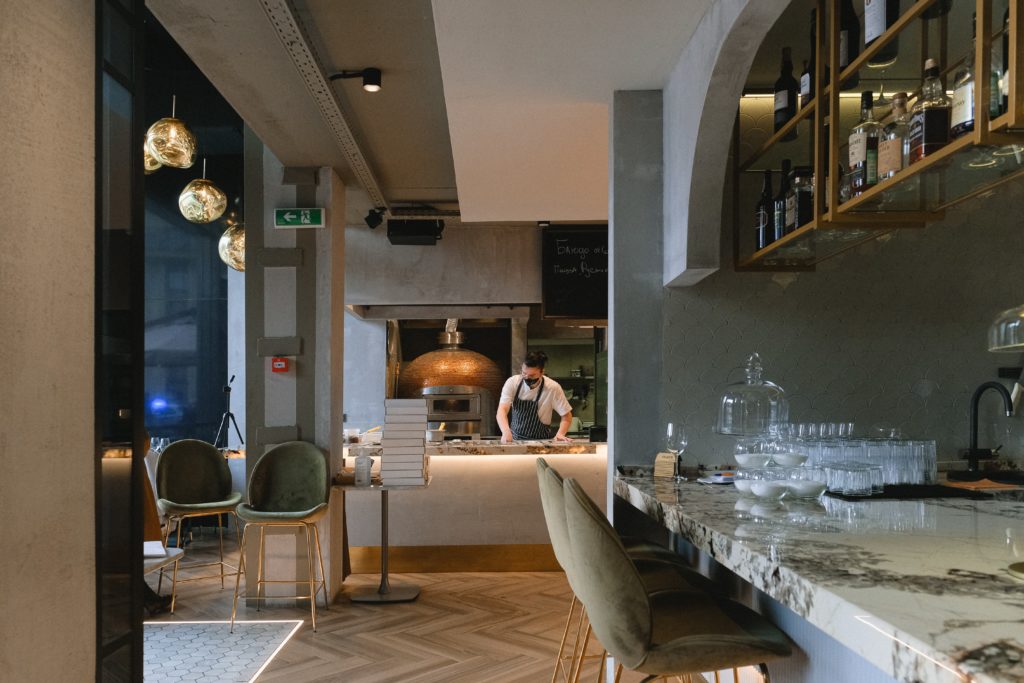 Photo by Anna Shvets from Pexels

Perhaps one of the most surprising outcomes of the pandemic was the extent to which the hospitality industry, particularly restaurants, used technology to run a number of operations including pick-up and deliveries, inventory control, and marketing and PR despite having historically been so hesitant to venture into the impersonal, electronic world. These moves did, however, achieve many great benefits. Restaurants were able to stay alive during the pandemic when in-person dining and interactions were largely banned through online ordering and delivery services, build their clientele and reach broader audiences through posting on social media platforms, and replace costly staff with technological alternatives when it proved necessary. 

Consequently, restaurant technology has embarked on a wave of mergers, acquisitions, and partnerships as demand stays high. 

Restaurant365 is a cloud-based management platform that provides restaurant-specific accounting and back office software. Early this month it announced the acquisition of Compeat, another back of house restaurant management software, which brings its total customers up to over 28,000. With Compeat's added software, Restaurant365 reports that it will be able to offer customers a 2-5% average reduction in food and labor costs. Another company Toast, a restaurant point of sale and management system, has also announced a back-office acquisition of xtraCHEF, an automated restaurant management software. xtraCHEF's software will bring a new facet to Toast as tasks such as invoice management, bookkeeping, and inventory management will become automated. 

In an exciting new partnership, the payments and software company SpotOn will be partnering with Google to offer restaurant clients the opportunity to order directly through Google Search and Maps. SpotOn is a commission-free service and this new feature will allow customers to avoid using any third-party food delivery services and give money directly to the restaurant with a simplified ordering process. Additionally, it's great for restaurants because its customer data and metrics will be linked to the ordering platform, thereby allowing restaurants to keep track of their customer base demographics. 

Miso Robotics, an AI-powered robotic restaurant platform, uses cloud-connected AI to enable autonomous robotic kitchen assistants to perform tasks in a restaurant setting. Their newest invention, following Flippy the line cook robot, is an AI beverage dispenser. In partnership with Lancer Worldwide, a beverage dispenser manufacturer, both companies have come together to create a machine that connects directly to a restaurant's POS system and pours drinks on its own. For commercial kitchens, this will undoubtedly be a lifesaver. 

Creating Culinary Communities, also known as C3,is a food and beverage platform consisting of an array of limited service culinary brands. This hybrid ghost kitchen network and food hall is now partnering with Chowly, which provides direct POS integration for third-party delivery platforms. The partnership will allow the dozens of brands that are part of C3'sregister to be made available to the thousands of restaurants in Chowly's register. Any restaurant that has partnered with Chowly will thus be able to access C3's virtual restaurants to supplement their revenue, opt in for a revenue share partnership, and allow their orders to integrate with a single POS system for a more streamlined process. Down the road, both companies have already announced that they plan to create exclusively virtual restaurant brands on Chowly's network that will constitute an added revenue stream for restaurants – their projected number is 12,000 kitchens by 2023. 

Lastly, Wix, a comprehensive website-design platform, is expanding its functionality into an app. Dine by Wix will be a commission-free, restaurant-specific app that will function just like any third-party food delivery service but with a bolstered communication service. Users will be able to order, reserve, and contact restaurants using a live chat feature instead of automated services. As an extension of the platform, the app will connect to its loyalty programs and reservation system as well. 

Founded by attorneys Andreas Koutsoudakis and Michael Iakovou, KI Legal focuses on guiding companies and businesses throughout the entire legal spectrum as it relates to their business including day-to-day operations and compliance, litigation and transactional matters.

Connect with Andreas Koutsoudakis on LinkedIn.

Connect with Michael Iakovou on LinkedIn.

This information is the most up to date news available as of the date posted. Please be advised that any information posted on the KI Legal Blog or Social Channels is being supplied for informational purposes only and is subject to change at any time. For more information, and clarity surrounding your individual organization or current situation, contact a member of the KI Legal team, or fill out a new client intake form.

The post Busy Period for Restaurant Technologies appeared first on KI Legal.