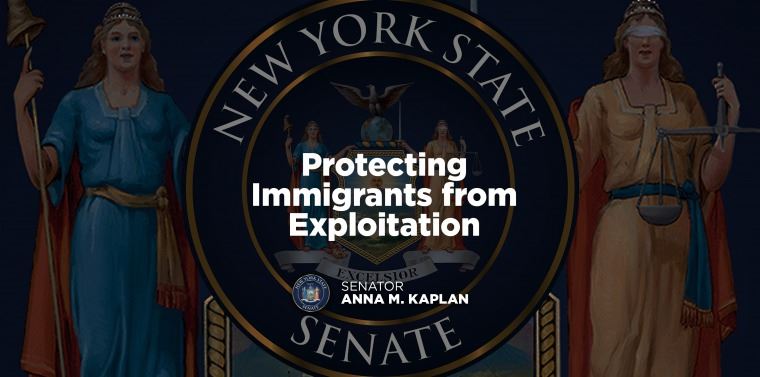 By Steven Siegler and Alex Kalogeras

Overview

New legislation (S.343-A/A.3412-A), set to go into effect on November 9, 2021, makes it a crime to threaten to reveal an individual's immigration status for the purpose of coercing or extorting them. New York City businesses employ tens of thousands of immigrants, especially in the hospitality and construction industries. It is critical for business owners, managers, and supervisors to understand this law and ensure that their immigrant employees are not coerced into accepting illegal working conditions, such as working without proper pay or safety protection, based on threats to reveal their immigration status.

General Purpose and Function of the Legislation

The new law intends to protect immigrants from extortion and coercion related to their immigration status. It amends the New York Penal Law's definitions of "extortion" and "coercion" to include making threats to report a person's immigration status to compel them to turn over property or to engage or refrain from engaging in other conduct." The law also applies to threats to cause deportation proceedings to be brought against the person. It is already a crime in New York to threaten an individual with criminal proceedings for purposes of extortion—this bill applies the same standard to deportation proceedings. The New York legislature recognizes that deportation proceedings are not criminal trials but believes that their consequences are dire enough to include in the statute.

The new law is heavily influenced by model legislation recommended by the Public Leadership Institute, a "nonprofit, nonpartisan policy and leadership center organized to explore and raise public awareness about key policy issues of equity and justice." Similar measures have been passed in California, Colorado, Maryland, and Virginia.

Governor Hochul signed the bill into law, stating, "New York is built on the hard work and determination of generations of immigrants, and we need to support people who are trying to build better lives for themselves and their families. This legislation will protect New Yorkers from bad actors who use extortion or coercion due to their immigration status, and make our state safer against vile threats and intimidation."

Impact on Employers

It is important for New York employers to understand that the new law can subject them to criminal liability – including imprisonment, fines, and penalties – rather than civil liability, which generally involves money damages only. In New York State, immigrant employees are protected from employment discrimination under both federal and state discrimination laws, including the Immigration and Nationality Act, Title VII of the Civil Rights Act of 1964,and the New York Human Rights Law. Employees who feel discriminated against based on their immigration status have several legal options to pursue their claims. For example, one can file a complaint with the Equal Employment Opportunity Commission, the New York State Division on Human Rights, and even the Department of Justice's Office of Special Counsel for Immigration-related Unfair Employment Practices. A successful complaint or lawsuit under these laws may entitle the employee to civil remedies such as back pay, benefits, compensatory damages, attorney's fees, and—in cases of "especially malicious or reckless act[s] of discrimination" —punitive damages. In stark contrast, a violation of this new legislation will be investigated by a state or local prosecutor and can result in a business owner, manager or supervisor being charged with the felony crime of extortion. The penalties for extortion include imprisonment, fines, and penalties.

This law applies to a wide sector of New York's workforce. A recent study found that there are approximately 342,000 undocumented essential workers in New York State, with close to half of these working in the hospitality and construction industries. The impact on employers—especially those in the hospitality and construction industries mentioned above—is that they should notify and train their managers and supervisors that it is illegal to threaten to reveal an immigrant employee's immigration status to U.S. Immigration and Customs Enforcement ("ICE") or another agency to coerce the employee into working under illegal conditions, such as improper pay, unsafe working conditions, or any other unlawful terms and conditions of employment. Employers who engage in this conduct or permit this conduct to occur may find themselves the subject of a criminal prosecution and potentially behind bars. 

For more information on this upcoming legislation, or for help ensuring that your business is compliant with New York's labor laws, reach out to the knowledgeable labor and employment attorneys at KI Legal to ensure that your business is protected.  

Founded by attorneys Andreas Koutsoudakis and Michael Iakovou, KI Legal focuses on guiding companies and businesses throughout the entire legal spectrum as it relates to their business including day-to-day operations and compliance, litigation and transactional matters.

Connect with Andreas Koutsoudakis on LinkedIn.

Connect with Michael Iakovou on LinkedIn.

Please be advised that any information posted on the KI Legal Blog or Social Channels is being supplied for informational purposes only and is subject to change at any time. For more information, and clarity surrounding your individual organization or current situation, contact a member of the KI Legal team, or fill out a new client intake form.

The post New York State Immigrant Protection Law and its Impact on Employers appeared first on KI Legal.