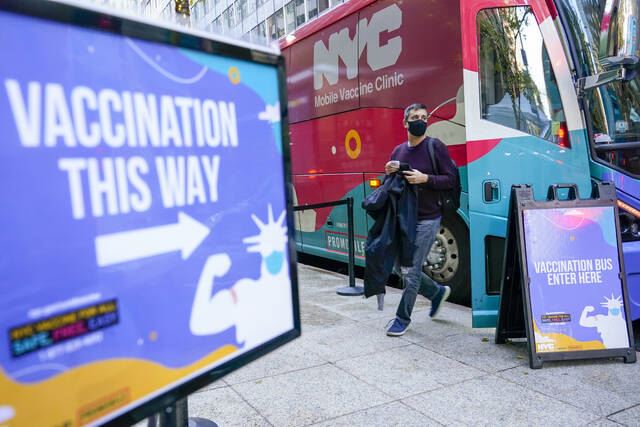 This morning, Mayor Bill de Blasio announced that New York City will be requiring all private-sector workers to be fully vaccinated against Covid-19. In what he called a "first-in-the-nation measure," this mandate will be added "on top of" the existing vaccination mandates; these include the mandate for public, indoor spaces – including dining, entertainment, and fitness facilities – as well as the mandate for all city municipal employees. 

The Mandate 

The mandate will apply to all employees who work in-person at private companies; remote workers will not be mandated to get vaccinated. As there is no testing option available, these workers will need to get 1 dose of a Covid-19 vaccine by the first day the mandate takes effect: December 27th, 2021. 

According to the most recent labor statistics released by New York City, this mandate will affect approximately 184,000 businesses and 3.6 million private-sector jobs. Per a statement released by the Mayor's spokesperson, approximately 80% of New Yorkers (all ages) have received at least 1 dose of a Covid-19 vaccine and 94% of the city's workforce has been vaccinated. 

Why the Mandate? 

According to Mayor de Blasio's announcement, made on MSNBC's "Morning Joe," the need for this mandate became clear because "we've got Omicron as a new factor. We've got the colder weather, which is going to really create additional challenges with the Delta variant. [and] We've got holiday gatherings." Per New York City's health department data, the 7-day average of daily confirmed and probable Covid-19 cases was 1,589 as of December 3rd" – which is "higher than the seven-day average of 1,423 cases a week earlier, and 882 a month earlier." While the Covid-19 positivity rate on a 7-day average currently technically remains below the city's 5% threshold which is deemed "alarming" – currently standing at 2.88% – the recent spread of the Omicron variant has raised serious concerns. According to last week's numbers, 4 out of the 5 Covid-19 cases in New York state that have been linked to the Omicron variant were found in New York City residents. Additionally, Mayor de Blasio and city health commissioner Dr. Dave Chokshi put into effect a mask mandate last week for all public, indoor spaces due to the rise of the Omicron variant as well. 

Given this current situation, "we in New York City have decided to use a pre-emptive strike to really do something bold to stop the further growth of Covid… Vaccination is the way out of this pandemic, and these are bold, first-in-the-nation measures to encourage New Yorkers to keep themselves and their communities safe," according to Mayor de Blasio. 

Significance 

This mandate is significant for 2 main reasons: its precedent and its accompaniment.  

For one, the federal vaccination mandate for private-sector employees that the Biden administration established has been met with significant legal battles that still persist today. This mandate was supposed to apply to all employers with at least 100 workers. Employees of these companies would be required to get vaccinated against Covid-19 or submit weekly negative tests and wear a mask in the workplace – as per OSHA's guidance. Quickly after it was announced, however, a New-Orleans-based 5th U.S. Circuit Court of Appeals blocked the carrying out of the mandate and several other lawsuits ensued. Following these developments, a lottery was conducted by the U.S. Judicial Panel on Multidistrict Litigation to designate 1 regional appeals court as the official "referee" – which is now the 6th U.S. Circuit Court of Appeals in Cincinnati. Since the lottery took place, affected employers have been left in a gray area – with some preparing for the rules to take effect as scheduled on January 4th and others waiting for Cincinnati's decision. 

Nonetheless, Mayor de Blasio has decided to go forward with the private-sector mandate. During the MSNBC segment, he stated "I don't know all the intricacies of what the Biden administration has been through, but I do know this: Our Health Commissioner has put a series of mandates in place. They have won in court, state court, federal court, every single time." According to a statement given by New York City's corporation counsel Georgia M. Pestana at a news conference today, "the city's health commissioner clearly has the legal authority to issue a mandate to protect New Yorkers during a health crisis… and the legal questions over the Biden administration's mandate were different and centered on whether OSHA had the proper authority." 

Secondly, as mentioned prior, the private-sector mandate will be accompanied by a "tightening" of the indoor, public spaces vaccination mandate that is already in place. While the latter mandate has only applied to New York City residents ages 12 and older until now, its scope has now been extended to include children ages 5-11 – in line with updated vaccination policies. 

As such, children ages 5 through 11 will now need to show proof-of-vaccination, of at least 1 dose of a Covid-19 vaccine, in order to enter the aforementioned indoor, public spaces including dining, entertainment, and fitness facilities. This change will reportedly take effect December 14th. For all other New York City residents ages 12 and older, proof-of-vaccination of 2 doses of a Covid-19 vaccine will be required to enter those venues starting December 27th. 

This will inevitably have an impact on the affected industries – especially the restaurant industry, which has been struggling to overcome the repercussions of the indoor vaccination requirement since it was first instituted. 

Moving Forward 

In the meantime, the city has already announced that it will be allowing vaccination exemptions for the private-sector mandate on the basis of valid medical or religious reasons. In addition, city officials will be releasing a more detailed guidance in conjunction with Mayor de Blasio's announcement by December 15th – following more in-depth consultation with the city's business leaders. 

While Mayor de Blasio did establish this new mandate, he will soon no longer be in control of its implementation and sustainment as he leaves office in January. At that point, Mayor-elect Eric Adams will have the reins. According to a statement released by Adams-team spokesman, Evan Thies, "the Mayor-elect will evaluate this mandate and other Covid strategies when he is in office and make determinations based on science, efficacy and the advice of health professionals." 

Founded by attorneys Andreas Koutsoudakis and Michael Iakovou, KI Legal focuses on guiding companies and businesses throughout the entire legal spectrum as it relates to their business including day-to-day operations and compliance, litigation and transactional matters.

Connect with Andreas Koutsoudakis on LinkedIn.

Connect with Michael Iakovou on LinkedIn.

This information is the most up to date news available as of the date posted. Please be advised that any information posted on the KI Legal Blog or Social Channels is being supplied for informational purposes only and is subject to change at any time. For more information, and clarity surrounding your individual organization or current situation, contact a member of the KI Legal team, or fill out a new client intake form.

The post NYC Announces Groundbreaking Private-Sector Vaccination Mandate appeared first on KI Legal.