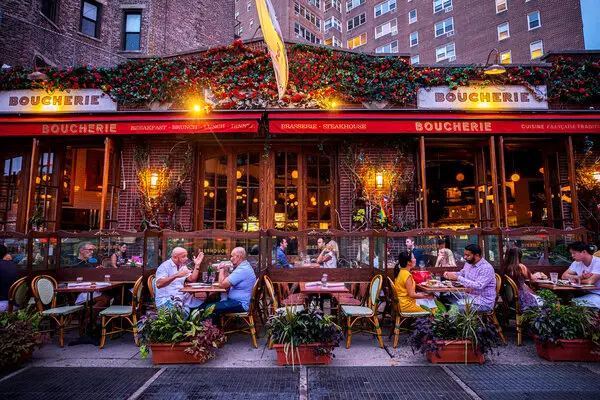 By Kyriaki Christodoulou 

New York City's Open Restaurants Program is reshaping outdoor dining as we know it. In fact, if NYC diners aren't sipping on their Manhattans and enjoying their mezze just eight feet from the curb, within earshot of the taxicab horn soundtrack, then they aren't doing it right. Despite the excitement and novelty of the new dining experience, restauranteurs have been served with a variety of requirements they must satisfy in order to operate these dining spaces in the first place. Failure to abide by these limitations can become quite costly, very quickly. Thus, it is important for owners to educate themselves on the nuances of the rules and prepare for the great changes that lay ahead. 

The City, armed with the Department of Transportation's ("DOT") enforcement power, has extended the Program with plans of a permanent one underway. For this to be possible, the legal framework which now controls outdoor dining will undergo sweeping changes, including amendments to zoning laws, changes to local laws, intricate rulemaking, design, and application details. These changes are expected to occur between Fall 2021 and Fall 2022. In the Winter of 2022, the Permanent Program application is scheduled to open, with the official launch expected in 2023. 

For the time being, our beloved NYC restauranteurs ought to know that the process to become an Open Restaurant begins with an online application. NYC is permitting restaurants to self-certify online to use the sidewalk or curb lane adjacent to their business. By submitting the application for either or both outdoor seating options, restaurant owners are both certifying that their food establishments meet the criteria for qualification into the program and acknowledging that they understand and agree to all applicable terms and conditions. The requirements involve specific measurements for barriers, height and width limitations, compliance with traffic regulations and fire codes, as well as a variety of other criteria. Restaurant owners are encouraged to navigate to the DOT's Open Restaurant's website for a comprehensive list of requirements, or otherwise contact legal or other professionals to ensure that their eateries are up to par. Upon certification, restaurants will immediately appear on the Open Restaurants Map and Dashboard, joining the 11,815 others that are registered at this time. 

Eateries will also have the option to enter into agreements with their neighbors to expand seating to the frontage of adjacent properties, for use of which the neighboring owner may not charge a fee. New York City and the New York State Liquor Authority ("SLA") will work together to regulate alcohol service in the expanded seating. The DOT plans to issue a template agreement and provide instructions on how to file the agreements in early October. For now, be advised that adjacent properties may not be used prior to the release of these official instructions and formal agreements. 

It has certainly been a grim season that has pushed the boundaries of resilience for New Yorkers and restaurants alike. The Open Restaurants Program offers a safe alternative that keeps our favorite cafes and taverns in business, while lightening up the streets of our city with colorful umbrellas, mouth-watering aromas, and that little thing we need most of all – hope.

For more information on the Open Restaurants Program, and others affecting the restaurant industry, reach out to the knowledgeable attorneys at KI Legal.

Founded by attorneys Andreas Koutsoudakis and Michael Iakovou, KI Legal focuses on guiding companies and businesses throughout the entire legal spectrum as it relates to their business including day-to-day operations and compliance, litigation and transactional matters.

Connect with Andreas Koutsoudakis on LinkedIn.

Connect with Michael Iakovou on LinkedIn.

This information is the most up to date news available as of the date posted. Please be advised that any information posted on the KI Legal Blog or Social Channels is being supplied for informational purposes only and is subject to change at any time. For more information, and clarity surrounding your individual organization or current situation, contact a member of the KI Legal team, or fill out a new client intake form.

The post New York City Street Eating: It's Here to Stay appeared first on KI Legal.