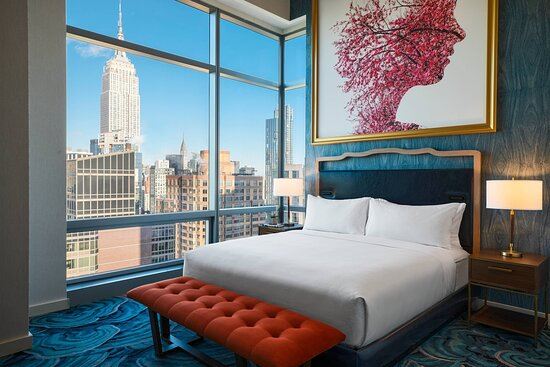 The hospitality industry, at large, has been deeply affected by the volatility of the pandemic. But in New York City, this sentiment was felt particularly acutely. Hotels in NYC had to not only face a new reality with 0 customers and hundreds of laid-off staff, but they also got strung along by the city for months as it attempted to turn their vacant establishments into homeless shelters without any real fruition. 

Suddenly, another idea emerged out of industry insiders and city leaders: what if struggling hotels were turned into affordable housing? 

The Backstory 

It's the end of March 2020 and travel has been halted. NYC hotels, which depend heavily on international tourists and business travel to stay alive, are occupying only about 14% of their rooms. Beginning in May 2020 and extending until June of this year, the city's hotel industry loses almost 200 hotels to the pandemic, according to the Hotel Association of New York City. 

During that time, Mayor de Blasio commenced a program that effectively relocated homeless individuals out of homeless shelters and into vacant hotels. Although this program was initially created to curb the spread of Covid-19, which saw major spikes in homeless shelters due to their "barracks-like conditions," it quickly ran into fierce legal battles between residents/hotel owners and homeless advocates. But those battles weren't just being fought in court. 

Many homeless individuals that were part of this program found themselves being consistently relocated back and forth between shelters and hotels (please link to blog post from 7/6) as both sides struggled to come to a conclusion. Within a couple weeks, the Legal Aid Society filed a motion (please link to blog post from 7/12) accusing the city of New York of violating the rights of individuals with health conditions in their efforts to move what at that point was 8,000 individuals from hotels back to communal shelters. Although a federal judge ruled to halt the relocation on July 13th, the relocation persisted for weeks following (please link to blog post from 7/29). 

Although this program eventually dissipated, the number of homeless individuals in the city shot up to a near record high; according to an annual estimate conducted in 2020, that number was estimated to be almost 80,000. And it became rather clear that whatever number the city was working with was likely an undercount, in the words of the Coalition for the Homeless. Meanwhile, the city's hotel industry didn't fare much better anyways. According to the Hotel Association of New York City president and chief executive, Vijay Dandapani, "as of mid-November, almost 100 remained closed, including some for renovation, although 'almost all of them' are struggling with debt." 

So, given this ongoing reality, many proposed a new project to flourish between the city and the hotel industry: converting underused hotels into affordable housing. 

The Project

Although this project certainly wasn't a new idea, the havoc that the pandemic wreaked on hotel prices allowed for it to finally become a reality. According to Gateway Housing, a nonprofit advisor for affordable housing developers, "in 2020….some hotel owners [began] considering discounts of up to 40 percent below pre-Covid prices, [so] the math finally seemed to pencil out." According to Gateway President, Ted Houghton, "you were seeing projects that conceivably could have been 50 percent cheaper than what we normally spend (comparing hotel conversions to ground-up construction that costs an average of $500,000 to $600,000 for each unit) And, more than that, we could have done it in a year, rather than the five years it typically takes." This new pricing reality was even more significant compared to the costs of supporting homeless individuals against the cost of building supportable housing. According to Project Renewal president and chief executive, Eric Rosenbaum, the city "spends an annual average of $56,000 for each person in the shelter system, whereas it costs an annual average of $36,000 to place the same person in supportive housing." 

So what is supportive housing? According to Rosenbaum, supportive housing is "a rent-subsidized form of housing with on-site health and job services available to residents." Sometimes, supportive housing looks like multiple single-room units that have a shared kitchen; other times, it looks like studios or multi-bedroom units with their own spaces. According to the New York Times, units are commonly reserved for homeless individuals recovering from mental health or substance abuse issues, with tenants paying no more than 30 percent of their income on rent. Other occupants commonly include: low-income families (making 60% or less of the area median income), young individuals exiting the foster care system, survivors of domestic violence, and others. 

As it stands now, NYC is home to 35,000 supportive housing units, according to Supportive Housing Network of New York executive director, Laura D. Mascuch. This is largely thanks to a 2016 commitment between NYC and NYS to create those 35,000 units. But, despite this seemingly large number, Mascuch states that the reality is there is only 1 vacancy for every 5 applicants. 

So why have there not been more supportive housing developments if the demand and benefits are so high? 

Obstacles 

Well, the driving force behind this lack of new developments is what commonly holds up any kind of building development: zoning restrictions and building code requirements – and for nonprofit developers trying to convert hotel establishments into affordable housing, those extra costs simply cannot be absorbed. 

Perhaps the most important thing to remember is that, while hotels are grandfathered in under regulations that may be entirely out of date now, new housing will be governed by up-to-date rules on everything from safety considerations to accessibility to unit size. The devil is in the details which, in the words of Slate Property Group principal David Schwartz, can take the form of "outdated hallways and elevator shafts, sometimes just a few inches too narrow, [that] might have to be completely rebuilt to meet new standards." Consequently, even the most promising development plans can get "shot down" and turned into homeless shelters instead thanks to looser rules, according to nonprofit groups. This has been the reality for the city's 700+ hotels that nonprofit developers planned to convert. 

Now other reasons exist on top of these regulatory impasses, such as the fact that permanent housing cannot be built in light-manufacturing districts – which is where many hotels live in the non-Manhattan boroughs. Although proposals were once made by the governor's office and state legislators to slash these restrictions, NYC officials objected and the Housing Our Neighbors with Dignity Act was passed instead. Although this $100 million Act does allow for hotels to be converted into affordable housing, its caveats make it near impossible; these caveats include: 1) each unit must have its own kitchen and bathroom, 2) converting unionized hotels requires union consent, and 3) hotels adjacent to residential areas were left out of the regulatory relief. Given these obstacles, it is no surprise that NONE of the $100 million has been allocated, as of early November. 

Inspiration 

This is not to say that supportive housing developments are impossible. 

For example, California's government agencies managed to convert 120 hotels into almost 6,000 housing units over the course of the pandemic through its Project Homekey. According to a California Department of Housing and Community Development report from April, the majority of this permanent housing was kept for the homeless and other low-income renters. Project Homekey was able to succeed because the government allotted $850 million towards such developments and has put aside another $2.75 billion to continue creating more units in other types of developments. Significantly, the government has also allowed developers to bypass local zoning requirements in order to finish these projects. 

New York's Future?

There are, clearly, good reasons why supportive housing developments should be carried out. There are also good reasons why they haven't been. So how can this be reconciled? 

While tourism and economic recovery have been on the rise, the hotel industry still remains far from normal. If the city wants to keep these businesses afloat, perhaps the only choice will soon be to relax regulatory requirements and inject funding into these projects. 

That's what Mayor-elect Eric Adams wants to do, at least. Although details of his vision have remained up in the air since he first announced them in September (please include link to blog from 9/22), his spokesman, Evan Thies, has stated that the Adams' administration "will have a comprehensive plan ready for when he takes office."

Founded by attorneys Andreas Koutsoudakis and Michael Iakovou, KI Legal focuses on guiding companies and businesses throughout the entire legal spectrum as it relates to their business including day-to-day operations and compliance, litigation and transactional matters.

Connect with Andreas Koutsoudakis on LinkedIn.

Connect with Michael Iakovou on LinkedIn.

This information is the most up to date news available as of the date posted. Please be advised that any information posted on the KI Legal Blog or Social Channels is being supplied for informational purposes only and is subject to change at any time. For more information, and clarity surrounding your individual organization or current situation, contact a member of the KI Legal team, or fill out a new client intake form.

The post Hopes to Convert Pandemic-Affected Hotels into Affordable Housing Still Remain Hopes for Now appeared first on KI Legal.