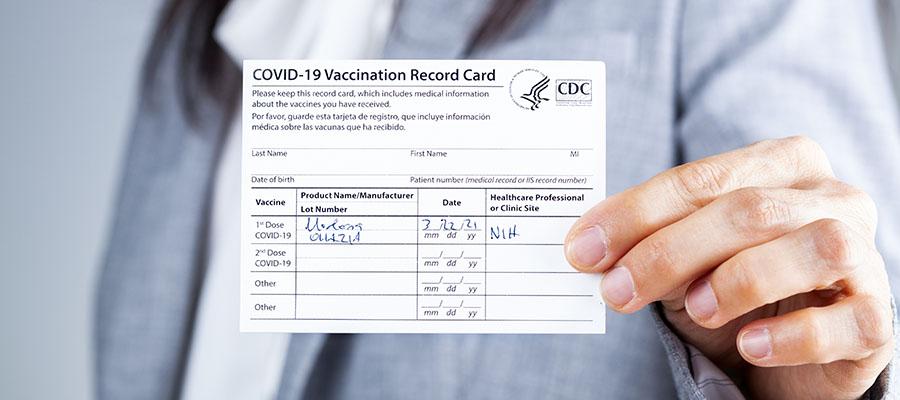 Photo courtesy of Temple Health
Yesterday, New York City became the first city in the country to require proof of vaccination to enter various indoor places – especially bars, restaurants, and gyms – which will officially go into effect September 13th. 
What Will This Really Look Like? 
This means that when you want to go see a performance, eat indoors at a restaurant, or go work out at your neighborhood Planet Fitness, you'll have to show proof that you have received at least 1 dose of a Covid-19 vaccine. Acceptable proof now includes 3 options: the New York Excelsior Pass, the NYC Covid Safe app, or the paper card issued by the Centers for Disease Control and Prevention. The Excelsior Pass will be the most common, however it is only available for individuals who either received their Covid-19 vaccine or a recent Covid-19 test in New York – which leaves out quite a large chunk of the population that will be frequenting these indoor locations. As such, the NYC Covid Safe app will be useful for all individuals whose vaccine record is stored outside of New York state as it simply stores an image of a vaccine record. Lastly, for those who do not want to digitize their information, the CDC card received upon vaccination will work just fine. 
*Note: the same requirements and proof will apply for employees of those sectors as well, not just customers. 
What Has Been the Reaction?
Two major issues have spurred from this mandate and other less official proof of vaccination actions:  how to enforce proof of vaccination and how to appease those who don't approve of it? 
The enforcement issue has certainly been on every business owner's mind since the mandate was announced. The manner in which venue operators and employees verify vaccination cards will shape the public reception to this mandate, especially with regards to the hospitality industry. Those restaurants with outdoor dining areas may choose to still serve unvaccinated individuals in their outdoor seating, however those without outdoor areas may have to turn customers away completely. Again, the manner in which this information will be communicated and the severity of compliance will have major implications. A restaurant owner from San Francisco Pim Techamuanvivit, stated in an interview with Eater that "until the city, the county, or the state comes up with some standardized way of proving someone's vaccination record without violating their privacy, and also make it easy for us to be able to verify these things, then I don't know how we're supposed to do it." This is a similar sentiment shared by owners in New York City, which does have a standardized proof of vaccination, because the actual process of asking for a customer's proof has been left up to the interpretation of the businesses. 
The issue of how to appease the part of society that does not support vaccinations, much less a mandate affecting their ability to go out, is much harder. This lack of support has been felt most acutely over social media recently. Virtually all the bars and restaurants in San Francisco that decided to ask for proof of vaccination, despite not having a city-wide mandate, have gotten hit with a flurry of 1-star Yelp reviews and direct messages on other platforms such as Instagram. These owners were sure that most of their customers would have no problem with their new policy, given 84% of the city's residents have received at least 1 shot, but instead they were met with claims that the policy is discriminatory, reinforces segregation, is essentially "medical apartheid," and is similar to the Holocaust; some even equated the singular star they left on Yelp reviews to the Star of David. What is peculiar about these reviews is the fact that most never referenced physically going to the business, they just referenced the policy; additionally, the reviews were coming from Yelpers based around the country, not just in San Francisco. Although these businesses are operating on a "private mandate," implemented on their own prerogative without governmental input, the same internet trolling and response is sure to accompany New York City's decision. 
What Next?
The obvious goal of this program is not limited to only protecting New York City residents. Hopefully, given it is the country's largest local, government-led effort, it will jumpstart similar mandates in other cities and towns. Currently, we are resembling where we were as a country during the winter of 2020, due to low vaccination rates and high levels of infection. Mask mandates, social distancing, and occupancy limits were effective tools at different times – but now is not one of them. Similarly, requiring restaurant owners to change their business – whether it be their physical spaces, service style, menus, or restrictions – is not a sustainable option. Proof of vaccination is the most effective, and necessary, option at this point in time. 
Where to Find More Information?
Much is still up in the air. Most prominently, New Yorkers question how their children who are under the age of 12 will be able to accompany them to indoor spaces if they are not eligible for vaccination; the answer overwhelmingly has been that they will be able to enter indoor spaces, however an official answer is still pending. More aspects of the mandate, and its various parts, will be announced by mid-August. 
For restaurants and bars in particular, Eater and The Infatuation have respectively started running lists of businesses that already require proof of vaccination as well as those who have already stated what date they will start checking: 
For The Infatuation: https://www.theinfatuation.com/new-york/guides/nyc-restaurants-bars–requiring-proof-of-vaccination-delta-variant
For Eater: https://ny.eater.com/2021/8/2/22602149/nyc-restaurants-bars-proof-of-vaccination-covid-delta-variant-surge 
The New York City Hospitality Alliance has also begun circulating an online form in which individuals can list questions and insights that can help shape the city's final policy: https://docs.google.com/forms/d/e/1FAIpQLSexjTcT3F01bZHv0btn0Z4XXP7avhPP5cY9ZgFQuZnW9x_2oA/viewform 

Founded by attorneys Andreas Koutsoudakis and Michael Iakovou, KI Legal focuses on guiding companies and businesses throughout the entire legal spectrum as it relates to their business including day-to-day operations and compliance, litigation and transactional matters.

Connect with Andreas Koutsoudakis on LinkedIn.

Connect with Michael Iakovou on LinkedIn.

This information is the most up to date news available as of the date posted. Please be advised that any information posted on the KI Legal Blog or Social Channels is being supplied for informational purposes only and is subject to change at any time. For more information, and clarity surrounding your individual organization or current situation, contact a member of the KI Legal team, or fill out a new client intake form.

The post NYC Mandates Proof of Vaccination for Indoor Entrance – What Now? appeared first on KI Legal.