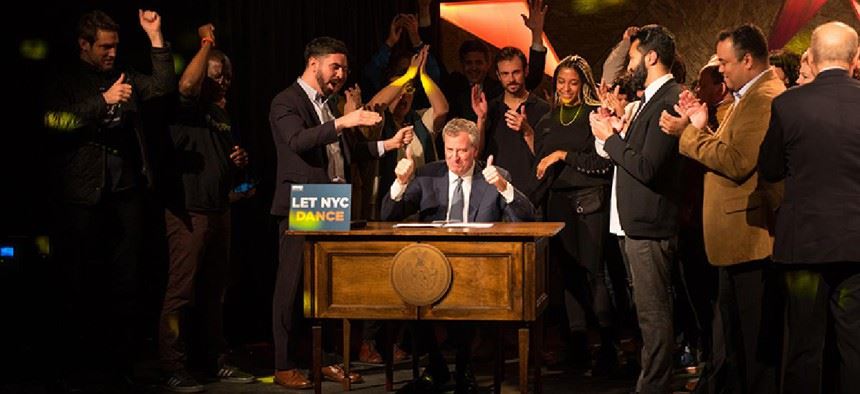 Photo courtesy of City and State New York
Proposed: Zoning Changes to Legalize Dancing 
Yesterday, a resolution to repeal Cabaret Law zoning regulations was proposed by New York City Council Member Keith Powers, Brooklyn Borough President Eric Adams, and Council Member Mark Levine. 
The Cabaret Law, and other similar dancing restrictions, have a long history of discrimination, disproportionately towards Black, Latino, and LGBTQ+ communities. Dancing-centered venues located in such communities were relentlessly subject to harsh police raids, surveillance, and discrimination. 
In 2017, the New York City Council finally repealed the Cabaret Law and created the Mayor's Office of Nightlife. Unfortunately, zoning laws still prohibited many restaurants and bars from legally being able to have dancing or entertainment. 
As a result, the resolution at hand proposes to base regulation off of the capacity of the venue, rather than zoning. Not only would this be a tangible first step in the process of eliminating discriminatory rules and regulations that disproportionately impact communities of color in the entertainment industry, but it will also bring some much-needed life to an industry that has suffered extensively throughout the pandemic – with 60% of its jobs and over 1,000 establishments vanished. 
Passed: Third-Party Food Delivery Service Licensing and Permanent Fee Caps
1. Third-Party Food Delivery Service Licensing 
This bill requires most third-party food delivery services to obtain a license in order to do business in New York City. The Department of Consumer and Worker Protection will be able to deny or refuse to renew a license, or suspend or revoke a license, if a service commits two or more violations. In addition, services who violate the requirements will also be subject to civil penalties and civil action from the City or a person against whom a violation was committed. 
2. Third-Party Food Delivery Permanent Fee Caps
This bill prohibits third-party food delivery services from charging food service establishments more than 15% per order for delivery and more than 5% per order for all other fees except for transaction fees – which are capped at 3% per order unless a credit card company or internet-based payment system imposes a higher charge. 
In addition, the Department of Consumer and Worker Protection must submit a report to the Mayor and the Speaker of the Council every 2 years recommending the maintenance or adjustment of this cap based on several factors including:
The effect of the cap on third-party food delivery services and food service establishments; 
Whether the cap affects delivery workers' wages and working conditions; 
The products provided by third-party food delivery services for listing, processing and marketing; 
And figures related to the bill's subchapter such as the number of complaints and violations, total amount of penalties imposed and the amount of restitution recovered.
Founded by attorneys Andreas Koutsoudakis and Michael Iakovou, KI Legal focuses on guiding companies and businesses throughout the entire legal spectrum as it relates to their business including day-to-day operations and compliance, litigation and transactional matters.

Connect with Andreas Koutsoudakis on LinkedIn.

Connect with Michael Iakovou on LinkedIn.

This information is the most up to date news available as of the date posted. Please be advised that any information posted on the KI Legal Blog or Social Channels is being supplied for informational purposes only and is subject to change at any time. For more information, and clarity surrounding your individual organization or current situation, contact a member of the KI Legal team, or fill out a new client intake form.

The post New York City Council Protects the Hospitality Industry: Legalized Dancing and Permanent Fee Caps appeared first on KI Legal.