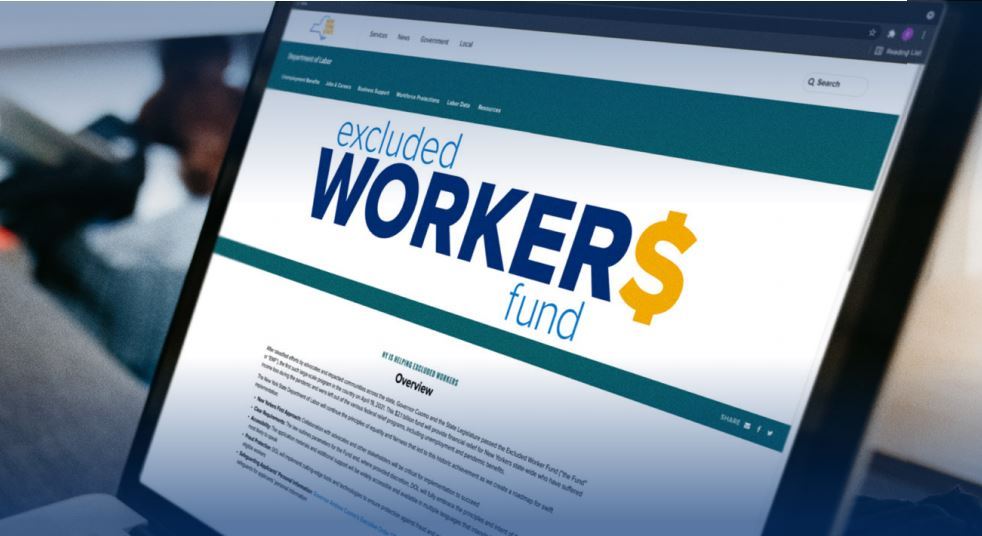 What is it? 

The Excluded Workers Fund is a $2.1 billion fund that was passed in the midst of last-minute state budget negotiations in April of this year, but didn't go into effect until the start of this month. The Fund aims to provide relief to workers cut off from unemployment benefits and stimulus checks during the pandemic because of their immigration status. As such, the program caters directly to workers, such as undocumented immigrants, who lack a legal immigration status, and have thus been without aid for the past year and a half. 

The official regulations stated that eligible applicants had to have: 1) lived in New York State before March 27th, 2020 and continue to live here; 2) earned less than $26,208 in the year before April 2021; 3) showed that they lost at least 50% of their weekly income from the end of February 2020 through April 2020; and 4) lost income from March 27th, 2020 through April 1, 2021 because you lost work, couldn't work because of Covid-19, or if the person making your household's income died or became disabled. 

2 payment tiers were created that depend on a document-based point system – which meant that applicants had to provide enough documents to add up to a certain number of points, where some points are worth more than others (such as the IDNYC card). Tier 1 granted applicants $15,600, which is the equivalent of what someone would have earned through unemployment insurance over the past year, and Tier 2 granted applicants $3,200, the equivalent of what someone would have gotten from the stimulus checks. 

According to the lawmakers who created the fund, approximately 300,000 workers stand to benefit from the proposed aid, all of whom work in the industries who suffered the most severely due to the pandemic and who were thus deemed essential workers; these industries include food service, domestic service, construction, cleaning, farming, homecare, and street vending amongst others. 

This being said, many proponents of the Fund quickly identified several aspects of its application process that were sure to hinder applicants from receiving aid. The strict documentation requirements were the first sure sign. When the government added the requirement that applicants must show that they lost 50% of their earnings – their predictions became cemented. 

What have been the biggest issues?

1. 50% proof of loss

Not only is this requirement difficult to prove, especially for workers who are self-employed or who work in the cash economy, but it is also only specific to the Fund. No other program – including Unemployment Insurance, Pandemic Unemployment Assistance, New York state's Emergency Rent Assistance Program – requires such proof, leading many to question its justification.

2. Employer power  

According to Workers Center of Central New York Executive Director, Jessica Maxwell, "there is a power relationship behind a requirement like an employer letter because the applicability to the fund depends on a third person, and thus workers have to go through this uncomfortable situation with their employers." Employers are essentially given the reigns to decide whether an applicant will receive money, which is especially scary for applicants given the difference between the Tier 1 and 2 levels is so large. 

3. The tier system is difficult to understand 

According to eligibility criteria, the Tier 1 status requires a score of at least 5 points while Tier 2 requires 3. Documents such as an ITIN, W-2, wage statements, or an employer letter are each 5 points on their own which, if applicants have them, will allow them to easily access the Tier 1 level. For Tier 2, however, the 3 points needed can not come from multiple documents, it must come from a single document. It is this requirement that has hindered many applicants from being able to go forward.  

4. Proof of residency is a major obstacle

For many workers in the Fund's targeted demographic, housing is rarely under their name. For example, many workers are not named on a lease, or they rent a room with cash, or they are given housing from their employer. 

5. Technical problems are running rampant 

Numerous technical problems have arisen since the Fund first opened. Workers applying in a non-English language have still received notifications and answers in English; this becomes an issue especially when application issues have a time limit to fix and workers miss them because they don't understand the notifications. There is no direct hotline or point of communication with the Department of Labor, therefore organizations who help applicants apply must figure it out amongst themselves; many have resorted to following each others' lead, which can be dangerous when applications differ. Lastly, applicants who are unable to log back into their initial application have mistakenly created a second one, due to a systems issue, which jeopardizes their status. 

Topping it off, the Department of Labor has yet to issue official data on the program – including how many applicants have been approved and in what tiers, and how many have been denied and why; according to the department, the Fund has not been in operation long enough to produce any significant data. The only statement from the DOL with regards to the Fund came last week when it reported that the first group of applicants have been approved to receive payments. 

Founded by attorneys Andreas Koutsoudakis and Michael Iakovou, KI Legal focuses on guiding companies and businesses throughout the entire legal spectrum as it relates to their business including day-to-day operations and compliance, litigation and transactional matters.

Connect with Andreas Koutsoudakis on LinkedIn.

Connect with Michael Iakovou on LinkedIn.

This information is the most up to date news available as of the date posted. Please be advised that any information posted on the KI Legal Blog or Social Channels is being supplied for informational purposes only and is subject to change at any time. For more information, and clarity surrounding your individual organization or current situation, contact a member of the KI Legal team, or fill out a new client intake form.

The post Excluded Workers Fund Challenges Persist for Applicants appeared first on KI Legal.