By Sam Matthews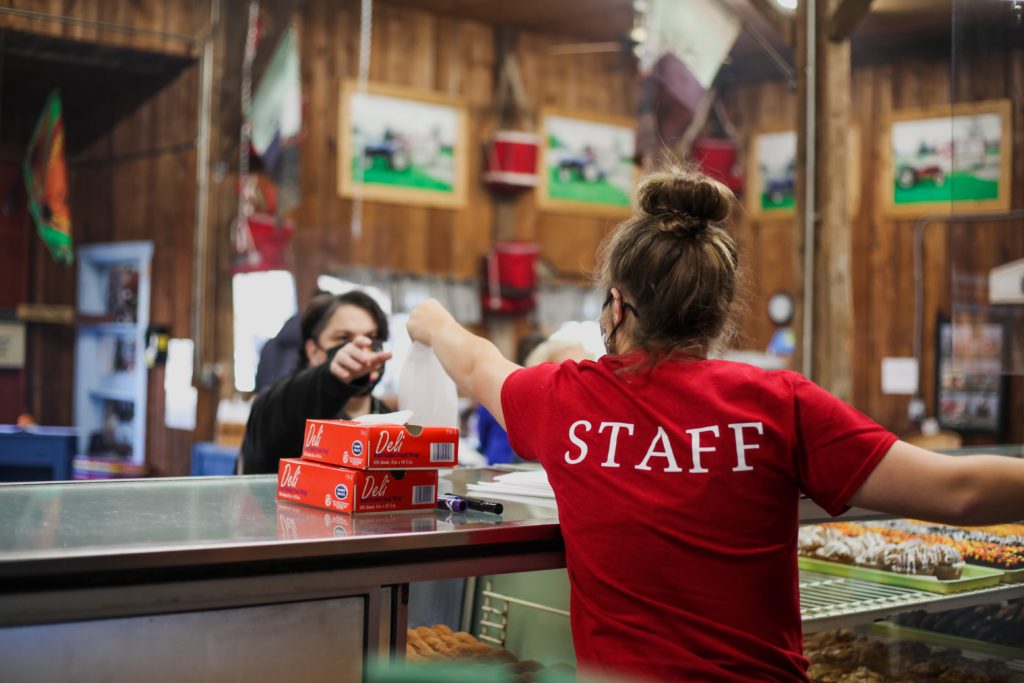 Many believed that the COVID-19 health crisis would be over in a short period of time, allowing life to go back to normal again, or even roar like the 1920's. Unfortunately, as we have seen the last three years, society has been far from roaring back to normalcy until only recently. In a post-COVID period, it is almost impossible to find an industry that has not drastically been impacted; the restaurant industry is no exception, and—if anything— was hit harder than most. As of 2022, more than 110,000 restaurants shut their doors in the United States, either temporarily or permanently, seeing to a massive drop in sales by $240 billion in 2020 alone.[1] As restaurants re-open and expand operations post-COVID, the need for quality employees is rising. The harsh reality—especially with the holidays around the corner—is that restaurant owners are now struggling to find anyone to fill available jobs while navigating intricate provisions to avoid employment-based liability.
Federal, state, and local law prohibits discriminating against employees during the hiring (and re-hiring) process based on membership in a protected class, such as age, race, color, national origin, sex/gender, disability or religion.[2] While employers should be conscious of all the lawfully protected classes in the context of re-hiring in the post-pandemic world, employers should be especially mindful of unintentionally committing age discrimination amidst concerns of saving costs. Further, employers need to be prepared to ensure compliance with Form I-9 and E-Verify requirements; there are certain situations where a new hire and/or rehire is not considered to have taken place, despite an interruption in employment.[3] The bottom line is that facts and circumstances for each business will be different. That is why it is essential to work with counsel to confirm a compliant strategy as businesses will certainly be liable for the handling of I-9 compliance in the event of an ICE audit—regardless of the national pandemic.
Another facet of the situation is that, in a post-COVID world, quality assistance in the restaurant industry becomes a simple case of supply and demand. Thousands of restaurants are finally opening for weekend service or adding lunches and brunches, and applicants have the opportunity to be picky. Many restaurant managers have fallen into their roles due to their love of food and the desire to connect with customers —but it takes a special skill set to be an excellent and effective staff manager. Great managers appreciate, inspire, and motivate; poor managers belittle, intimidate, and effectively demotivate. Poor staff management invites a host of problems: high staff turnover, difficulty hiring and retaining employees, and a tense or toxic working environment. Management matters because it's hard to create a successful, long-lasting restaurant without a strong team. An overwhelmed, unsupported staff delivers underwhelming service to guests. To attract and keep quality employees, you need to offer a culture that's more attractive than your competitors'. Staff turnover is common in the hospitality industry, but it's also costly. Now, more than ever,  it isimportant to get good applicants through the door—and keep them there. You can do so by implementing the following actions:
Review operations (including their scheduling and timekeeping practices, written job descriptions, and assignment of side work to tipped employees) to ensure proper work assignments and tracking of time spent performing tip eligible work;
Consider paying tipped employees the full minimum wage for time worked before and after service (where permitted by state and local law) and/or modifying their hours and hiring non-tipped employees to perform side work;
Audit applicable wage and hour practices (including tip credit notices, tip policies, reporting procedures for payroll discrepancies, and wage statements);
Train managers on the DOL's requirements; and
Consult with counsel regarding any changes to existing policies, practices, or procedures necessary to comply with the new tip credit regulations.[4]
In conclusion, employers should evaluate their re-hiring decisions to see how it would be perceived under a discrimination lens. Within the hiring process, an employer needs to ask what are the reasons for those decisions? Are those decisions motivated by legitimate, non-discriminatory business reasons? What are those motives? Effective managers and leaders live by strong values that guide their decisions and behaviors, which will in turn lead to a more productive work environment.
The Labor & Employment team at KI Legal prepares customized, clear, and enforceable contracts for its clients every day. We want to help protect and preserve your business. For any regulation concerns, please contact KI Legal at (646) 766-8308 or visit us at https://kilegal.com/.
---
[1] C. Price, What is the Restaurant Failure Rate?, On the Line, Toast, last visited Nov. 4, 2022. https://pos.toasttab.com/blog/on-the-line/restaurant-failure-rate#:~:text=More%20than%20110%2C000%20restaurants%20in,expected%20level%20of%20%24899%20billion.

[2] Title VII of the Civil Rights Act of 1964, 42 U.S.C. §§ 2000e – 2000e17 (as amended).

[3] 1 Immigration Law Service 2d § 1:9.

[4] Wage and Hour Division, Tip Regulations Under the Fair Labor Standards Act( FLSA); Partial Withdrawal, Federal Register — The Daily Journal of the United States Government, Oct 29, 2021. https://www.federalregister.gov/documents/2021/10/29/2021-23446/tip-regulations-under-the-fair-labor-standards-act-flsa-partial-withdrawal

 _____________________________________________________________________________________________ 

*ATTORNEY ADVERTISING*

*PRIOR RESULTS DO NOT GUARANTEE A SIMILAR OUTCOME*

This information is the most up to date news available as of the date posted. Please be advised that any information posted on the KI Legal Blog or Social Channels is being supplied for informational purposes only and is subject to change at any time. For more information, and clarity surrounding your individual organization or current situation, contact a member of the KI Legal team.  

 _____________________________________________________________________________________________ 

KI Legal focuses on guiding companies and businesses throughout the entire legal spectrum. KI Legal's services generally fall under three broad-based practice group areas: Transactions, Litigation and General Counsel. Its extensive client base is primarily made up of real estate developers, managers, owners and operators, lending institutions, restaurant and hospitality groups, construction companies, investment funds, and asset management firms. KI Legal's unwavering reputation for diligent and thoughtful representation has been established and sustained by its strong team of reputable attorneys and staff. For the latest updates, follow KI Legal on LinkedIn, Facebook, and Instagram. For more information, visit kilegal.com.   

The post The Labor Challenges Restaurants are Faced With in the "Post-Covid" Era appeared first on KI Legal.