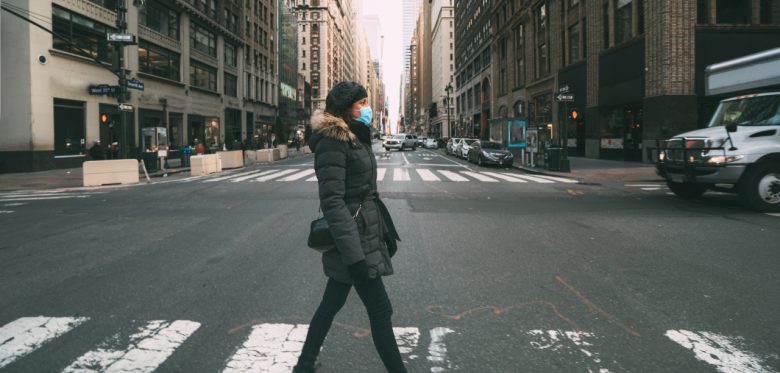 Photo courtesy of tanaonte – stock.adobe
The pandemic has not been discriminatory; almost every sector of society has been impacted by its effects. Here is a look at what will continue to hurt New York City as we somewhat emerge from Covid-19's shadow. 
Job loss
New York City has suffered an 11.8% job loss, as a share of its workforce, which is nearly three times the loss on the national level according to the Center for New York City Affairs at the New School. For reference, the three cities following behind New York stand at: -10.5% for San Francisco, -10.3% for Los Angeles, and -9.0% for Philadelphia. Additionally, while the U.S. has recovered over two-thirds of the jobs it lost during the pandemic, New York has only recovered half. 
Unemployment 
Tied to job loss is the city's unemployment rate – standing at 10.9% in May – which is twice as high as the nation's average. But this rate isn't the same everywhere in the city. In the poorest borough of the city, the Bronx, the unemployment rate has soared to 15%; this is because unemployment remains high for socio-economically disadvantaged communities, especially for workers in hospitality. 
Empty spaces
The pandemic has normalized empty streets and subways, but these visions may become a long-lasting reality. Empty commercial storefronts plague the streets of the city as owners struggle to offer attractive leases and rentals in the face of massive economic despair. The subway is currently seeing less than half of its normal ridership on weekdays. 
Tourism
Although New York operates well simply off the business of its inhabitants, tourism undoubtedly brings a massive amount of added revenue for the city. In 2019 for example, the more than 66 million tourists that came to visit spent over $45 billion in the hotel, restaurant, retail, and performance industries. The particular tourists that New York needs are wealthy foreign tourists and business travelers, however these same demographics are not set to travel and spend at the same rate for years. As such, the period between now and when tourism climbs back to its normal heights will be extremely tough on hospitality and performance revenue and employment. 
Remote work
The concept of remote work certainly existed prior to the pandemic, however it became a widespread normality during its course. As thousands of workers stayed home to remain safe, remote work became embraced by some as a better alternative to working in physical office spaces, whether or not a pandemic threatened their health. Now, however, businesses are working to get people back in-person. Some sectors, such as banking, have been transparent in their desires for workers to return fully in-person; Morgan Stanley, for example, is requiring employees to come back as remote work will no longer be an offered option. Other industries are adjusting to the times, especially in tech. Both Google and Facebook will continue to allow remote work, with Google having announced that 20% of staff can apply to work remotely full time. Despite their generosity, working from home has a bigger impact on the economy than people think. According to the Center for New York City Affairs at the New School, if only 10% of Manhattan office workers begin working remotely most of the time, that translates into more than 100,000 people a day not picking up a coffee and bagel on their way to work or a drink afterward. As can be inferred, the repercussions of such a future are countless. 
Debt 
For the small businesses who managed to survive the pandemic, they remain overwhelmed with debt. Although the numerous public and private loans/grants that were made available were a great source of aid, the process of applying to so many different lenders leaves many businesses in a state of chaos as they try to pay it back. Additionally, businesses must now tackle paying their back rent. 
Violent crime
An added effect of the pandemic was a rise in violent crime. By the first week of May, the city had already seen over 500 shooting victims; this is more than at any point in any year in the past decade. And many do not see gun violence tapering down in the near future, as the physical and economic effects of the pandemic continue to persist. 
With all of that being said, there is light on the horizon for New York City as it begins the recovery process. 
Going out 
Restaurant and bar attendance has been slowly climbing as reopenings loosen restrictions. Whereas hotels were only used for the occasional "stay-cation" during the pandemic, now people are finally looking to book their long awaited weddings and events. 
Empty Spaces Fill Up
Whereas Times Square became a beacon of the pandemic's destruction, remaining virtually empty throughout the past year, it welcomed a couple hundred thousand pedestrians this month. And other spaces are filling up again too. Here is a depiction of changes in foot traffic up to this week.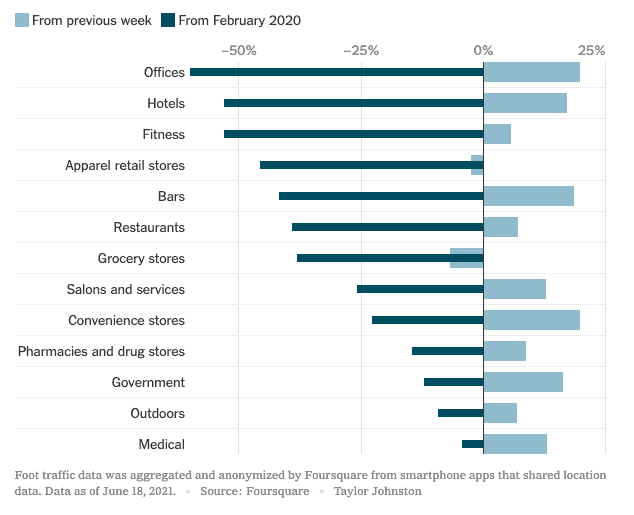 Real Estate

The real estate sector made considerable concessions for tenants over the course of the pandemic, but these are now waning. When the market soon regulates, high-priced apartments will return as a staple of the city. 

The End of Summer

All eyes are now turning to the end of the summer when September is looking to bring everyone from office workers to tourists to business travelers back to the city. Although the rebound will not bring us back to "normality," whatever that may look like in the future, it certainly will inject some much-needed life back into the city.

Founded by attorneys Andreas Koutsoudakis and Michael Iakovou, KI Legal focuses on guiding companies and businesses throughout the entire legal spectrum as it relates to their business including day-to-day operations and compliance, litigation and transactional matters.

Connect with Andreas Koutsoudakis on LinkedIn.

Connect with Michael Iakovou on LinkedIn.

This information is the most up to date news available as of the date posted. Please be advised that any information posted on the KI Legal Blog or Social Channels is being supplied for informational purposes only and is subject to change at any time. For more information, and clarity surrounding your individual organization or current situation, contact a member of the KI Legal team, or fill out a new client intake form.

The post A Look At the Pandemic's Lasting Effects on New York City appeared first on KI Legal.