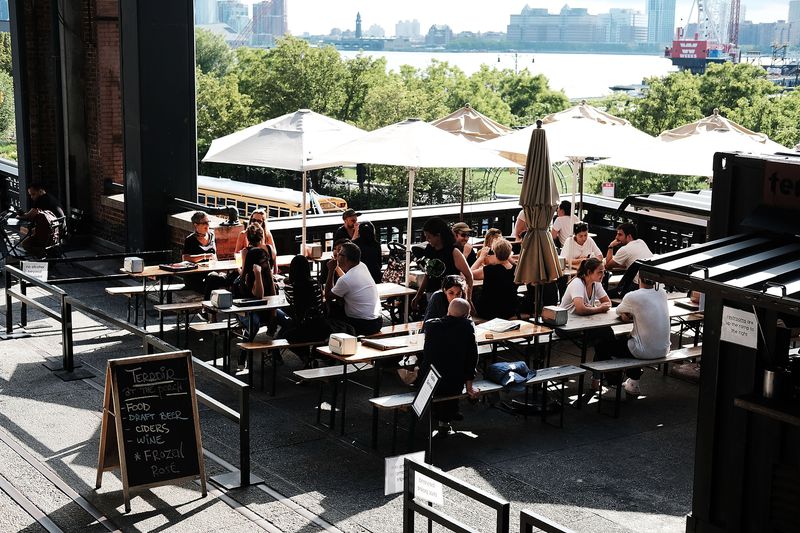 Photo courtesy of Spencer Platt/Getty 

The pandemic has changed the face of dining as outdoor service areas populate the streets of New York. Pre-pandemic, restaurants resided in primarily private-owned indoor spaces. With the advent of Covid-19, and the associated health and safety risks, the city and its restaurants took it upon themselves to adapt to the times. The hugely successful Open Restaurants Program gave thousands of restaurants the opportunity and authorization to use sidewalks to establish outdoor dining areas; the Open Streets program now turned streets into car-free zones so that restaurants can use them as outdoor dining areas as well. Under both of these programs, restaurants still have to abide by regulations from the Department of Health, Buildings, Transportation, and other agencies. Although both programs were commenced during the pandemic, under the veil of necessity, their continuing triumph has led to efforts to make them permanent. In an effort to create outdoor spaces that are welcoming to both customers and the neighborhood that they have "taken over," restaurants and nonprofits have come up with many creative methods.  

The Alfresco Awards is a competition started by three nonprofit organizations – Design Trust for Public Space, Regional Plan Association and Tri-State Transportation Campaign – to encourage restaurants to create thoughtful designs and collaborations in relation to their outdoor spaces. The competition culminates in a $500 prize that will be awarded in July, which can still be signed up for, and aims to elevate both community partnerships and imaginative structures. The three groups have already announced that, following the end of the Alfresco Awards, they will create guidelines for "affordable, durable, and accessible street-dining structures" that will be sent to the Department of Transportation as well as business owners. In addition, the groups have also announced that $10,000 grants will be awarded to small businesses and community organizations who were affected by the pandemic and want to participate in the Open Restaurants and Open Streets programs. Other efforts have been headed by the nonprofit group Design Advocates, which has offered advice and assistance to businesses regarding program regulations set forth by the DOT. Aside from advice, the group has also sent teams to neighborhoods that lack an outdoor dining scene to assist restaurants that reside there.  

While the Open Restaurants program was overwhelmingly effective overall, it has not resulted in an even distribution of street and sidewalk dining areas. While 12,000 restaurants and bars applied mostly in Manhattan, representing more than half of all restaurants in several extended neighborhoods, less than 700 applications were submitted for Staten Island, eastern Queens, and the Bronx in total. The reason for this disparity is likely that restaurants and bars in those areas have not been able to access Open Streets and Open Restaurants – a reality that the DOT and the Regional Plan Association want to change. The former has been pushing the city to fund such groups and businesses while the latter already provides financial support to local groups in order to aid them in managing Open Streets programs. Although the DOT is not set on giving money to restaurants just yet, Commissioner Gutman is dedicated to making the application process as transparent and simple as possible. He has stated that, should the city start charging restaurants fees for using streets and sidewalks, they will not represent an obstacle on their path to enrolling in the program; such low or sliding fees may be necessary, however, to achieve a number of future prospects, according to the Commissioner, including: restricting spaces to eating and drinking, opening them up to cultural, educational, or community pursuits, and making these spaces either part of the community or sheltered from them depending on what inhabitants prefer. 

Now, restaurants are patiently waiting to hear whether the Open Restaurants and Open Streets programs will be made permanent. Upcoming changes in local government leaders may threaten to complicate those endeavors, as they may not support the programs to the extent that the current administration has. 

Founded by attorneys Andreas Koutsoudakis and Michael Iakovou, KI Legal focuses on guiding companies and businesses throughout the entire legal spectrum as it relates to their business including day-to-day operations and compliance, litigation and transactional matters.

Connect with Andreas Koutsoudakis on LinkedIn.

Connect with Michael Iakovou on LinkedIn.

This information is the most up to date news available as of the date posted. Please be advised that any information posted on the KI Legal Blog or Social Channels is being supplied for informational purposes only and is subject to change at any time. For more information, and clarity surrounding your individual organization or current situation, contact a member of the KI Legal team, or fill out a new client intake form.

The post The Future of Outdoor Dining in an Uncertain Climate appeared first on KI Legal.