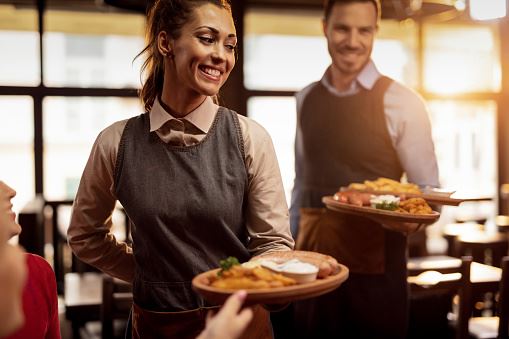 Photo courtesy of Drazen Zigic/iStock

The National Restaurant Association Educational Foundation was recently awarded $4 million to put towards the Hospitality Opportunities for People (re)Entering Society (HOPES), which will place individuals transitioning out of the criminal justice system into hospitality industry jobs. Delaware, Ohio, Texas, and most recently Michigan have been the recipients of this grant to begin training and preparing these individuals for their careers. The HOPES program will commence in January of 2022 and will run for 3 years. All individuals leaving jail or prison will be eligible. 

The hospitality industry is certainly a great sector for this kind of program. It has low barriers to entry and offers a virtually limitless opportunity for individuals to climb up the ranks and reach higher positions. The hospitality industry is also very social, based in human-to-human interaction across a wide range of demographics, which is vital for formerly incarcerated individuals who have been lacking these kinds of interactions.  

Michigan has been working on establishing this connection for several years now. In 2016 Michigan established vocational villages, a program based in occupational education, which offered training in a wide range of trades including carpentry and electrical and computer coding. The program has since expanded to educate over 200 formerly incarcerated individuals in more than 100 vocational trades. According to the Michigan Department of Corrections, "the employment rate of those leaving state prison is around 30%, while those who enroll in a vocational program see that rate double to more than 60%." This type of program undoubtedly allows individuals to put their motivation to use and support themselves and their families upon release. Individuals leave the vocational village not only with an abundance of education and information, but also with proper certifications and resumes. 

In 2017, the Michigan Restaurant and Lodging Association began surveying hospitality business owners to scope out interest in potentially hiring individuals who are transitioning out of the system and are looking for work. Given these individuals already have the necessary skills, knowledge, and certifications, the HOPES program will serve as the last connecting piece to direct them to job placement programs. These job placement programs, already available in many cities in Michigan, reportedly also connect individuals to housing and transportation services amongst other vital aid. Additionally, the HOPES program will place emphasis on educating individuals not only on service but also on other key facets of the industry such as food waste reduction and financial management. 

Although this program will only exist in the aforementioned states, it certainly opens the door for other states and cities to consider incorporating formerly incarcerated individuals into their hospitality industries.

Founded by attorneys Andreas Koutsoudakis and Michael Iakovou, KI Legal focuses on guiding companies and businesses throughout the entire legal spectrum as it relates to their business including day-to-day operations and compliance, litigation and transactional matters.

Connect with Andreas Koutsoudakis on LinkedIn.

Connect with Michael Iakovou on LinkedIn.

This information is the most up to date news available as of the date posted. Please be advised that any information posted on the KI Legal Blog or Social Channels is being supplied for informational purposes only and is subject to change at any time. For more information, and clarity surrounding your individual organization or current situation, contact a member of the KI Legal team, or fill out a new client intake form. 

The post States Utilize the Accessibility of the Hospitality Industry to Provide Jobs For the Formerly Incarcerated appeared first on KI Legal.