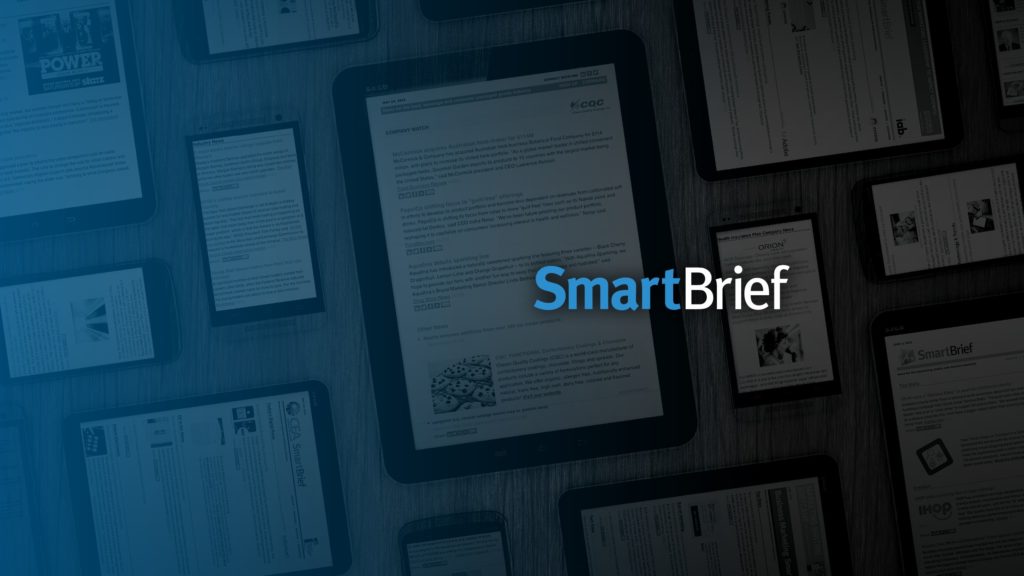 Photo courtesy of SmartBrief

SmartBrief, an industry leader in targeted business news, and the Multicultural Foodservice and Hospitality Association (MFHA), an educational nonprofit focused on educating the food and hospitality industry on economic benefits of diversity and inclusion, have collaborated on a survey to "look at racial inequity in the foodservice and hospitality industries and gauge the pulse of its audience on the state of diversity and inclusion initiatives today." Both entities cite these times as representing a "watershed moment for the industries to overhaul the way things have always been done and make change from the top down and bottom up." 

The survey was fully anonymous and was circulated to executives and employees in the foodservice and hospitality industry who are readers of briefs published by SmartBrief. 260 individuals completed the survey and, based on the audience size and response rate, the results of the survey are considered statistically significant.

Diversity 

According to the National Restaurant Association, 40% of restaurant managers and supervisors and 60% of chefs are people of color. According to findings from the Castell Project's 2021 Black Representation in Hospitality Leadership report, almost 57% of people working in the hotel industry are Black, yet only 1.6% of executives at the director level or above are Black. The National Restaurant Association, however, estimates that by 2030, women and people from multicultural backgrounds will hold a larger proportion of the industry's upper-management jobs. 

DEI or Anti-Racism Initiatives

The majority, or 62%, of respondents reported their company either does not have a diversity, equity, and inclusion, or anti-racism, initiative in place, or that they were unsure if it has one. Of those who do have an initiative in place, almost 50% of the respondents believe that their company addresses diversity very well and the other 50% believe that their company addresses diversity well; those who responded that their company does not do very well, or not well at all, were neutral in their position. Several interesting findings spurred from these results. Executives were found to more likely say their company was doing well at addressing DEI issues (66%), compared to nonexecutive employees (54%); additionally, respondents who identify as multiracial were less likely to say their company is doing well in this area (32%). In terms of overall timing, 27% of respondents who said their company has a program in place noted that it was created in response to the recent anti-racism protests in the US this past year. 

Potential barriers to introducing initiatives were also surveyed. 3 were most notable: cost, time, lack of interest or passion, and unclear goals. Time was the most cited, however all 3 received around the same number of votes. An equal number said that there are no barriers at all. An interesting detail is that 75% of executives who responded that there are no barriers to introducing a program work at a company that does not currently have such a program in place. Additionally, entry-level respondents were the most likely to identify each factor as a barrier in contrast to executives, who were less likely to name the factors identified as barriers at their organization. 

Racial inequality

34% of respondents said they feel there is racial inequity at their company. 

Broken down by race, it comes out to: 46%, of Black or African American respondents, 45% of respondents who identify as multicultural, and 31% of white respondents. 

Broken down by position, it comes out to: 42% of entry level respondents, 37% of senior level respondents, 37% of mid-level respondents, and 21% of executive level respondents. 

Foodservice and Hospitality Industry's Perceived Role in Addressing Structural Racism

63% of respondents said they believe the industry does play a role in addressing structural racism. When broken down by business type, it comes out to: 78% fast casual, 73% full-service, 71% hospitality, and 53% casual dining. 88% of respondents said they believe that a diverse workforce has the potential to make a positive impact on driving business, innovation and strong financial results. When asked whether a diverse workforce has a positive impact on driving business, innovation and strong financial results, 54% responded "yes without a doubt;" 34% responded "I believe it has the potential to;" 6% responded "no;" and 7% responded "not sure." 

Gaps and Opportunities

Based on the data gathered on how well a company is addressing diversity and feelings about racial inequity within the company, a gap in perception does exist between executives and nonexecutive employees, as well as between white respondents and respondents of color. 

25% of respondents who said they feel there is racial inequity at their company are working at companies that have a DEI program. This points to the fact that DEI and or anti-racism initiatives do help in addressing and eradicating racial inequity. But what else is there to do? 

When asked about the most effective diversity measures, respondents most highly rated: blind screenings, making "achieving equal pay" the top goal of DEI programs, and adding "assessing equality" to compensation packages by race and gender. Other effective measures cited included: trainings and conferences; accountability, sharing diversity data, either internally or externally; hiring and promoting people of color and women to visible positions of authority; surveys; involvement from senior leadership; newsletters and/or communications from executives; and community or networking groups. 

Follow this link to hear more about what industry leaders and small business owners have to say on the state of diversity and inclusion initiatives: https://www.smartbrief.com/whitepapers/4BFAE49A-3B9A-4897-8A06-71CD04DFF48F/MFHA_DiversityLeadership_0621_V6.pdf  

Founded by attorneys Andreas Koutsoudakis and Michael Iakovou, KI Legal focuses on guiding companies and businesses throughout the entire legal spectrum as it relates to their business including day-to-day operations and compliance, litigation and transactional matters.

Connect with Andreas Koutsoudakis on LinkedIn.

Connect with Michael Iakovou on LinkedIn.

This information is the most up to date news available as of the date posted. Please be advised that any information posted on the KI Legal Blog or Social Channels is being supplied for informational purposes only and is subject to change at any time. For more information, and clarity surrounding your individual organization or current situation, contact a member of the KI Legal team, or fill out a new client intake form.

The post State of Diversity in the Foodservice and Hospitality Industry: SmartBrief and MFHA Survey appeared first on KI Legal.