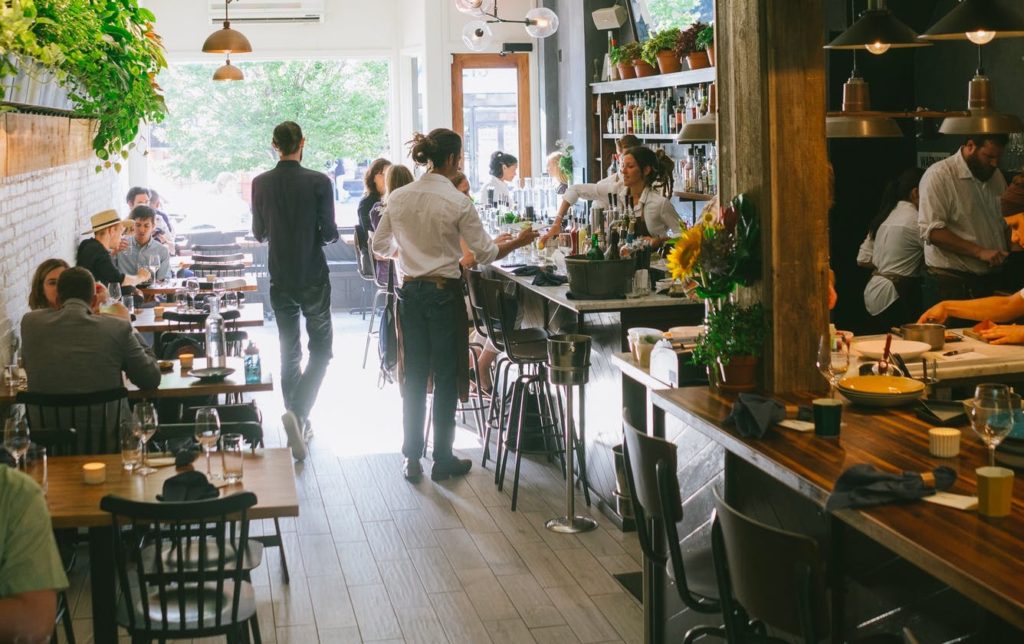 Photo courtesy of NOAH DEVEREAUX/ The Infatuation

The pandemic has forced many restaurants in New York City to limit their services or close entirely, thereby affecting their ability to pay rent. 

Amaranth, a Mediterranean restaurant on the Upper East Side, had to close for three months when Governor Cuomo issued the Executive Order in March of 2020. It was able to open again with outdoor seating in June followed by 25% of its indoor seating in September. At that point, the restaurant was struggling to pay all of its rent as customers were unwilling to participate in indoor-service. 

Amaranth subsequently attempted to negotiate a possible compromise of the lease with the landlord, but was met with threats of "trouble" and legal action. The landlord disputed the restaurant's use of the sidewalk for outdoor seating and requested that it remove its outdoor dining area setup. This, of course, only limited its business further and prevented it from meeting its contractual obligations under its lease agreement – which necessitated that the tenant only use the premises as a "full-service quality, tablecloth restaurant, serving food and beverages…and for no other purpose;" this was supported, and recognized, by the restaurant in the lease as it stated that "the nature and preparation of its food requires that it be catered in the restaurant." 

In response, the restaurant alleged various Affirmative Defenses – including defenses under the lease and the riders to the lease, frustration of purpose, impossibility of performance and bad faith by the landlord under the lease. It asserted two counter-claims, one seeking a declaratory judgment that it was entitled to rent abatement under the Executive Order and another regarding commercial tenant harassment under the New York City Administrative Code. The restaurant did not contest its non-payment but rather invoked "the doctrine of impossibility of performance and/or frustration of purpose" on the basis that the pandemic strained its ability to operate – constituting an "impossibility" of performance of the lease's tenant-payment obligations. 

The court denied summary judgment to the landlord for the rent and found support in both of the restaurant's impossibility of performance and bad faith by the landlord under the lease claims. It ruled that "the restaurant…was subject to the seating, occupancy, or on-premises service limitations in the subject Executive Orders, which plaintiff does not dispute, defendant has demonstrated that as a commercial tenant, 'impacted by COVID-19,' as defined in the regulation." Additionally, it found that "communication between the restaurant and the landlord raised genuine issues of fact regarding whether, and to what extent, plaintiff restricted defendant's use of the sidewalk for outdoor dining, the justification for same and the impact these actions may have had on defendant's ability to comply with the lease terms and upon assessment of such fact, whether the actions constituted or did not constitute commercial tenant harassment under NYC Admin. Code §22-902." 

The significance of this ruling is that restaurants and businesses affected by Covid-19 may be able to defeat their landlord's motion for summary judgment for rent if they can show impossibility of performance under the specific terms of the lease and the nature and operation of the business. It is also significant in that disputing a restaurant or business' use of the sidewalk for outdoor dining is now potential grounds for defense of "commercial tenant harassment;" this is supported by the provision in the statute stating that: "using force against or making express or implied threats that force will be used against a commercial tenant…" and, "engaging in any other repeated or enduring acts or omissions which substantially interfere with the operation of a commercial tenant's business" and "threatening a commercial tenant based on … (ii) the commercial tenant's status as a person impacted by COVID-19."  

Of course this ruling should not prompt tenants to think that they do not have to pay their landlords rent. Rather, it gives them the opportunity, if they have experienced similar harassment whilst having a similar lease, to argue impossibility of performance. On the other hand, landlords must now be wary of threatening tenants over outdoor dining areas and requesting changes to their business that may prevent them from operating in a manner that would generate enough money to pay rent. 

Founded by attorneys Andreas Koutsoudakis and Michael Iakovou, KI Legal focuses on guiding companies and businesses throughout the entire legal spectrum as it relates to their business including day-to-day operations and compliance, litigation and transactional matters.

Connect with Andreas Koutsoudakis on LinkedIn.

Connect with Michael Iakovou on LinkedIn.

This information is the most up to date news available as of the date posted. Please be advised that any information posted on the KI Legal Blog or Social Channels is being supplied for informational purposes only and is subject to change at any time. For more information, and clarity surrounding your individual organization or current situation, contact a member of the KI Legal team, or fill out a new client intake form.

The post Restaurant Owners Who Endured Landlord Harassment May Have Increased Legal Support appeared first on KI Legal.