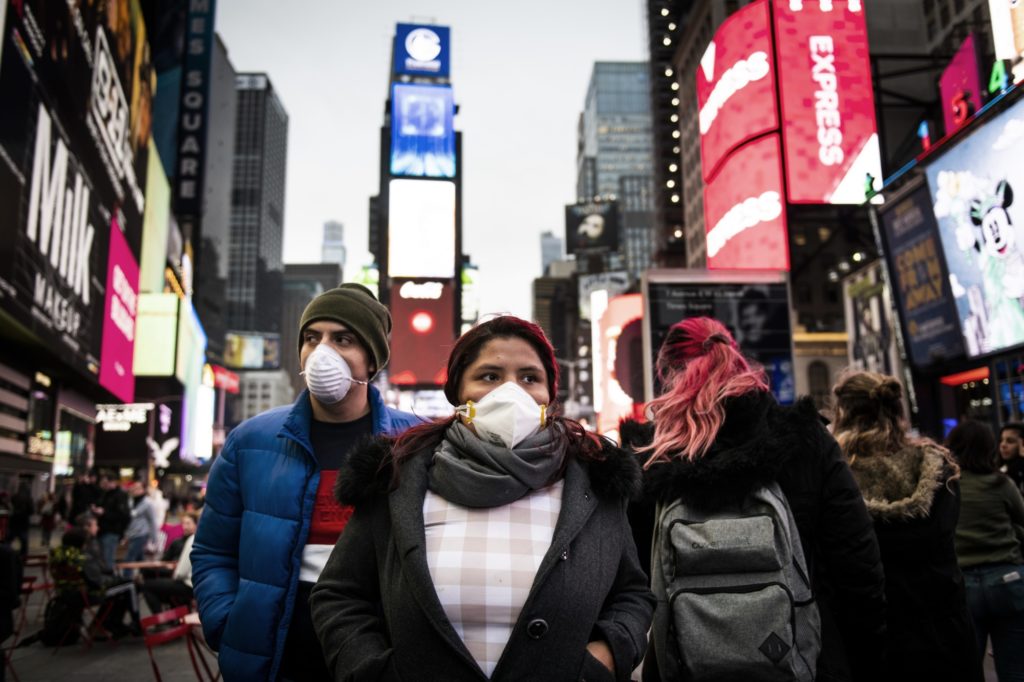 Photo courtesy of Bloomberg

Mayor Bill de Blasio's most recent announcement regarding Covid-19 is that over 40,000 city public hospital employees, as well as some Department of Health employees who work in health care settings, will be required to get tested for Covid-19 on a weekly basis if they are not vaccinated. Although this did not include any mention of potentially mandating vaccination, it does mark the first time that City Hall has applied pressure on city workers to get vaccinated, and implemented an inconvenient alternative if they do not. Although this is significant, the policy's limited scope has raised concerns regarding whether City Hall is doing enough to combat the rising number of Delta variant cases in several regards. First off, although 40,000 employees is a large group, over 300,000 other employees on city payroll – including police officers, firefighters, correctional officers, clerical workers, janitors, and others – are not part of this policy. Secondly, Mayor de Blasio has repeatedly confirmed that reinstating a mask mandate is not part of his plan. Lastly, he has also confirmed that schools will not offer a remote option for this upcoming school year, and will instead only operate in-person; additionally, masks will be required in schools. The Mayor has urged parents to vaccinate their children, but children younger than 12 cannot be vaccinated, which leaves a large demographic susceptible. 

Despite these rather lax plans, the Delta variant is rapidly leading to a massive influx of new cases and the city's vaccination rate has not been increasing as it should be. Looking at vaccination rates for municipal agencies should sound the alarm. As of now, 60% of the public hospital system's workforce, 50% of employees of the Fire Department, and 60% of teachers are vaccinated – all of which are lower than New York's total vaccination rate. Employee testing at health care facilities has been lacking, largely due to the massive hit that testing capacity took at the start of the pandemic when the initial surge left hospitals inundated with patients compounded by a labor shortage. At public hospitals around the city, routine testing of employees was nonexistent until this policy. Dr. Ronald Scott Braithwaite, a professor at N.Y.U. Grossman School of Medicine, heads a team modeling the city's epidemic for city officials. According to their predictions, 900 deaths will result from this current 3rd wave, which is much less than the 20,000 resulting from the 1st wave. Additionally, 400,000 to 500,000 New Yorkers will be infected during this 3rd wave, which is predicted to peak in October. 

The New York Times interviewed two leading epidemiologists on the state of combatting Covid-19 in the city. Dr. Wafaa El-Sadr is a Professor of Epidemiology and Medicine at Columbia University, the director of ICAP at Columbia University, and director of the Global Health Initiative at the Mailman School of Public Health. Dr. El-Sadr feels as though City Hall should have extended the policy to all city employees and "should consider a stricter policy for teachers, requiring them to get vaccinated if they did not have a medical or religious exemption and were going to be assigned to classrooms with children who were too young to be vaccinated." Dr Kitaw Demissie is a recognized investigator in molecular epidemiology and is currently Dean and Professor of the School of Public Health at SUNY Downstate Medical Center. Dr. Demissie supports the new policy, stating that "at this stage of the vaccination campaign – seven months in and with flagging recent results, even as the variants grow more contagious – it was appropriate to start requiring negative coronavirus tests from municipal workers who had yet to get vaccinated." Both doctors also confirmed that weekly testing will help reduce transmission of the virus. In addition to epidemiologists, such as Dr. El-Sadr and Dr. Demissie, municipal worker unions have stated their opposition to mandated vaccination, however they have not yet commented on the new policy. 

In response to rising concerns, the Mayor has justified the limited scope by branding the policy as a pilot program of sorts. He stated that "before considering expanding the policy to other city agencies, we had to get started in the most important place which is our health care workers, and we have to build out a model." He added that "we are definitely looking at other possibilities, but we're not there yet." 

Given New York's response, it is useful to look at how other major cities are responding to the 3rd wave for comparison. 

San Francisco has also announced a vaccination policy for 35,000 of its city employees, with the requirement contingent on when a vaccine receives full authorization from the Food and Drug Administration; as of now, the vaccines are only being used in the U.S. under emergency authorizations. Pfizer and Moderna have both applied for full approval, however regulators have not pointed to when their decision will be made. Under the policy, employees will also have to show proof of their vaccination status within 30 days for risk of losing their jobs, although firings will remain a last resort according to officials. This response comes from a city with one of the highest vaccination rates of any major U.S. city –  80% of residents have received at least one dose and 70% are fully vaccinated; the reason for this policy, however, is due to the lower vaccination rate of city workers, which stands around 60%. 

Los Angeles reinstated an indoor mask mandate on the 15th of this month, regardless of your vaccination status, as new daily Covid-19 cases have surged 20-fold in the past month to over 2,500. 

Chicago has set travel restrictions for unvaccinated residents traveling from Florida, Louisiana, Nevada, and the U.S. Virgin Islands. These individuals are "advised – not required – to obtain a negative COVID-19 test result no more than 72 hours prior to arrival in Chicago or quarantine for a 10-day period upon arrival," while vaccinated individuals remain exempt from the Advisory. Additionally, the Chicago Department of Public Health has preemptively announced that additional rules are on the horizon and will be updated weekly. 

Lastly, New Jersey Governor Philip D. Murphy also hopes that he will not have to reinstate an indoor mask mandate, among other restrictions, however he has stated that "if we have to, we will."

As can be seen, many other major cities are tackling the 3rd wave head-on, however it appears as though New York City is taking a different approach for the time being. The next few weeks will bring about more changes.

Founded by attorneys Andreas Koutsoudakis and Michael Iakovou, KI Legal focuses on guiding companies and businesses throughout the entire legal spectrum as it relates to their business including day-to-day operations and compliance, litigation and transactional matters.

Connect with Andreas Koutsoudakis on LinkedIn.

Connect with Michael Iakovou on LinkedIn.

This information is the most up to date news available as of the date posted. Please be advised that any information posted on the KI Legal Blog or Social Channels is being supplied for informational purposes only and is subject to change at any time. For more information, and clarity surrounding your individual organization or current situation, contact a member of the KI Legal team, or fill out a new client intake form. 

The post How NYC is Addressing a Potential 3rd Wave of Covid-19 – Is It Enough? appeared first on KI Legal.