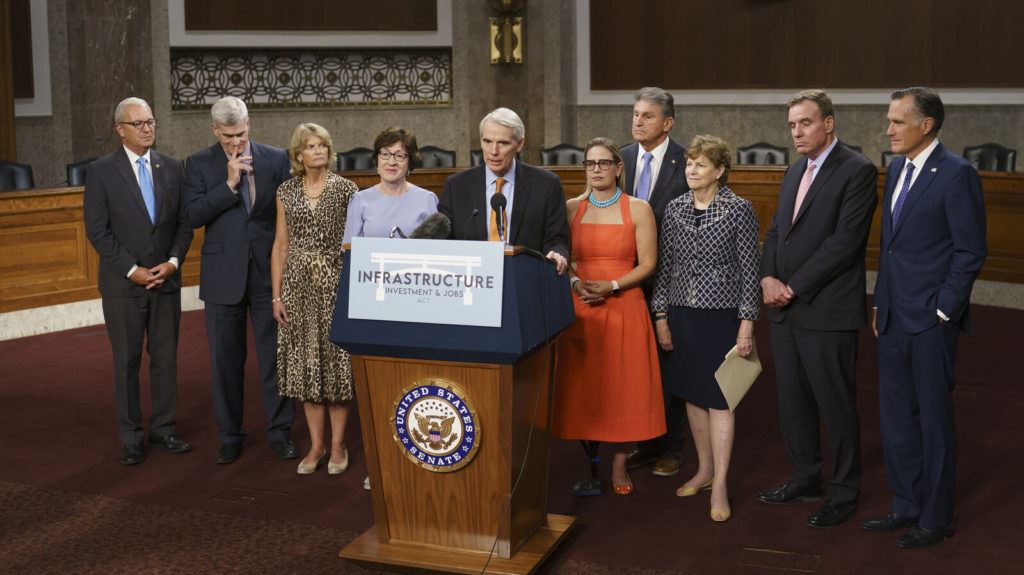 Photo courtesy of NPR

The long anticipated, and debated, $1 trillion Bipartisan Infrastructure Bill was passed in the Senate today. The bill has been touted as a once in a lifetime achievement that proves both parties can work together to bring about major legislation. 

Contents of the Bill 

The bill both reauthorizes spending on existing federal public-works programs and adds an extra $550 billion into other projects. One of the authors of the bill, Senator Jeanne Shaheen (D-NH), stated that "this bill will rebuild crumbling roads and bridges and tunnels across the country. It will provide clean drinking water in American homes and address harmful contaminants. It will increase connectivity in our communities to bring broadband to even the most rural parts of our country." 

Importantly, of that $550 billion: $110 billion will go toward roads and bridges, $66 billion to rail, almost $40 billion to transit, and $65 billion to fund expanded access to broadband, which will reportedly include providing low-income households a $30/month voucher to use towards internet service. Other notable issue areas targeted by the bill include:  $65 billion for improving the electrical grid and energy production, almost $50 billion for making infrastructure more resilient to cyberattacks and natural disaster, almost $7.5 billion to building additional charging stations for electric vehicles, and almost $7.5 billion to replace school buses and ferries with lower-emission transportation. 

Future of the Bill

States will ultimately decide what projects would benefit from the package's funding down the line, which has been a major point of contention; progressives, especially, were fighting for more stringent climate standards for example. 

Aside from implementation, however, this first infrastructure bill will also affect the second infrastructure bill, focused on "soft infrastructure." That separate $3.5 trillion package will primarily focus on antipoverty and climate programs. While Republicans opposed the first infrastructure bill due to this second package that would follow, Democrats conversely stated that they would only support the first if it meant they could move on the second. What we know is that this soft infrastructure package will not be new spending, and will likely include tax hikes, who on is still unclear. Most importantly, it will open the door for many opportunities and problems for many industries including the restaurant. 

The latter is what needs to be focused on. The restaurant industry will inevitably be affected by the first package. Customers travel to businesses, and thus need better roads in order to do so; no one wants to pass by decaying infrastructure on their way to a restaurant. It will also affect the food supply chain and sourcing; the industry relies heavily on trucks, rails, and other forms of transport – all of which desperately needed an upgrade in order to improve efficiency. Additionally, the package will end the employee retention credit (ERC) early. While the ERC was supposed to run through the end of the year, the package terminates it by the end of the third quarter (starting Sept. 30, 2021). Given restaurant operators still qualify for the credit, and it has been critical throughout the pandemic, this is an important facet to keep in mind. 

As for the second bill, even more aspects will affect restaurant owners. Specifically, there are questions regarding whether the bill will include the RFF, whether paid sick leave will be extended, whether childcare will be included, and whether there will be further implications and liabilities for restaurants. Thus, although restaurant industry workers cannot take action on anything yet, it is very important to stay updated and informed on the bill's developments. 

As of now, Senator Chuck Schumer has ensured that the Senate will take up the budget plan immediately following the first bill's passing, adding that the Senate won't break for its August recess until both the first bill and the second bill's budget outline have been passed. He has given committees until September 15th to submit their pieces of legislation. 

Founded by attorneys Andreas Koutsoudakis and Michael Iakovou, KI Legal focuses on guiding companies and businesses throughout the entire legal spectrum as it relates to their business including day-to-day operations and compliance, litigation and transactional matters.

Connect with Andreas Koutsoudakis on LinkedIn.

Connect with Michael Iakovou on LinkedIn.

This information is the most up to date news available as of the date posted. Please be advised that any information posted on the KI Legal Blog or Social Channels is being supplied for informational purposes only and is subject to change at any time. For more information, and clarity surrounding your individual organization or current situation, contact a member of the KI Legal team, or fill out a new client intake form. 

The post Why the Conversation Surrounding the Infrastructure Bills is not just for Policymakers appeared first on KI Legal.