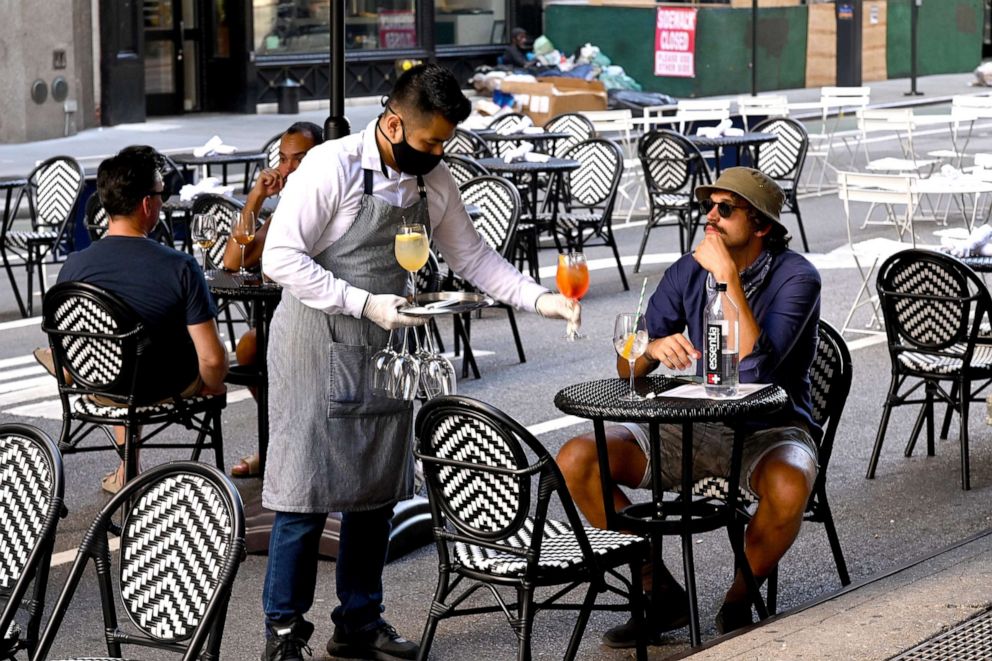 Photo of ABC News

The city has reported that 11,000 restaurants have participated in the Open Restaurants program since it began in spring of last year, which has saved 100,000 jobs. Although this is undoubtedly an incredible feat, the distribution of outdoor dining is certainly not uniform throughout the city. According to data from June of this year, more than half of the program's participating restaurants were located in Manhattan; in comparison, less than 700 applications had been submitted for Staten Island, eastern Queens, and the Bronx in total. More recent data, though showing an improvement, still shows a highly unequal dispersal. 

Going down the ladder, a few districts in New York City have over 800 outdoor cafés; 5 districts in Manhattan, 2 in Brooklyn and 1 in Queens have over 400 each, but certain neighborhoods such as Morrissania and Brownsville have only 10 cafés in total. Dawn Kelly, one of the only 61 restaurant owners who have outdoor structures in Jamaica, attributes this unevenness to several key factors including: the prevalence of homeless people and panhandlers, noisy city bus lanes that are close to restaurants, heavily residential neighborhoods, multiple cars per household (which complicates using parking spaces for outdoor areas), massive garbage piles and general uncleanliness, and lots of people hanging around on the sidewalks. Together, these issues can compound to make a not-so-enjoyable dining experience – but people still want it. Aside from the aesthetics, taking part in this program still costs money, and some owners simply can't afford it. According to Reverend Bruce Rivera, who is the chair of Community Board 3 in the Bronx, "even though the city has eliminated most of the expensive requirements for opening outdoor cafés, they would need to provide an interest free loan or grant to restaurants so that they can build suitable dwellings outside of their restaurants." As such, he was not surprised by the fact that the Bronx has the fewest Open Restaurants in the city: only 7. He explained that the community "is a food desert… [where] most options are takeout Chinese, fried chicken, or pizza — and there are very few sit-down eateries." 

In comparison, neighborhoods with more disposable income and tourism have well over 200 Open Restaurants in their repertoire: Bushwick has 212, Jackson Heights has 273, the Upper West Side has 341, and the Upper East Side has 487. Ironically, residents in these parts want less outdoor structures, and a heated debate has been replicating itself across all Community Boards from lower Manhattan on the topic of the permanent Open Restaurants program. Community Board 2, which is home to 916 outdoor spaces, and Community Board 3, which has 815, have had especially boisterous meetings last month. The majority of attendees, most of which were residents, strongly opposed the program due to cleanliness, noise, and oversight issues. Community Boards have been given advisory powers by the Department of Transportation with regards to the program. Although they can review the permanent program's proposal and hear feedback from their communities, only the City Council will actually vote. The DOT's deputy commissioner for transportation planning and management, Eric Beaton, explains that "allowing boards to vote up or down on a new outdoor café could lead to inequitable outcomes… where a board could say, 'I like this place, but not that place;'" as such, the Council vote is set for sometime this fall. 

Beaton also spoke on why he believes such disparities exist. Although he still thinks the program is more accessible to all eateries, and that the disparity is largely representative of how many restaurants existed before its creation, he did state that the DOT is "trying to address first is just how inequitable the previous situation was." He is referencing the city's previously stringent zoning rules, which single-handedly dictated which neighborhoods were eligible to have outdoor dining areas. Under those rules, only about 1,200 restaurants were eligible, most of which were located in upscale neighborhoods. Aside from location, the previous system in place also "required a tremendous amount of red tape… where people would have to hire a professional architect or engineer, and would have to certify plans, and it would cost tens of thousands of dollars and have to go through months' long processes," according to Beaton. Naturally, this added to the disparity, which is why the temporary and permanent programs have increased accessibility as much as possible. 

With the Delta variant's rise, and Mayor de Blasio's proof of vaccination policy, may come another surge in Open Restaurant applications. Hopefully those who haven't opened an outdoor area will reconsider given the circumstances. But, as always, it's easier said than done. The barriers to entry still exist, even if the program is less expensive and more reachable, which will only continue to adversely affect socio-economically disadvantaged neighborhoods. 

Founded by attorneys Andreas Koutsoudakis and Michael Iakovou, KI Legal focuses on guiding companies and businesses throughout the entire legal spectrum as it relates to their business including day-to-day operations and compliance, litigation and transactional matters.

Connect with Andreas Koutsoudakis on LinkedIn.

Connect with Michael Iakovou on LinkedIn.

This information is the most up to date news available as of the date posted. Please be advised that any information posted on the KI Legal Blog or Social Channels is being supplied for informational purposes only and is subject to change at any time. For more information, and clarity surrounding your individual organization or current situation, contact a member of the KI Legal team, or fill out a new client intake form.

The post Outdoor Dining in New York City is Booming, Yet Remains Unequally Dispersed appeared first on KI Legal.