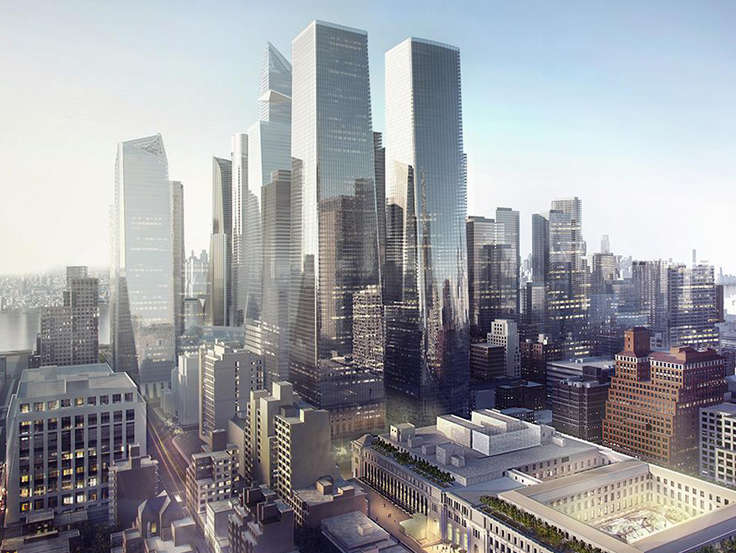 Photo courtesy of City Reality

Manhattan West, the $4.5 billion development by Brookfield Properties, will be opening its food and beverage offerings next month. 

Manhattan West, spanning 8-acres, has been in the works virtually since the 1980s. In its final form, after a series of phased openings, it will host: 4 office buildings with 6 million square feet, retail stores, upscale residential units, a boutique hotel, a food court, and various restaurants and food shops. Amidst wide public spaces, the development also includes a 30,000 square-foot art installation and a public plaza that will offer free, year-round art and event programming. 

Until now, the development has not felt the pandemic's effects to the same degree as the rest of the city. Over 95% of the development's 62-story apartment building and 94% of one of its office buildings are already leased, while the entire office tower that opened in 2019 is leased as well; the latter will host JPMorgan, Chase & Co. and Amazon.com Inc amongst others. Perhaps this is why the development is so confident that its food and beverage offerings will see great turnout when they open mid-September – even in the face of rising infections and widespread back-to-work delays that have discouraged virtually all other food service workers and owners. 

There are, however, several key reasons why the development might actually be right in its predictions. With regards to residential customers, it is well known that newer buildings hold up better in terms of rents, tenant demand, and pricing; additionally, the pandemic saw a succinct shift of tenants from Midtown to the West Side. The corporate tenants are largely made up of blue-chip companies, such as BlackRock Inc. and Facebook Inc., that mirrors the development's modernity. The new Moynihan train station will undoubtedly bring in thousands of commuters every day. And lastly, the development's open-air spaces and structure will not only maintain the safety of visitors but also draw more in as the Delta variant continues ramping up and threatening indoor dining. 

Nevertheless, the offerings will be plentiful. The 40,000-square-foot Citizens Food Hall will include up to 9 separate food hall kiosks, including many acclaimed C3 brands and global chefs; such C3 brands include Krispy Rice, Umami Burger, and Sam's Crispy Chicken while new full-service concepts will come from global chefs such as Dani Garcia and Katsuya Uechi as well as from Danny Meyer's Union Square Hospitality Group. Retail clients will include everything from grocery stores, such as Whole Foods, to coffee chains, such as Bluestone Lane – both of which have already opened. Lastly, the dining area will span multiple outdoor terraces and will feature movable seating in order to accommodate many different types of groups and events. 

Founded by attorneys Andreas Koutsoudakis and Michael Iakovou, KI Legal focuses on guiding companies and businesses throughout the entire legal spectrum as it relates to their business including day-to-day operations and compliance, litigation and transactional matters.

Connect with Andreas Koutsoudakis on LinkedIn.

Connect with Michael Iakovou on LinkedIn.

This information is the most up to date news available as of the date posted. Please be advised that any information posted on the KI Legal Blog or Social Channels is being supplied for informational purposes only and is subject to change at any time. For more information, and clarity surrounding your individual organization or current situation, contact a member of the KI Legal team, or fill out a new client intake form.

The post Manhattan West Development Opening Food and Beverage Offerings Next Month appeared first on KI Legal.