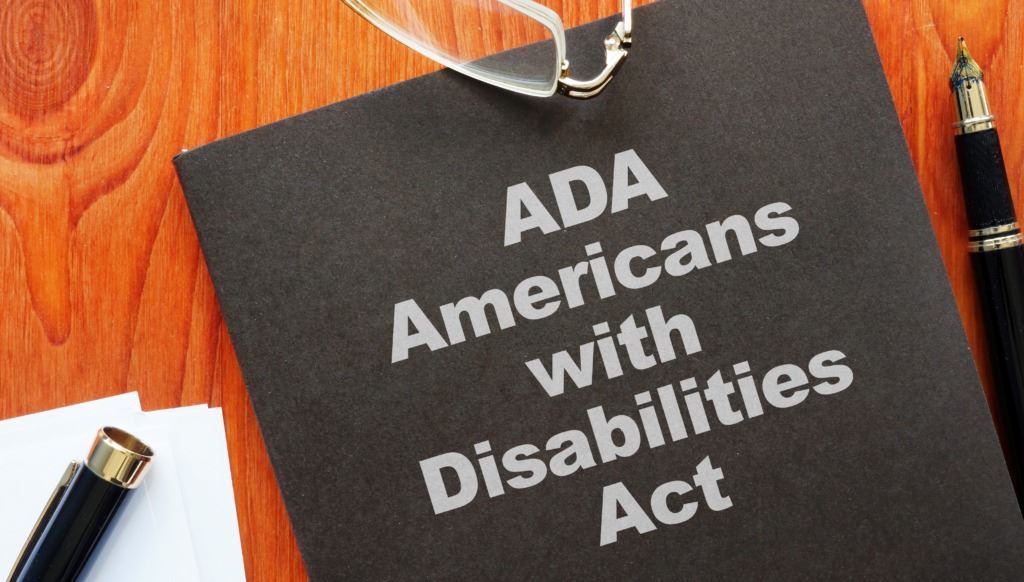 The Americans with Disabilities Act ("ADA") prohibits discrimination against people with disabilities in several areas, including employment, transportation, public accommodations, communications, and access to state and local government's programs and services."[1] The ADA was enacted with the intent to reverse widespread discrimination against individuals with disabilities in public, as well as in private places that the public has access to; put simply, the government wants to make sure that all Americans have equal opportunities with regards to accessing various locations. It is important for real estate owners and tenants to understand the implications that the ADA can have on their property. It is necessary to take a proactive approach – such as making any necessary changes to the property or leased space to bring it in compliance with the ADA – to ensure that all people have the opportunity to enjoy various businesses and locations.
Although the ADA uses the term "public accommodations," this does not mean that the ADA controls only parks and other similar public places. The term public accommodations encompasses:
Hotels,
Bars,
Restaurants,
Movie Theaters,
Stores that sell goods and services,
Office Buildings,
Entertainment Centers (Halls and Stadiums),
Public Transportation Terminals,
Museums,
Libraries,
Galleries,
Schools (including Universities),
Parks,
Zoos,
Social Service Centers, and
Gyms.
Evidently, most businesses tend to fall under one of these categories. There is, however, one caveat: for any of the above to be considered a public accommodation, the location must be "open to the public." Take a retail store for example. The store itself would be considered open to the public, but the "employee only bathroom," would not have the same designation. On the flip side, if you have a doctor's office in your private residence, and the office is used by the public, the entire home would not have to be ADA compliant unless the entire home is used to access the doctor's office – the office, however, would need to be ADA compliant.
Often times, you will find that leases will have specific provisions regarding fixing up a space to ensure that it is ADA compliant. For example, a restaurant is usually public accommodation, and therefore must be in compliance with the ADA. As such, if a restaurant tenant is looking to take over a space that was previously a private space, the question becomes who should the cost of bringing the space up to code fall on? On the one hand, it is the landlord's building, and the landlord will reap the reward of having an ADA compliant space. On the other hand, the only reason that the space must be brought up to code is because the restaurant is now occupying the space. You can see the dilemma.
Why is hashing this out important? Well, the penalties for not being ADA compliant can vary from preliminary or permanent injunctions to monetary fines and individual lawsuits. It is, therefore, very important to speak with an attorney to ensure you fully understand the risks associated with operating a business, or owning property, that may or may not be in compliance with the ADA. Failure to be in compliance could leave one susceptible to litigating what is a very common lawsuit typically used to target small businesses across the country.
To ensure that you are not subject to penalty, for help on ensuring that you are well protected, reach out to the knowledgeable real estate attorneys at KI Legal by calling (646) 766-8308 or emailing us.
---
[1]https://www.dol.gov/general/topic/disability/ada#:~:text=The%20Americans%20with%20Disabilities%20Act,local%20government'%20programs%20and%20services.
---
*ATTORNEY ADVERTISING*
*PRIOR RESULTS DO NOT GUARANTEE A SIMILAR OUTCOME*
This information is the most up to date news available as of the date posted. Please be advised that any information posted on the KI Legal Blog or Social Channels is being supplied for informational purposes only and is subject to change at any time. For more information, and clarity surrounding your individual organization or current situation, contact a member of the KI Legal team.  
 _____________________________________________________________________________________________ 
KI Legal focuses on guiding companies and businesses throughout the entire legal spectrum. KI Legal's services generally fall under three broad-based practice group areas: Transactions, Litigation and General Counsel. Its extensive client base is primarily made up of real estate developers, managers, owners and operators, lending institutions, restaurant and hospitality groups, construction companies, investment funds, and asset management firms. KI Legal's unwavering reputation for diligent and thoughtful representation has been established and sustained by its strong team of reputable attorneys and staff. For the latest updates, follow KI Legal on LinkedIn, Facebook, and Instagram. For more information, visit kilegal.com.