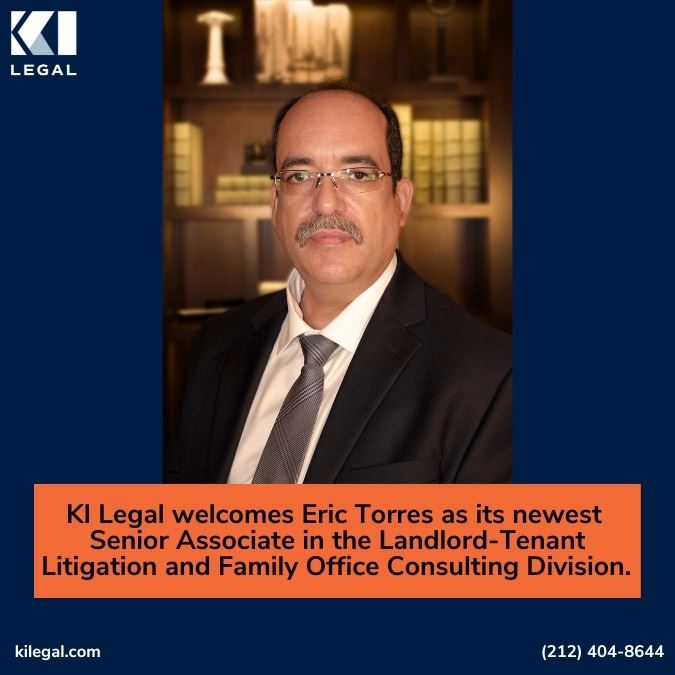 KI Legal welcomes Eric Torres as its newest Senior Associate in the Landlord-Tenant Litigation and Family Office Consulting Division.  
NEW YORK, NY – June 2023 – Seasoned New York City real estate litigator Eric Torres has joined KI Legal's New York office. The addition of Torres further bolsters the Landlord-Tenant Litigation & Family Office practice group. Torres brings over twenty years of diversified real estate and landlord-tenant litigation experience as a seasoned litigator in private practice and as a mentor for a myriad of New York City organizations and programs dedicated to handling landlord-tenant litigation.
Torres earned his JD in 2000 from the City University School of Law, and his BA in Social Psychology from Tufts University. His career as an attorney began with serving the poor at the high-volume defense practice of the Bronx Legal Services; there, he litigated thousands of cases in the Bronx Housing Court of New York City's Civil Court, the New York State Supreme Court, and administratively at the New York City Housing Authority ("NYCHA"), the New York State Division of Housing and Community Renewal ("DHCR"), and the New York City Department of Housing Preservation and Development. Torres entered private practice in 2005.
Torres has been a Bronx legal community staple for the past twenty years, participating in and securing a variety of state governmental contracts and public bids on behalf of and for the benefit of his clients. He has co-supervised various bi-lingual legal clinics throughout NYC including VLFD (court-initiated volunteer programs in Housing Court  attorney-for-the-day programs throughout the boroughs in New York City), the Bronx YMCA, at (now known as Congressmen) Espaillat and Jeffries, and NYC Council Member Sanchez. Among other professional accolades, Torres has previously served as a legal supervisor at the Neighborhood Association for Inter-Cultural Affairs and the Assistant Director for RiseBoro's Legal Empowerment and Assistance Program which is a multi-million-dollar community-based non-profit free legal services program focused on enforcing housing rights for Brooklyn tenants in diverse low-income communities.  
KI Legal Co-Founder, Michael Iakovou, is quoted as saying, "Eric's legal career has run the gamut, litigating real-estate, and landlord tenant matters in almost every court in New York City. He has been on every side of the negotiating table. This broad-based experience is going to result in our client's matters being resolved expeditiously and cost-effectively. Why adjourn the matter when we can get it resolved today? That has always been KI Legal's M.O., as well as Eric's. That's why this is going to be a great fit for everyone, including our clients. KI Legal continues its mission to become the one-stop shop for NYC's real estate family offices and hospitality groups."
Over the course of his career, Torres has been a member of the Puerto Rican Bar Association, the New York State Bar Association, the Association of the Bar of the City of New York, The National Legal Aid & Defender Association, and The Bronx County Bar Association. By way of his membership at the City University of New York School of Law's Community Legal Resources Network, Torres has provided CLEs and currently provides legal services to elected official's constituents in The Bronx. Notably, as an adjunct professor, he eagerly mentored new lawyers selected to participate in an attorney incubator program, then the first of its kind. Torres has also been a regular English and Spanish language guest panelist at legal housing for a small and large within NYC and internationally
Torres is quoted as saying: "After almost two decades as a solo-practitioner in landlord-tenant law, I look forward to joining KI Legal as a Senior Associate for landlord-tenant matters at the Manhattan office at the end of May 2023.  I thank Andreas Koutsoudakis and Michael Iakovou for making me a part of this excellent growing legal team.  I hope to turn my experience into further accomplishments for the firm and the clients served.  KI takes an intentional approach to case handling so that clients have a better ROI.  KI's measured business expansion and talent recruitment is clearly purposeful.  KI desires to have local impact and to practice with distinguished integrity.  For these reasons and more, for years KI has attracted clients small and large, family and corporate, residential and commercial, in and around New York City.  Thus, I eagerly await resolving KI's clients' real estate and landlord tenant issues with excellence and efficiency.  I look forward to the challenges that are both seemingly simple and complex in nature.  I hope to positively contribute to the expansion of the division of Landlord-Tenant Litigation & Family Office Consulting group."
To reach Eric Torres, please contact Zoe Darmon at (646) 766-8308 or contact us.
KI Legal focuses on guiding companies and businesses throughout the entire legal spectrum. KI Legal's services generally fall under three broad-based practice group areas: Transactions, Litigation and General Counsel. Its extensive client base is primarily made up of real estate developers, managers, owners and operators, lending institutions, restaurant and hospitality groups, construction companies, investment funds, and asset management firms. KI Legal's unwavering reputation for diligent and thoughtful representation has been established and sustained by its strong team of reputable attorneys and staff. For the latest updates, follow KI Legal on LinkedIn, Facebook, and Instagram. For more information, visit kilegal.com.