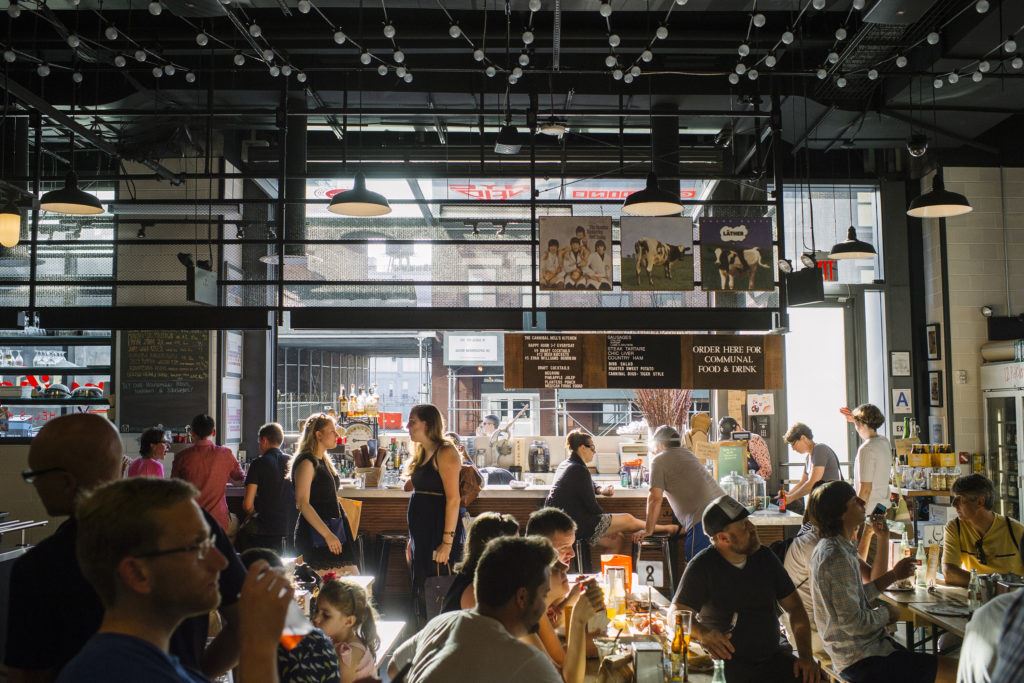 The newest addition to midtown's growing food hall collection: The Hugh. The veteran group of developers behind the project includes Hugh Stubbins, the architect of the landmark skyscraper (located at Lexington Avenue and 53rd Street) that will be home to the hall; Anna Castellani, the woman behind Brooklyn's Dekalb Market food hall; and David Swinghamer, who created the hall in partnership with real estate developer Boston Properties. 
The building, which the Citicorp Center owned before Boston Properties, opened in 1977 and became known for its spacious atrium that was filled with shops and stands. The Hugh will keep the same feel, adding 17 restaurants, bars, and food retailers on the ground floor that will surround the central dining area; all food and beverage retailers will offer both counter service and seated dining. 
The food hall aims to offer cuisine and concepts that cater to the neighborhood's crowd which, according to Castellani, is "a younger clientele… people who go downtown or back to Brooklyn after work, so we're trying to capture a sense of downtown." Castellani emphasizes that, in an effort to diversify their operation from other food halls that are typically more lowkey, "we tried to be true to the building… and there is also some outdoor seating." 
According to The Hugh's team, the first restaurants to open will be: Avocaderia, which is a self-proclaimed health restaurant committed to using locally-sourced, organic ingredients; and Thank You Come Again, which is a Thai restaurant from restaurateur Roongkant Preechathammarach. 
Following these first two openings will be: 
Pesce Lulu, Mediterranean seafood kitchen; 
Alidoro, Italian specialty sandwich shop; 
BK Jani, Pakistani street-food; 
Mah-Ze-Dahr, Tom Colicchio-backed bakery; 
Miznon, international Mediterranean street-food; 
Jumieka, Jamaican jerk specialties; 
Teranga, African super food; 
And additional purveyors of doner kebabs, pizza, Japanese food, and a Joseph Brothers craft beer bar will follow in the coming month.
The Hugh will begin opening this week. 

Founded by attorneys Andreas Koutsoudakis and Michael Iakovou, KI Legal focuses on guiding companies and businesses throughout the entire legal spectrum as it relates to their business including day-to-day operations and compliance, litigation and transactional matters.

Connect with Andreas Koutsoudakis on LinkedIn.

Connect with Michael Iakovou on LinkedIn.


This information is the most up to date news available as of the date posted. Please be advised that any information posted on the KI Legal Blog or Social Channels is being supplied for informational purposes only and is subject to change at any time. For more information, and clarity surrounding your individual organization or current situation, contact a member of the KI Legal team, or fill out a new client intake form.

The post Midtown Gets a New Food Hall: The Hugh appeared first on KI Legal.