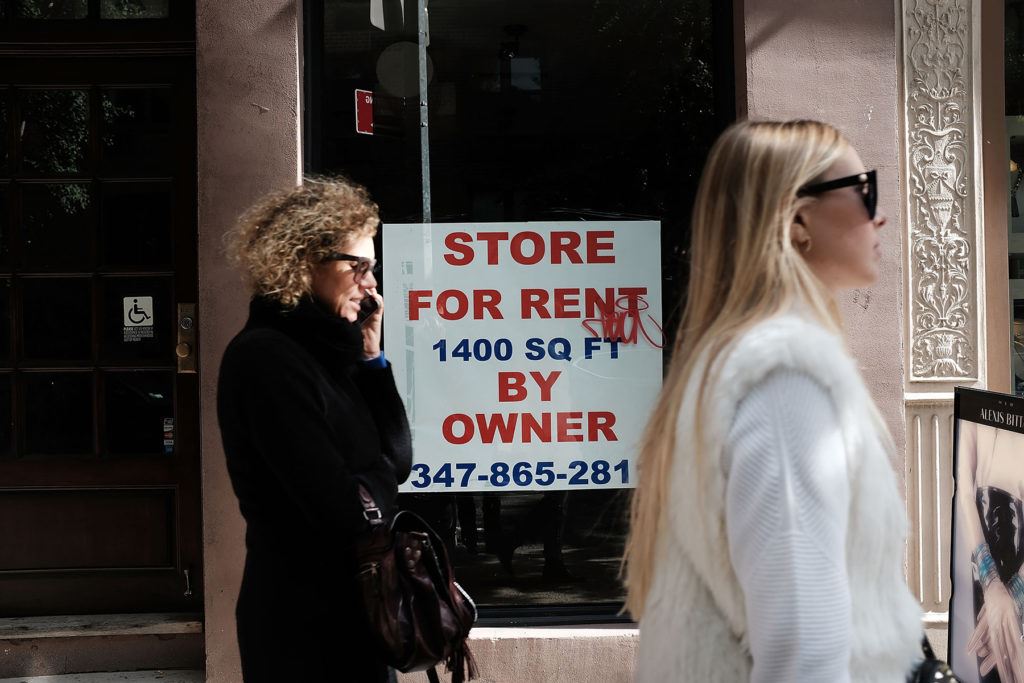 Photo courtesy of CoStar
New York City Council's Small Business Committee is potentially bringing proposed legislation from 2019 back to life in light of mass pandemic-related storefront closures. The measure, first introduced by Councilmember Stephen Levin, would establish a system of commercial rent registration and regulation essentially limiting how much landlords can raise rents on commercial tenants. 
The Legislation 
According to the legislation itself: 
The proposed legislation would establish a system of commercial rent registration and regulation applicable to retail stores of 10,000 square feet or less, manufacturing establishments of 25,000 square feet or less, and professional services or other offices of 10,000 square feet or less. 
The Mayor would appoint a seven-member Commercial Rent Guidelines Board responsible for annually establishing guidelines and the rate of rent adjustments for covered commercial spaces.
The Board would consist of 7-9 members appointed by the mayor, reportedly including representatives of commercial tenants (not chain businesses), commercial landlords, and people with experience in finance, economics, community development, and property management; each member would serve 2-year terms. 

Any storefronts that are already occupied when the bill is passed would be subject to the caps under the tenants' current rent; those still vacant after the bill passes would use the terms negotiated during a lease as the basis for future increases that the Board will set. 

Why Now?

Although there is technically no accurate City data on storefront vacancies, due to the Department of Finance's delay in processing the latest tax year, its storefront registry recorded a 22% increase in vacancies from December 2019 to June 2020. According to CBRE's reports, the average asking rent in Manhattan's 16 prime retail corridors dropped 10.7% year-over-year in the second quarter of 2021 – confirming that rents are very much still below pre-pandemic prices; the Real Estate Board of New York's data confirms the same trend, having found that commercial asking rents declined in 16 out of 17 Manhattan retail corridors this spring compared to last year. 

Although Mayor Bill de Blasio technically had agreed to analyze commercial rent restrictions early last year, the bill was pushed aside by Covid-19-related legislation once the pandemic began. Now, however, the bill is being called for once more to help save struggling small businesses. 

Support 

The legislation currently has 24 sponsors, which is almost half of the City Council. Proponents of the bill, namely the coalition United for Small Business NYC, are fighting against the opposition's claims that rents are falling in NYC. According to Take Root Justice attorney Paula Segal, "immigrant-run businesses are often given cheaper rents for the first year of a lease as an incentive, but then it doubles in year two because the landlord is trying to make up what they lost during Covid." 

Levin raised, and continues to raise awareness on, the same point back when he first proposed the legislation. According to him, "regulation would reduce the temptation for a landlord to turn a local bodega over to a bank or drug store that can pay more rent. If the price increase is equal no matter who the prospective tenant is, there's no incentive for the landlord to rent to a different business or hold the storefront vacant, hoping for a more lucrative business." 

Opposition

The legislation is being harshly opposed by groups that represent commercial landlords, namely the Real Estate Board of New York, who believe that the measure is not needed given how much the pandemic caused rents to fall overall. According to James Whelan, the President of the Real Estate Board of New York, "enacting commercial rent control even as taxes and other costs continue to rise would only lead to more vacant storefronts by incentivizing owners to avoid deals with small businesses and pop-up tenants and instead wait for larger, more established tenants." 

Aside from these groups, individual co-op and condo owners have also raised their concerns – namely because apartment buildings offset their operating costs via renting out street-level retail space; as such, rising vacancy rates have reportedly been detrimental to them as well. According to Council of New York Cooperatives and Condominiums executive director, Mary Ann Rothman, "shareholders and unit owners – many of whom are themselves struggling to pay their monthly carrying charges  (maintenance) – have faced assessments to cover the shortfall." 

Perhaps one of the strongest claims made by the opposition is that the legislation violates the state's constitution. According to claims made by property owner attorney Alexander Lycoyannis, New York City cannot adjust rents without state legislation; in response, Levin and others have already pointed out that commercial rents were regulated by the city between the 1940s and 1960s. 

As of now, de Blasio's office has signaled that it will be studying Levin's regulation while City Council's small business committee will be discussing another related bill proposed and sponsored by Helen Rosenthal. Rosenthal's "Storefront Bill of Rights" proposal calls for a 10% cap on rent increases for all leases up to a year-long, but not after the first year; additionally, the legislation would permit a landlord to renew for just 90 days. Per Levin, both pieces of legislation are not mutually exclusive.

Founded by attorneys Andreas Koutsoudakis and Michael Iakovou, KI Legal focuses on guiding companies and businesses throughout the entire legal spectrum as it relates to their business including day-to-day operations and compliance, litigation and transactional matters.

Connect with Andreas Koutsoudakis on LinkedIn.

Connect with Michael Iakovou on LinkedIn.

This information is the most up to date news available as of the date posted. Please be advised that any information posted on the KI Legal Blog or Social Channels is being supplied for informational purposes only and is subject to change at any time. For more information, and clarity surrounding your individual organization or current situation, contact a member of the KI Legal team, or fill out a new client intake form.

The post Calls to Regulate NYC's Commercial Rents Brings 2019 Proposed Legislation Back to Life appeared first on KI Legal.