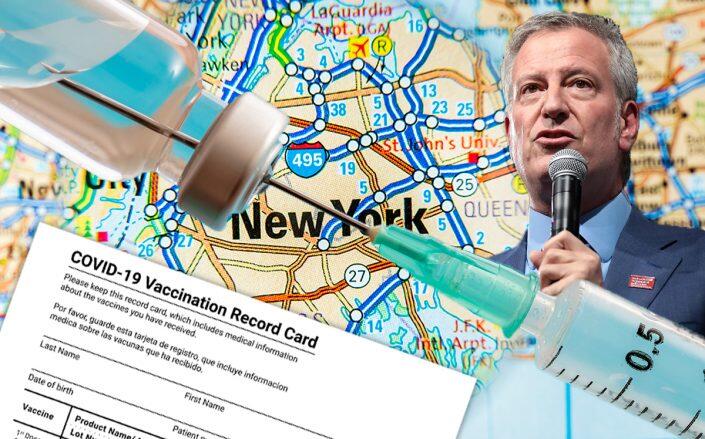 Mayor de Blasio's office has just released new, additional guidance for all operators under Key to NYC's jurisdiction regarding how they should, and can, implement the vaccination mandate. Although businesses were supposed to begin checking their customer and employee's vaccination statuses beginning August 17th, enforcement of the rules doesn't begin until September 13th – and many operators are taking that time to properly and thoroughly flesh out their implementation. Many are also waiting for more answers to their long list of questions regarding the specifics of the program. 
The guidance was released to answer (some of) said questions. 3 new guides were released – 1 for fitness facilities, entertainment venues, and restaurants respectively. Much of the content is the same across all sectors, however the city did incorporate industry-specific suggestions as well. 
Here are the key points from the guidance: 
How to actually implement the mandate
Designate staff member(s) to be responsible for checking diners' proof of vaccination and ID at the entrance(s) during all times you are open to the public
Communicate your implementation protocol clearly to your employees, so that everyone on your team is able to execute it
Show the Key to NYC video here to staff, to highlight best practices in addressing conflicts with diners
Print multiple copies of your implementation protocol and keep them located conveniently in your establishment for easy access
Consider including language about "Key to NYC" on your website, and in emails to help diners arrive prepared and informed
How to actually check identification 
Print the full list of the ways patrons can demonstrate proof of vaccination and sufficient forms of ID, to ensure your staff has a handy guide for what to check PRO TIP: Individuals may also show copies of their IDs via a picture on their phone
Encourage staff to ask: "Do you have an app like NYC COVID Safe or the Excelsior Pass that you can show me proof of vaccination in?" PRO TIP: For iPhone users, this may be saved in their Apple wallet
Train your staff to ask for all information needed at the same time, such as "The City of New York has implemented a new indoor dining vaccination policy. May I see BOTH your photo ID and proof of vaccination?"
How to bolster your preparedness 
Have multiple employees ready to participate in proof of vaccination checks during busiest hours when diners may get backed up at your front door
Have a system in place for controlling crowding at your front door, such as a clearly delineated line, if diners get backed up while waiting for proof of vaccination check
Prominently display the "Key to NYC" sign to encourage diners to read about the City's mandate before asking your staff questions
Where to turn to when you have questions and/or concerns
The Key to NYC website

https://www1.nyc.gov/site/doh/covid/covid-19-vaccines-keytonyc.page

The SBS website 

https://www1.nyc.gov/site/sbs/index.page

The CCHR website 

https://www1.nyc.gov/site/cchr/community/covid-public-places.page#key

The vaccination finder website

https://vaccinefinder.nyc.gov/

The vaccination fraud website 

 report by calling 311 or 833-VAX-SCAM (833- 829-7226), emailing the state Department of Health at STOPVAXFRAUD@health.ny.gov, or filing a complaint form. 
Despite this new guidance, many operators still feel as though several important points remain unanswered. One such point is how to communicate to customers that they can still come in and purchase your products even if they are unvaccinated. Although this may sound counterintuitive, the mandate does allow unvaccinated customers to purchase products from an establishment under the mandate's scope as long as they are "quick and limited." This being said, the signage that the mandate requires establishments to put up states in clear language that "New York City requires you to be vaccinated against COVID-19 to enter this business" – which leads customers to believe that they are not allowed inside under any other circumstances. 

Another such point is that the mandate assumes establishments have the staff, infrastructure, and experience to properly check vaccination statuses. Contrarily, many establishments do not have hosts to perform such duties, or they are concerned about delegating this task to an employee given the situation and role's propensity for harassment, escalation, and violence. 

More guidance for small businesses continues to be called for in order for them to properly enforce the mandate. 

Connect with Andreas Koutsoudakis on LinkedIn.

Connect with Michael Iakovou on LinkedIn.

This information is the most up to date news available as of the date posted. Please be advised that any information posted on the KI Legal Blog or Social Channels is being supplied for informational purposes only and is subject to change at any time. For more information, and clarity surrounding your individual organization or current situation, contact a member of the KI Legal team, or fill out a new client intake form.

The post Additional Guidance for Operators Under the Jurisdiction of the Key to NYC Mandate Has Been Released appeared first on KI Legal.